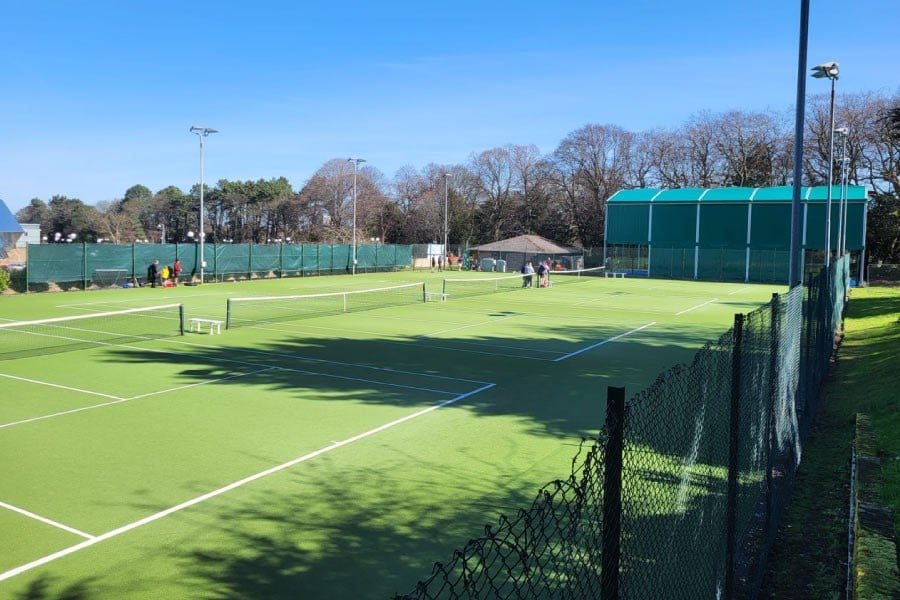 Club Spotlight: Craigmillar Park
• 3 MINUTE READ
In April 1921 Craigmillar Park Tennis Club opened its doors to the rapidly growing Edinburgh Tennis community. Over the next 100 years, the southeast Edinburgh club has thrived and grown its offering from three blaes courts in 1921 into four floodlight artificial grass courts in 2023. Now, almost 102 years to the day, the club is once again seeking to serve another growing community by opening a new Padel court.
Location: Cameron Toll Shopping Centre, Lady Rd, Edinburgh EH16 5TZ
Established: 1921
Membership: 300
The club has a thriving junior programme and co-hosts the Edinburgh Open Junior Tournament annually. After winning the Pringle Cup in 2021, they successfully hosted the competition for the first time in over 20 years in 2022.
In 2021, the club celebrated their centenary year with a Centenary and Open tournament, in addition to marking the occasion with several events and initiatives throughout the year. Craigmillar Park Tennis Club branded gin was launched, and branded clothing was created. 100 attendees were also invited to the centenary dinner and dance.
To top off a successful centenary year, the club was also shortlisted for Club of the Year and Heather Hooker was shortlisted for the Lifetime Achievement award at Tennis Scotland's annual awards.
Padel
Craigmillar Park will be launching a state-of-the-art covered Padel court, the 16th court in Scotland the first of its kind in southeast Edinburgh, next week (17 April).
After successfully obtaining an LTA interest free loan, a sportscotland grant, and a substantial contribution from the club, a sophisticated covered Padel court has been constructed.
During the opening week (Monday 17 April – Friday 21 April) the club is offering everyone with an LTA account the chance to play for free. Reserve a slot here.
On Saturday 22nd of April, all Padel and tennis courts will open to all members of the community, with a Free Play day where non-members can take part in 25 minute sessions all afternoon. There is very limited availability for free play, reserve your place here.
After opening week, the facility will offer a pay and play facility that will be open to all members and non-members and is now available for bookings here.
The cost of court hire will be:
Weekdays (price per court per hour):
7am to 10am: Members £8 / Non-members £16
10am to 5pm: Members £12 / Non-members £20
5pm to 10pm: Members £16 / Non-members £24
Weekend (price per court per hour):
7am to 10am: Members £8 / Non-members £16
10am to 5pm: Members £16 / Non-members £24
5pm to 10pm: Members £12 / Non-members £20
Derek Edwardson - President
Derek Edwardson, Craigmillar Park Tennis Club President, said: "It's fantastic to see months of hard work come to fruition with the launch of our incredible Padel court. Padel is an exciting sport and it's an easier sport than tennis for people to pick up. Our court is a pay and play facility so members of the local community can play Padel without needing to take out a membership".