Broughty Ferry Tennis Club
• 3 MINUTE READ
Location: Broughty Ferry, Dundee, Tayside
Established: 1921
Membership: 248
Background
Founded by a small group of friends in 1921, Broughty Ferry Tennis Club has since established itself as a prominent tennis hub for individuals living around the Dundee region. A century after being formed, friendship is still firmly at the heart of the club's ethos, with a strong community of players ranging from 3-79 years of age regularly competing on the courts.
Across an illustrious 100-year history, the venue has been transformed into a top-class tennis facility which now features three mini practice areas, three artificial clay surfaces and three rejuvenated artificial grass courts illuminated by LED floodlights, allowing members to practice long into the evenings.
The recent renovation of Broughty Ferry TC came as part of the club's legacy building centenary year with Tennis Scotland Chief Executive, Blane Dodds, set to lead an official reopening of the facility on Saturday, 11th September.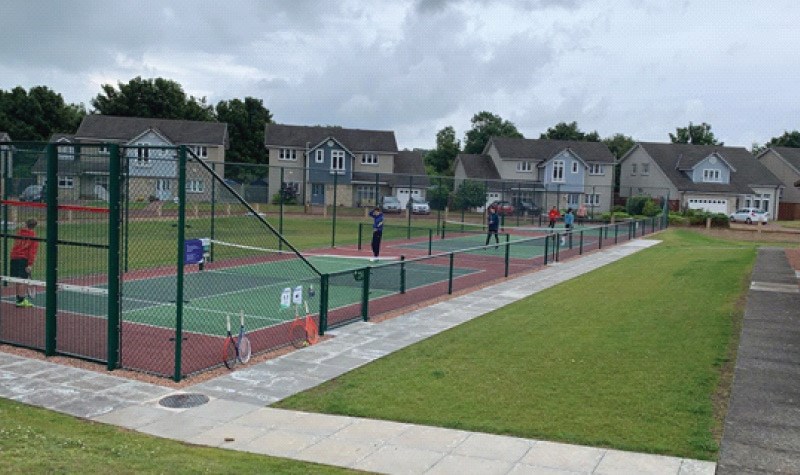 Building for the future
The club has taken the opportunity to use the centenary year to continue building a strong foundation for the future by engaging younger members of the community. Headlined by 'Friday Fun Nights' sessions, Broughty Ferry TC has captured the attention of more than 40 youngsters who take part in an array of fun tennis-based activities every week.
The next generation are in safe hands as a strong group of coaches remain the backbone of the club's offering. Head Coach, Craig Barr, has contributed heavily to Broughty Ferry's growing success, with his passion and enthusiasm encouraging many children to take up the sport. Craig's holiday camps have proven extremely popular in providing an 'inroad' into the sport for many first-time players, who have since transitioned into junior members. The club currently boasts a strong crop of junior players including long-term members Ruari McLennan, Christopher Horgan and Tennis Scotland's Young Player of the Year 2020, Ben Hudson.
Centenary celebrations
In celebration of Broughty Ferry TC's centenary year, the club held a variety of tennis and social events during the summer to reward the community for their dedication to growing the sport across the region. Members from past to present were invited to landmark events including a national centenary tournament, which ended with two Broughty Ferry club members aptly winning the junior titles.
The club is set to continue its celebrations by hosting an American tournament in September, putting their new courts to good use as well as providing the opportunity for both members and visitors to compete for special centenary trophies.
Join the celebrations
You can join the celebrations by attending the official court reopening day on Saturday, 11th September. The reopening day will be highlighted with a number of exciting events including:
12-1pm - A chance for members and non-members to play on the new courts, with a barbecue available for players, visitors and spectators.
1-2pm – Exhibition match featuring Ben Hudson, Ruari McLennan, Cameron Fryer and Christopher Horgan.
2pm - Official court opening ceremony led by Tennis Scotland Chief Executive, Blane Dodds.
Post 2pm - Additional opportunities to participate on the new courts followed by tea & coffee and a raffle.
A comment from the club
Susan Chalmers, President of Broughty Ferry Tennis Club, commented: "It has been a very busy but enjoyable year as we have had many events for both adults and juniors - the outdoor junior silent disco being a real highlight enjoyed by everyone!
"We are looking forward to the next 100 years of fun at BFTC."
Get in touch
For more information, check out the club's website and social media platforms:
Twitter: @BroughtyFerryTC
Facebook: Broughty Ferry Tennis Club