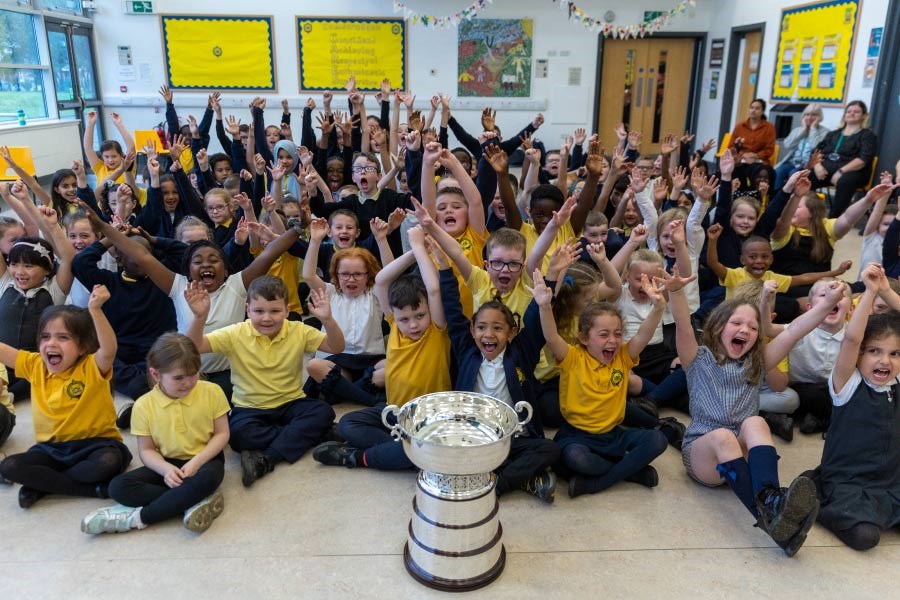 Iconic Billie Jean King Cup Trophy Visits Glasgow Schools
• 3 MINUTE READ
Tennis in Scotland is set for a 'massive boost' as the iconic Billie Jean King Cup by Gainbridge visited four primary schools in Glasgow.
To increase tennis participation in schools across the country and promote the Women's World Cup of Tennis coming to Scotland next month, the Billie Jean King Cup trophy visited Camstradden Primary School, St Mary's Primary School, St. Philomena's Primary School and St. Anne's Primary School.
Selected as the host of the Billie Jean King Cup by Gainbridge, Glasgow's Emirates Arena will host Great Britain's ties against Kazakhstan and Spain between 8-13 November. Tickets for the event, priced from £10, are now on sale and can be purchased here.
Team GB Billie Jean King Cup Captain, Anne Keothavong, who visited Camstradden Primary School after she announced that Emma Raducanu, the 2021 US Open champion, will lead a star-studded line-up alongside Harriet Dart, Katie Boulter and Heather Watson in their bid for their first-ever title.
Blane Dodds, Tennis Scotland Chief Executive, said: "Playing the Billie Jean King Cup Finals by Gainbridge in Glasgow will be a massive boost for tennis in Scotland, as we continue to see increases in memberships and interest in our sport. We hope this trophy tour, linked to hosting one of the most significant tennis in the world, inspires children to pick up a racket and increases participation across the country."
Olly Scadgell, LTA Participation Director, said: "The LTA is proud to be hosting the Billie Jean King Cup – the world cup of women's tennis in Britain again, and the trophy itself is steeped rich in tradition and legacy. Over the last five decades, some of the world's most iconic female athletes have taken part in it and we're delighted to be sharing this piece of history with some of the young people of Glasgow to raise awareness ahead of the competition itself."
Bailie Annette Christie, Chair of Glasgow Life, said: "This trophy tour has helped to build excitement ahead of the Billie Jean King Cup finals coming to the Emirates Arena next month. Seeing an iconic piece of tennis history close up is a great way to encourage children in Glasgow to get active and take part in the sport. The competition has the power to inspire the next generation as they will have the chance to watch some of the world's best female tennis players competing right on their doorstep."
LTA Youth Schools is designed specifically for schools to support the curriculum and wider school outcomes. The programme brings together inclusive PE lesson plans, personal development resources, teacher training and much more. It's all been designed by teachers, for teachers, and it's all free. For more information, click here.