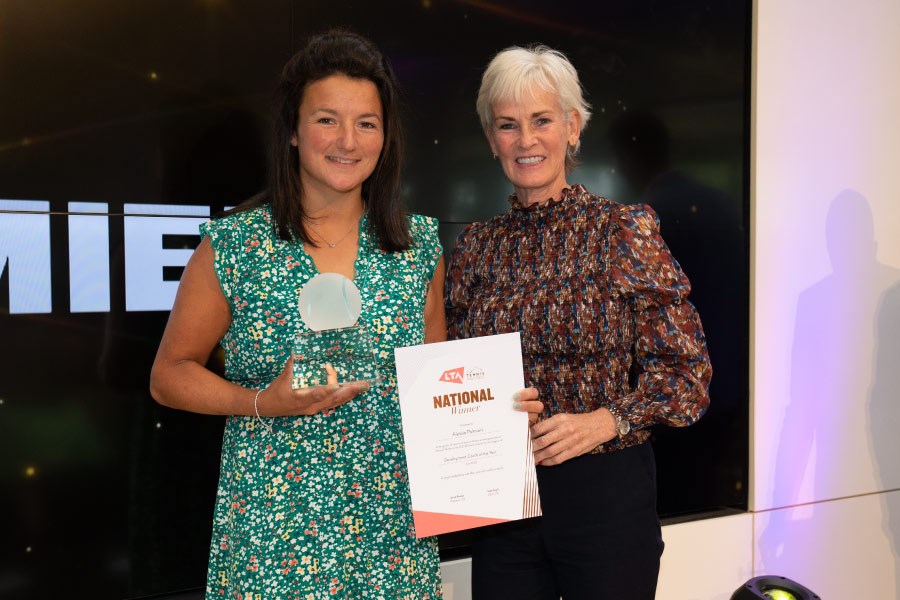 Perthshire's Alessia Palmieri awarded Development Coach of the Year at British Tennis Awards
• 3 MINUTE READ
Fossoway Tennis Club and Adam Brown Tennis Academy coach Alessia Palmieri has been named the British Tennis Development Coach of the Year for her work in attracting and developing Scottish talent.
Palmieri, who was nominated after being named Tennis Scotland Development Coach of the Year, was presented with her prize at the LTA's annual awards ceremony at the National Tennis Centre in London this morning (Tuesday, 4 July, 2023).
The 31-year-old was recognised for the work she has done at Fossoway to transform the single-court club into a hive of activity in the Crook of Devon community, with membership numbers soaring to 370 last year.
The coach has worked to establish an after-school class to give children of all ages and abilities the chance to develop their game, driven 'tots' tennis classes to bring children aged three and four into the sport, and overseen initiatives to attract new adult players into the game.
At the LTA Tennis Awards, hosted by LTA President Sandi Procter and presented by Great Britain Davis Cup captain Leon Smith OBE, Alessia took home the top honour in one of 26 categories which recognise the outstanding contributions of more than 2,200 nominees across the United Kingdom.
Speaking at the ceremony, which was also attended by Her Royal Highness The Duchess of Gloucester, Alessia said: "I can't believe it. I'm over the moon - it's so nice to be noticed as a small club and for all that I've worked towards over the last few years. It's amazing really. I am lost for words because I honestly didn't expect it.
"Covid brought me back to my home village. I'd always worked at bigger clubs, but there was no [coaching] programme at Fossoway and I just wanted to make tennis available for everyone in the community.
"We've now got cardio, we've got mums' groups, everything. I just tried to bring it all together and give everyone the opportunity and then it just took off. I went full-time as soon as the courts reopened. Everyone wanted lessons with it being the first sport you could do [post-lockdown] so that helped. And then there's the whole community spirit; I know all the parents and the kids, I know the best ways they learn. I can call on them at the last minute and say, 'Hey, do you want to do a little fun matchplay this weekend?', or 'do you want to come and try tennis 20-minute taster sessions?'. I know everyone in the village. We've got the whole school playing tennis, it's great."
Born in Perthshire, Alessia started playing tennis at just five years old and still regularly plays at Fossoway Tennis Club and Dunfermline Tennis Club while balancing her commitments as a full-time coach between Fossoway Tennis Club and the Adam Brown Tennis Academy.
Looking ahead to the remainder of 2023, Alessia is aspiring to increase the number of girls playing tennis, keep growing the programme at Fossoway, and help expand the club to include a clubhouse and second court to enable the club to play in league competitions.
Blane Dodds, Tennis Scotland Chief Executive, said: "Alessia is a great asset to Fossoway Tennis Club and the Scottish tennis community, and we are immensely proud of her for winning this award in recognition of the work she has done for her club and beyond.