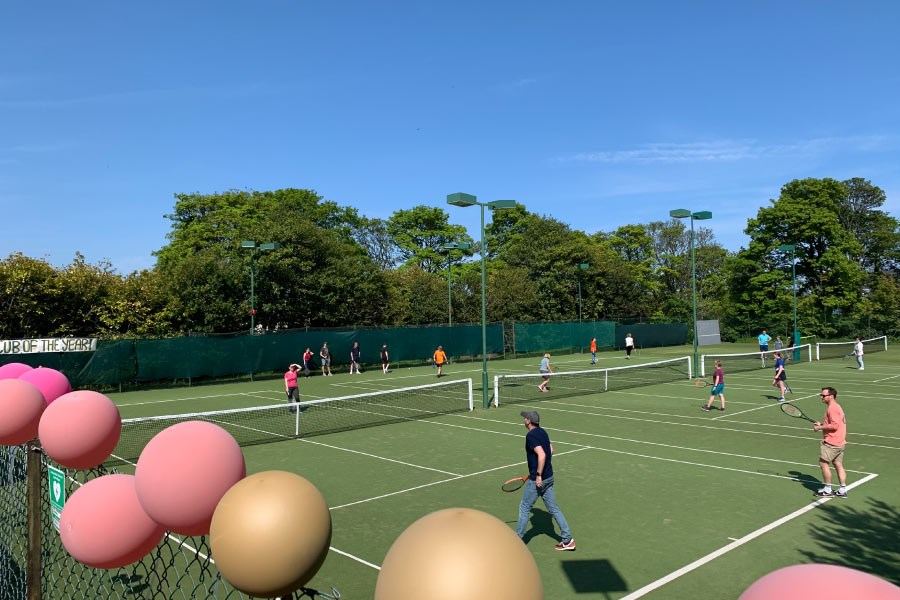 Club Spotlight: Abercorn Sports Club
• 2 MINUTE READ
Tennis Scotland's 2022 Club of the Year celebrated their achievements with games and a barbeque in the sunshine
The special event on Saturday, 13 May marked Abercorn Sports Club's hard work promoting women and girls' participation and a growth in membership.
Location: Abercorn Crescent, Edinburgh EH8 7HZ
Established: 1919
Membership: 274
Friendly Community Club
Abercorn is a friendly community club which boasts four all-weather artificial grass courts, three squash courts, and table tennis.
The club has 274 members ranging from ages 5-85 and works closely with local community groups to provide coaching programmes and grow the sport.
They organise fun events and activities throughout the year, including free family days in the spring, an Open Day in March, which this year showcased their new ball machine, and junior competitions.
Around 50 people attended the Open Day, which involved coaching taster sessions for juniors and seniors, as well as court access for families to play. It was a great way for the club to open facilities to the community and resulted in new members joining up.
Individual & Group Coaching On Offer
Club head coach, Graeme Soutar, and his team of coaches, Robin Burns and Katie Hoch, offer individual and group coaching as well as junior holiday camps.
Hoch, in particular, has played a key part in the club's development since joining the coaching team in 2021, and was shortlisted for Tennis Scotland's Development Coach of the Year in 2022.
She also runs the club's Miss-Hits programme for girls aged 5-8, designed to encourage them to get on court and enjoy fun activities. To further increase women's participation, the club has also introduced ladies-only coaching sessions, which have proved very popular and encouraged many participants to become members.
Working Closely With Primary Schools
Abercorn also works closely with local primary schools to provide a coaching programme for pupils and is in the process of identifying other groups for taster sessions - such as Rainbows and Brownies - with the aim of getting children and young people active and playing tennis.
The club's community work has resulted in a significant increase in membership – in particular, almost doubling its female membership from 52 to 95.
Laura Stewart Expreses Delight
Laura Stewart, President of Abercorn Sports Club, expressed her delight at winning the prestigious Tennis Scotland Club of the Year award.
She said: "Winning Club of the Year is a great reward for the work that coaches and members consistently put into the club, and we are looking forward to growing our women and girls' programme even further and welcoming more members of the community to our club."