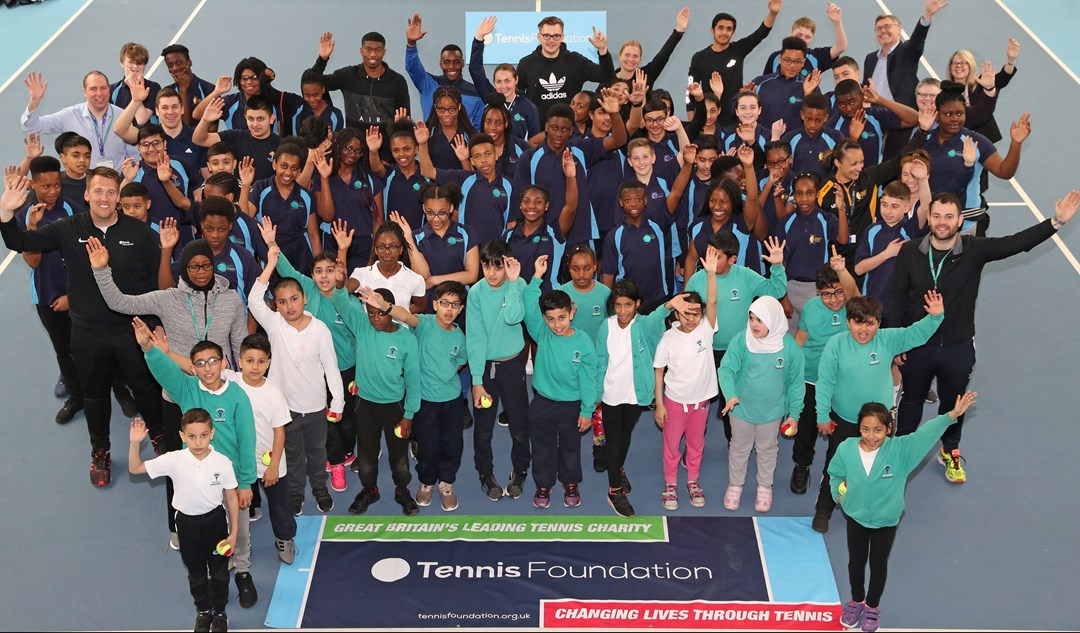 Diversity and Inclusion
Tennis Foundation to help thousands of young people get inspired by Wimbledon
• 4 MINUTE READ
This year's Championships at Wimbledon will be used as a platform to inspire thousands of young people as part of efforts by the Tennis Foundation, to make tennis a sport that is inclusive and accessible to all people and communities.
Across the fortnight, a total of over 6,000 children and young people from all over the country will get the opportunity to experience and be inspired by the greatest tennis tournament in the world. Groups in attendance will include schools and universities, as well as non-traditional tennis venues such as youth centres, temples and mosques. Also in attendance during the Championships will be members of Great Britain's Learning Disability tennis squad before they head to Paris for the INAS World Championships, and members of the Tennis Foundation's wheelchair tennis GB junior squad.
The groups have been provided with access to the tickets by the Tennis Foundation, in partnership with the All England Lawn Tennis Club and the LTA.
Among those making trips to SW19 during The Championships will be young people from sites involved in the Tennis Foundation's SERVES programme that takes tennis and the benefits it can bring to new people and new places. The project now sees 'pop-up' tennis courts appearing in over 130 sites in urban and disadvantaged communities every week, engaging people in tennis who may otherwise never have picked up a racket.
Colin Hunt from the SERVES site at Wirral Positive Futures, said "We've never been able to afford to take the young people to Wimbledon nor would we have the connections to get hold of tickets. Being able to take our young people to Wimbledon is just as rewarding for us as it is for them."
Sabeena Akram from the Paving the Way SERVES site in Slough added "The SERVES programme has given local youth an opportunity they would never have been given, and this has now snowballed into some of our older youth wanting to get more involved in the delivery as well."
One of the many school groups visiting will be staff and students from the Tennis Foundation's joint project with Greenhouse Sports that delivers tennis sessions to pupils at four schools in East London boroughs of Newham, Hackney and Tower Hamlets.
Kelly Montgomery, Programme Manager at Greenhouse Sports said: "We are so excited to be able to take so many young people from our four tennis programmes to Wimbledon this year. It really is the highlight of their school year to visit the iconic venue. This is an opportunity that our young people would never have had the chance to experience without our fantastic partnership with the Tennis Foundation. The whole day is inspiring, from watching the best players in the world, to mixing with different communities and visiting a part of the capital they probably haven't been to before. The young people leave the event feeling like they want to be the best and motivated to achieve their potential."
Another large group of pupils travelling a little further to join the crowds in south London will be students from inner city schools in Birmingham, as part of the Tennis Foundation's partnership with CORE Education Trust. Through the partnership, children from communities who traditionally do not engage in tennis receive high quality coaching in schools and mentoring through the Beyond The Baseline programme, while tennis is also being used as a vehicle for pupil leadership and character development.
Cathy O'Driscoll, Head of Development at CORE Education Trust said: "Through CORE Education Trust's partnership with the Tennis Foundation and the LTA, students from diverse backgrounds in inner city Birmingham schools are now viewing tennis as a sport that is for them."
Finally, the fortnight will see pupils that are part of the Prince's Trust 'Achieve' programme rewarded with visits to Wimbledon. Through a collaboration with the Tennis Foundation, the programme uses tennis as a means to engage pupils experiencing challenges in school to help them excel in education and prepare for future employment.
Joanna Farquharson, Interim Executive Director of the Tennis Foundation, said "Whoever you are and wherever you live, everyone has heard of Wimbledon. The fortnight of The Championships provides a fantastic opportunity for us to give young people from across the country that are involved in our programmes to open up tennis to anyone and everyone the chance to experience something they may never otherwise have had the chance to do. The feedback we have had from those who have attended in previous years is that visits such as those that will be taking place over the next two weeks can provide the inspiration for young people to continue to engage with tennis and thrive both on and off the court."
The Tennis Foundation's mission is to open up tennis to anyone and everyone, making it possible for them to enjoy the many health and social benefits of the sport while maximising their personal potential.