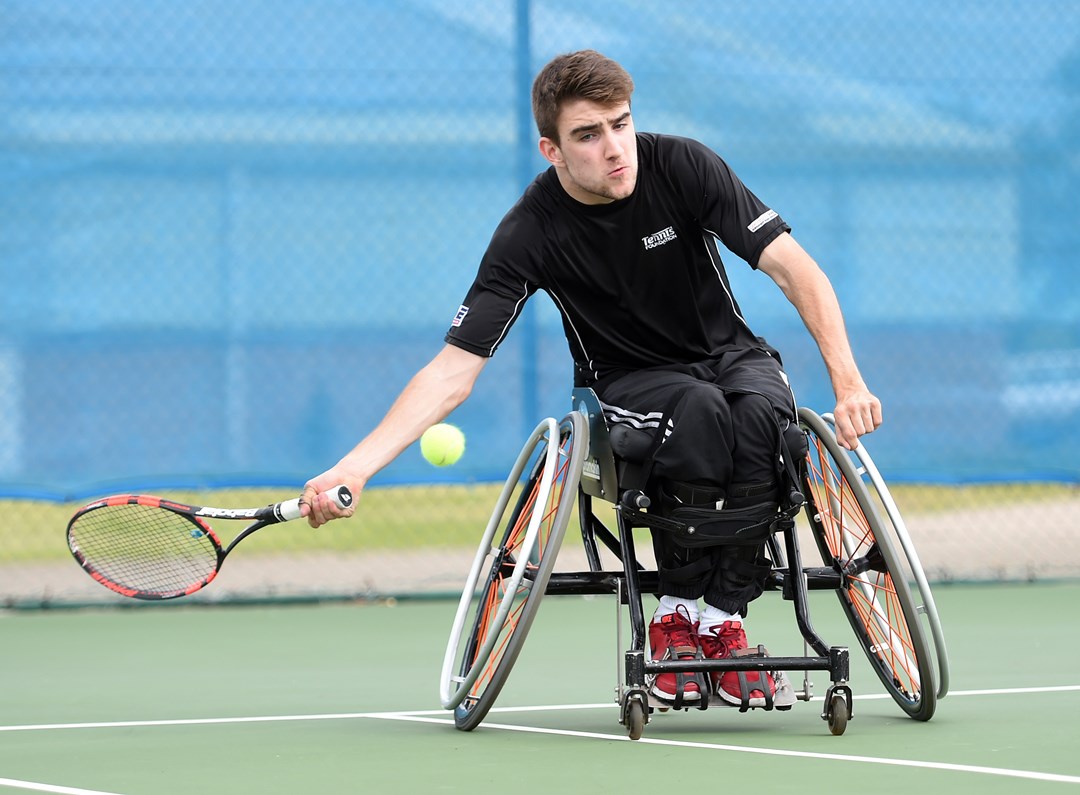 Diversity and Inclusion
Spotlight On: James Shaw
• 3 MINUTE READ
James Shaw has been part of the Tennis Foundation's Wheelchair Tennis World Class Programme since October 2014 and in December 2015 he became quad singles National Champion for the first time.
James, who has had cerebral palsy since birth, ls now also an ambassador for Cerebral Palsy Sport. Here, as part of Cerebral Palsy Awareness Month, James tells us about his wheelchair tennis journey and how he overcomes his condition to perform at his best.
How did you get started in wheelchair tennis?
When I was young my dad went to the gym quite a bit and was a keen runner, so I wanted to get more active myself and asked my parents to help me find a sport that I, as a wheelchair user, could do competitively. From 2002, when I was 7, I did a number of multi-sport days and tried a number of sports, including boccia, a sport that that's often associated with people with cerebral palsy, as well as tennis and basketball. But as I lived in Nottingham and Nottingham Tennis Centre wasn't far from us I started going to regular wheelchair tennis sessions at Nottingham Tennis Centre with coach Martyn Jones and I loved it.
How have things progressed since then?
I played my first international tournament in 2011 and my first overseas tournaments in 2014. I was classified as quad player in 2012 and from 2012 I also played in quite a few of the Tennis Foundation's Wheelchair Tennis National Series events to give myself more experience of playing against players of different abilities and standards so I could gain more experience and improve.
Your current coach is called Martyn, too, so tell us more about your training?
I train in Loughborough with Martyn Whait, who's also Disability Analysis Coach on the Tennis Foundation Coaching Team. We basically approach training as if I don't have cerebral palsy and then experiment and work around things as and when we need to. When I met Martyn my pushing technique was one of the things we needed to work on because of muscle tightness and we've experimented with my racket grip and how tight I hold the racket when I serve. We've found our way around a lot of things. Sometimes it might take longer to learn certain things, but that's fine.
I'm the kind of person that doesn't let anything hold me back and I'm very competitive. Fatigue is an issue for me, so on days when I can be training on court for three hours a day we break it up into shorter sessions and then I will rest for the remainder of the day.
What are some of the most important things you've learned?
I listen to my body a lot more now and we can manage what I'm doing. My body tells me if I'm working too hard – or if I'm not working hard enough, too. We don't use cerebral palsy as an excuse for anything, but we'll manage things. I do specific work in the gym and swimming is an important part of training as it helps my muscles – and then, of course, there's massage and physiotherapy, which is an important part of any strength and conditioning programme.
What difference has playing wheelchair tennis made to your life?
It's enabled me to get a lot fitter and it's a great all-round sport and I've met a lot of people and made friends I wouldn't have met if I hadn't taken up wheelchair tennis, especially when I started playing the National Series tournaments.
How did you become an ambassador for Cerebral Palsy Sport?
Last autumn me and Martyn wanted to look into different ways that cerebral palsy affected me and things we could do to enhance my performance and my training so that I could get the best out of my body, so we got in touch with Cerebral Palsy Sport. I live in Nottingham, where Cerebral Palsy sport have their head office, so it was quite handy, and they explained they were trying to find ambassadors from all the different sports, so it all stemmed from there and I'm very proud of the role I have.