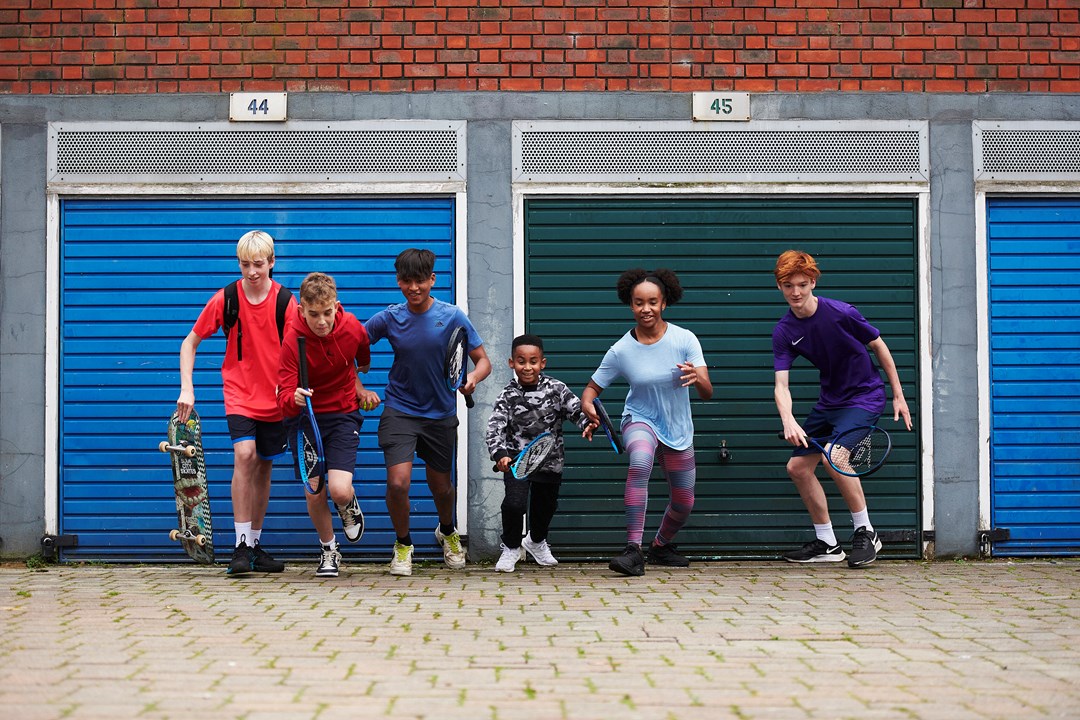 Community
Sporting Equals Ambassador Sol Campbell meets Tennis Foundation Special Recognition Award nominees
• 3 MINUTE READ
Sol Campbell today threw his support behind the Tennis Foundation Special Recognition Award at the Lycamobile British Ethnic Diversity Sport Awards (BEDSAs) when he met up with some youngsters in Hackney to enjoy a game of tennis.
The former England International, who is also a Sporting Equals ambassador, traded the football for a tennis racket this morning at the North London Muslim Community Centre which is a Tennis Foundation SERVES site and one of four nominees for the Tennis Foundation Special Recognition Award at the BEDSAs in March.
The Tennis Foundation Special Recognition Award recognises those (either individuals or community groups) who are working to take sport to a different and new audience within their community. This year the four nominations for the award are Tennis Foundation SERVES sites.
Working in partnership with a number of national and local organisations, including Sporting Equals, the Tennis Foundation's SERVES programme takes tennis into places it's never been before, equipping local people trusted and rooted in communities with the skills to provide tennis activities for everyone.
As part of SERVES, the Tennis Activator course trains local people with basic tennis organisation and delivery skills to confidently run a session in a fun and informal way. There are currently 55 SERVES sites across the country, with four nominated for the Tennis Foundation Special Recognition Award, including the North London Muslim Community Centre where Sol Campbell visited this morning; the Derry Project in Birmingham which uses tennis as a vehicle for social integration with the Somali community; the Khizra Mosque which uses tennis to engage with the local Muslim community and encourages children to live a healthy lifestyle and Shapla Sports Initiative Bradford which exists to unite the community through sport and provide real opportunities for sport development.
Keen tennis enthusiast and Sporting Equals ambassador Sol said: "I'm delighted to be on board as a Sporting Equals Ambassador and supporting their partnership with Lycamobile and the Tennis Foundation's Special Recognition award at the 2017 British Ethnic Diversity Sports Awards."
Mike Bain, Head of Community Projects at the Tennis Foundation said: "We are delighted to be supporting the British Ethnic Diversity Sports Awards for the second year running. We have been working in partnership with Sporting Equals to get more people from black and ethnic minorities into sport and to take tennis into communities who would never have before had the opportunity to play and our Serves programme is a huge part of that. It is brilliant to have Sol's support."
Arun Kang, Chief Executive of Sporting Equals added: "It is important that sport is provided in a manner that is sensitive to the faith and cultural needs of communities. Our work with the Tennis Foundation illustrates this well, as we have been able to take sport to the communities as opposed to expecting the communities to go to sport. This approach is particularly significant when it comes to engaging those who are inactive."
Organised by Sporting Equals, the 2017 LycaMobile BEDSAs will once again celebrate excellence among Britain's outstanding Black and Minority Ethnic (BME) communities, with the awards taking place on March 18 at the London Hilton in Mayfair.