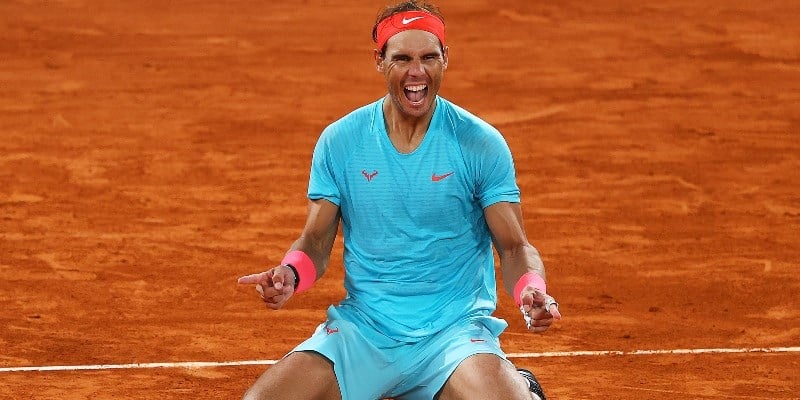 Fan
Photos of the Year 2020
• 7 MINUTE READ
It's safe to say 2020 has had everything – and the team at Getty Images has been on hand to capture it all.
From Grand Slam wins to courts re-opening after lockdown, photographers Clive Brunskill, Julian Finney, Alex Davidson and Naomi Baker have been covering tennis across the world this year.
Here they have selected their favourite photos of 2020 – while giving the backstory behind each one.
1. Fans in Australia – Clive Brunskill
"This image shows a full house at the Rod Laver Arena which was something that we didn't see after late February due to the Covid-19 pandemic. It was taken during the Men's Singles Quarterfinal match between Dominic Thiem of Austria and Rafael Nadal of Spain on day ten of the 2020 Australian Open at Melbourne Park on January 29, 2020 in Melbourne, Australia.

2. Dart Roars – Clive Brunskill
"Harriet Dart had a great run at this year's first Grand Slam seen here as she celebrates match point during her Women's Singles first round match against Misaki Doi of Japan on day two of the 2020 Australian Open at Melbourne Park on January 21, 2020 in Melbourne, Australia."

3. Courts re-open after Lockdown – Alex Davidson
"When the Prime Minister announced that lockdown rules were to be relaxed, including the return of some recreational sport, I headed off around London to find people exercising on court. This photo was taken at the famous Barbican estate courts which I was fortunate enough to be given access to. Having spoken to some people they seemed very glad to be back playing after being stuck in their flats staring out onto the courts for months. I don't think there are many better backdrops for recreational tennis in the country, especially in such a populated part of the capital."


4. Wimbledon in 2020 – Alex Davidson
"This was taken early on the morning of what was meant to be the start of Wimbledon. It was eerie and surreal wandering around outside the iconic venue with barely anyone in sight. However with lockdown rules being relaxed it was great to see members back on court. I thought this picture summed up the situation at the time very well - the gates of the All England Club firmly closed whilst members were allowed to get back on court for their daily exercise."


5. Taking the knee – Clive Brunskill
"This was my first tournament back after the national lockdown and it was a super event that Jamie Murray helped create. It was great to see all the players support the Black Lives Matter cause by kneeling before every match. Seen here are Dan Evans, umpire James Keothavong and Andy Murray taking the knee ahead of the singles semi-final match on day 5 of Schroders Battle of the Brits at the National Tennis Centre on June 27, 2020 in London, England."

6. Andy the commentator – Clive Brunskill
"Andy Murray as you've never seen him before as he speaks to the TV commentary team whilst coaching James Ward in his third place play-off match against Cameron Norrie during day 6 of Schroders Battle of the Brits at National Tennis Centre on June 28, 2020 in London, England."


7. Jodie and Judy – Alex Davidson
"Jodie Burrage celebrates with coach Judy Murray after a famous victory over Johanna Konta in the first game of the Battle of the Brits. This was probably one of my favourite moments of the tournament given what was a monumental win for Jodie. It was clearly hard to keep emotions at bay, but with social distancing they had to settle for an excitable 'elbow bump'."

8. Battle of the Brits – Alex Davidson
"Members of the Union Jacks team celebrate during day one of the Battle of the Brits. I really like this image as it sums up the spirit in which the tournament was played. From start to finish it was all about the players getting behind their team mates and making as much noise as possible. It even led to British number 1 Dan Evans using an air horn later on in the week!"

9. Andy back in action – Alex Davidson
"Andy Murray plays a backhand as he is caught by the light in the last game of Battle of the Brits day two. After what seemed like a long wait, Andy made an appearance for the Union Jacks in a doubles match with partner Jodie Burrage. Although they were defeated by Joe Salisbury and Emma Raducanu of British Bulldogs, it was great to see the star back on court at the National Tennis Centre. This image was also particularly pleasing. After a day of being indoors due to poor weather it was lovely to have some summer sun shining down on the players."


10. Judy on cake duty – Alex Davidson
"Union Jacks coach Judy Murray hands out cakes on day three of the Battle of the Brits. The tournament was played in great spirits and Judy made sure her team were always well fuelled by providing specially made cakes. It provided much amusement and it was great to see everyone enjoying the sport after what was a long break due to Covid-19."

11. Harriet lets it all out – Julian Finney
"I love it when a player gives this much emotion after a close match. The way this picture lined up with the event logo behind helps tell the story of the event."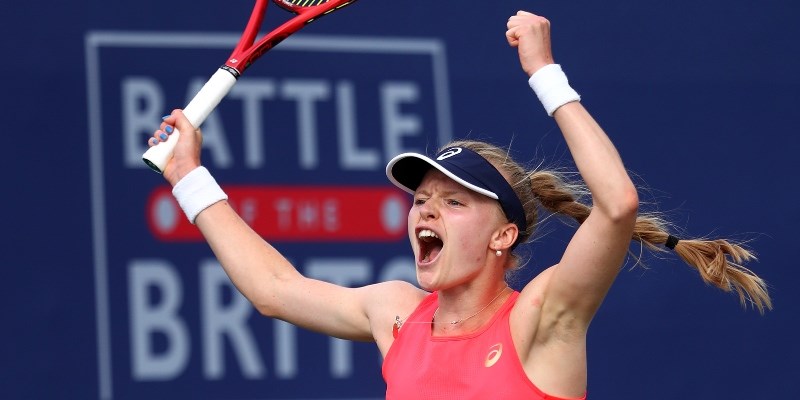 12. Emma goes flying – Julian Finney
"What I love about this image is the athleticism of Emma serving here which really shows how high off the ground she is during her motion. Her shadow behind and hair flicking up adds nicely too. The height of the jump is key and results in a more powerful downward angle serve, making it extra hard for her opponent to return."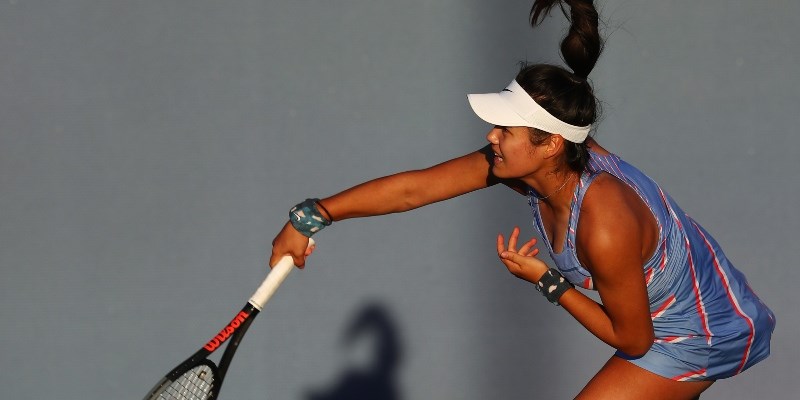 13. The next generation – Naomi Baker
"I love finding natural light and surroundings and being able to show the confidence and strength of young athletes."

14. Empty – Clive Brunskill
"The opening match of the Italian Open which in normal years would have a loud and packed full house. This image illustrates the devastation the pandemic has had on the sport when compared to the next image, taken at the Australian Open in January. The contrast is mind blowing!"

15. Konta stretches – Clive Brunskill
"I just love the light, shadow and determination on Johanna Konta's face as she stretches to play a forehand in her round three match against Garbine Muguruza of Spain during day five of the Internazionali BNL d'Italia at Foro Italico on September 18, 2020 in Rome, Italy."

16. Under the lights in Paris – Clive Brunskill
"Day one at the French Open and it's the very first time I have photographed a match under lights at Roland Garros in Paris. It just so happened to be Andy Murray and it is always a pleasure to photograph a player who has given so much to British tennis and the game in general. Here he is pictured serving in the near empty Philippe Chatrier centre court during his Men's Singles first round match against Stan Wawrinka of Switzerland during day one of the 2020 French Open at Roland Garros on September 27, 2020 in Paris, France."

17. Number 20 for Rafa – Julian Finney
"This was the moment Rafael Nadal won his 13th French Open. Nadal going into this year's event during a different part of the season for the first time brought mystery into each player's form. Nadal in legendary style celebrated emphatically on his knees straight to his family box. Slightly different to his usual lie backwards on the clay celebration but was still a photographer's dream."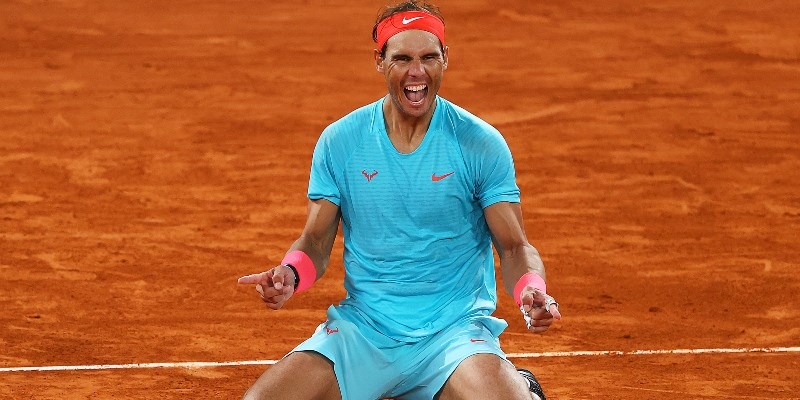 18. From ecstasy to agony – Alex Davidson
"A fantastic image of the true contrasts of emotions that the sport can produce - from ecstasy in victory to agony in defeat."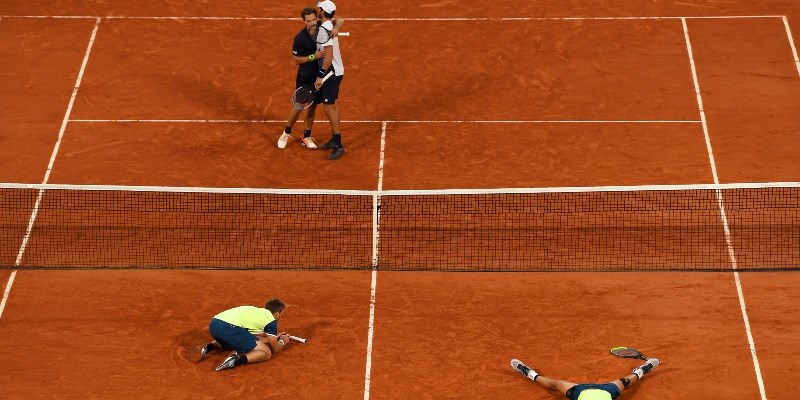 19. Rafa returns to London – Clive Brunskill
"No other player looked more menacing in their face mask than the King of Clay Rafael Nadal of Spain. His mask displays the number 20 to signify the number of Grand Slams he has won in his illustrious career. This was taken prior to his singles match against Dominic Thiem of Austria during day three of the Nitto ATP World Tour Finals at The O2 Arena on November 17, 2020 in London, England."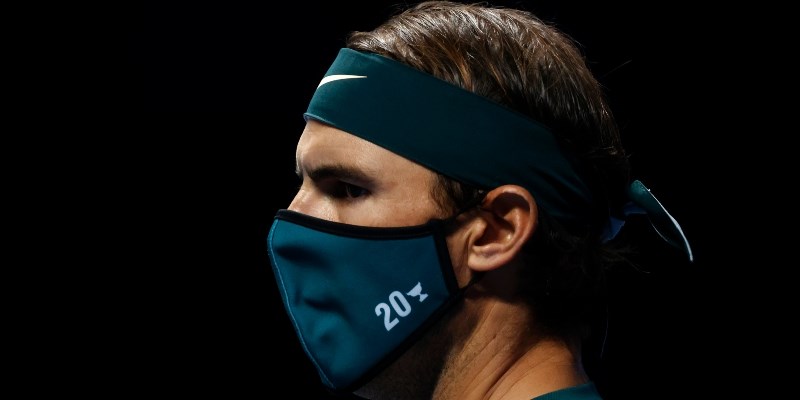 20. Daniil wins it all in London – Clive Brunskill
"Daniil Medvedev of Russia lifts the trophy after winning his singles final match against Dominic Thiem of Austria during day eight of the Nitto ATP World Tour Finals at The O2 Arena on November 22, 2020 in London, England."