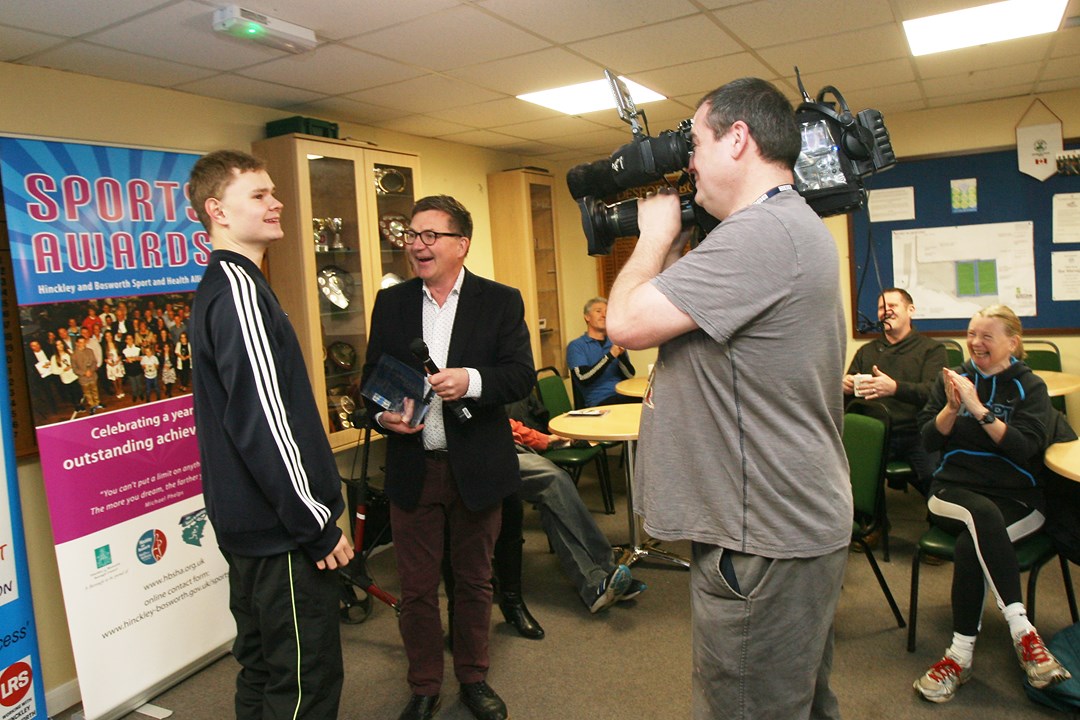 Diversity and Inclusion
Tennis coach Matt Chilvers wins East Midlands BBC Unsung Hero award
• 3 MINUTE READ
Tennis coach Matt Chilvers has been named as the winner of the 2018 BBC East Midlands Get Inspired Unsung Hero award in recognition of his work to encourage people with disabilities to get involved in tennis.
The 22 year old, from Broughton Astley in Leicestershire, will join winners from other regions at the BBC Sports Personality of the Year Awards in Birmingham next month, when the national award will be presented live on BBC One.
Matt, who is autistic himself, volunteers to coach tennis at Desford Lawn Tennis Club as well as special schools in Leicestershire.
'A role model for others'
Through his volunteering, Matt acts as a role model for other people with special needs showing that they too can play a role in sport. He has volunteered since he was 15, supporting his coach at Desford Lawn Tennis Club every Saturday morning coaching the junior sessions. He has continued to build his involvement with the sport, successfully taking his LTA Level 1 coaching award and now looking to take his Level 2 award.
Matt now sets up and runs activities at disability tennis sessions, visits schools to talk about tennis and promote the activities and organises tournaments, as well as supporting the Club's Head Coach run non-disability sessions during the week. Over the past year has helped coach or support tennis activities for people affected by cancer, inclusive tennis sessions, tennis for older people with sight impairment, recovering from operations or dementia, and supported Martyn Whait, one of the Tennis Foundation's national disability coaches, running sessions in Loughborough.
Speaking to BBC East Midlands, Tina Waters from Sketchley School, said:
Matt has undertaken his volunteering in tennis while studying an HND in Leisure at Loughborough College. He also plays tennis with Desford's men's second team, plays at Tennis Foundation Learning Disability tournaments around the country and represents East Midlands Special Olympics.
'I want others to have the same opportunity'
Giving people with disabilities the opportunity to play tennis and improve their health, social contact and gain confidence is so important to Matt, with him saying: "I get so much out of sport I want other to have the same opportunity. Just because you have special needs does not mean you cannot play sport and have fun. It's really important to be able to help more autistic people to be able to participate and volunteer in sport. There are a lot of benefits to this".
Head coach at Desford, Alec Matty, who nominated Matt, added: "He's a proper unsung hero because he's had to overcome a lot of things to get him in this position."
The work of Matt and Alec in delivering the disability tennis activity at Desford LTC led to the club winning the LTA's Disability Programme of the Year award earlier this year, with Matt being invited to the Nature Valley International WTA tournament in Birmingham to be presented with the award.