LTA
LTA and ClubSpark win Best Participation Technology award
• 3 MINUTE READ
The Lawn Tennis Association (LTA) and ClubSpark have scooped the award for Best Participation Technology at the 2017 Sports Technology Awards in London.
Known as the Oscars of sports technology, the awards attract entries from over 30 countries across the globe.
Celebrating 19 categories which represent approximately 70 sports and 100 brands, the awards were hosted by sports presenter Mark Chapman and judged by a panel of industry leaders including elite athletes Dame Katherine Grainger, Baroness Tanni Grey-Thompson, Olympic rugby coach Ben Ryan, and England football manager Gareth Southgate.
The LTA has worked in partnership with Sportlabs Technology Ltd over the last four years to develop ClubSpark – an innovative campaign and venue management platform that helps national governing bodies and tennis venues attract new participants to the sport.
Designed to underpin the day to day interactions between venues and players, the flexible digital tool gives clubs and coaches the ability to connect with their players, members and customers at the touch of a button. Whether it's managing venue registration, membership, bookings or payment, ClubSpark is there to save venues and coaches hours of administration time.
It provides real time insights into who plays, when they play and why they play to help measure, understand and build participation. The platform is now used by more than 2,750 clubs across the UK, engaging with more than 700,000 users.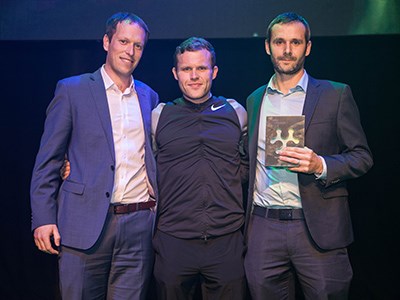 Looking ahead, the LTA and ClubSpark are committed to continue its development with the latest addition linking the booking platform with Smart Access Control systems. This gives players the option to book their court online, make a payment and access the court using their membership card or unique pin number for the booking. The system can even manage floodlighting so that it can be set to turn on automatically if there's a booking.
Dave Ward, Managing Director of ClubSpark, said: "We are delighted to have won this prestigious award. It recognises the incredible progress that the ClubSpark platform has made in a short space of time and inspires us to continue to strive to make people more active through technology. We are now working with a range of different sports and we hope to help them achieve the same success in driving participation as our partnership with the LTA."
Rob Dearing, Head of Tennis Delivery and Innovation at the LTA, said: "It's brilliant to have our pioneering participation technology recognised at the highest level and for the LTA and ClubSpark to be front runners in this field. It's been an exciting four years to this point and the journey doesn't stop here. Over the coming years we will invest our time and energy to continually improve the way technology can support more people to play tennis more often."