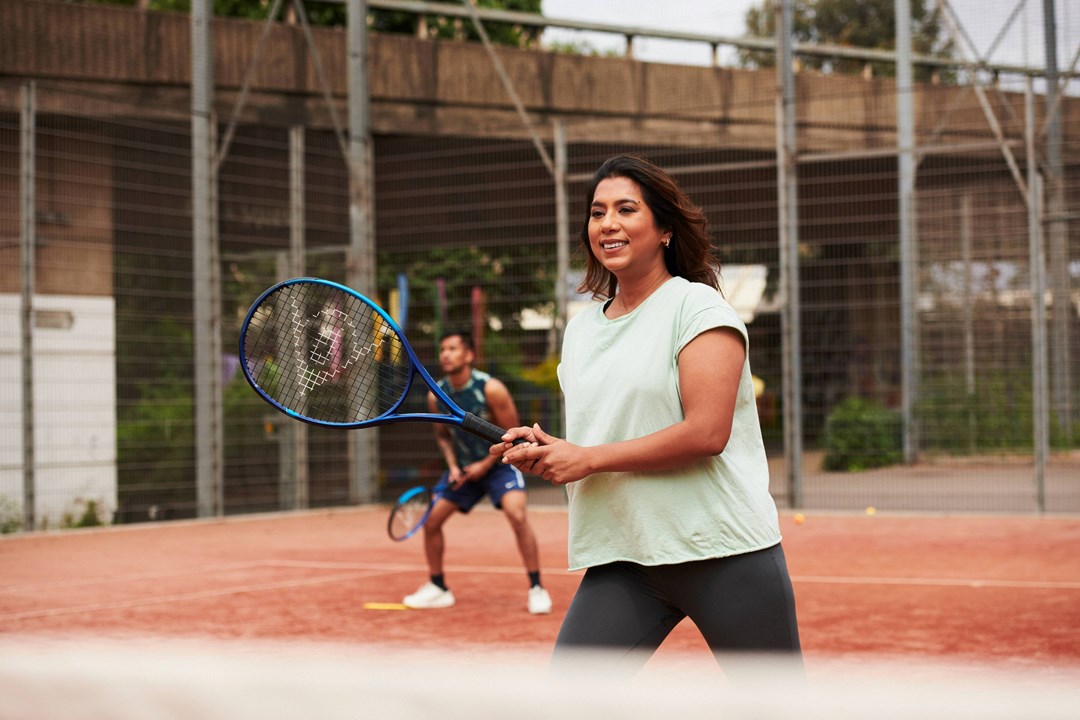 Diversity and Inclusion
LTA announces launch of Board-level Inclusion and Diversity Advisory Group
• 2 MINUTE READ
We have today announced the launch of a Board level Inclusion and Diversity Advisory Group (IDAG), comprising eight expert individuals from the inclusion sector. The establishment of the group is central to our overarching vision to open up tennis to people of all backgrounds and forms a central part of our Inclusion Strategy.
The IDAG will be chaired by Rachel Baillache (LTA Board Inclusion Lead and Senior Independent Director), who oversaw the creation of our Inclusion Strategy. Rachel is joined by Sanjay Bhandari (LTA Board member and Chair of Kick it Out), Funke Awoderu (Diversity & Inclusion Director at Live Nation and former LTA Independent Councillor), Shiv Paul (LTA Independent Councillor and Founder, Caprihan Consulting), Emma Birchall (Global Head of Diversity and Inclusion at Ericsson), Selva Ramasamy KC (Leading barrister and an advocate for inclusion at the Bar), Vicky Williams (LTA People Director and Executive Inclusion Lead) and Barry Horne (LTA Independent Councillor and CEO at Activity Alliance).
The IDAG brings together a diverse range of lived experience and significant expertise to provide strategic guidance on the implementation of the Inclusion Strategy, and to offer an external perspective on best practice and areas where we can be more inclusive. The group will work closely with our colleagues and the independent Inclusion, Diversity, Equality and Accessibility (IDEA) working group. The IDEA group, which was set up in February 2021 and which informed the development of the Strategy, will continue to provide ideas, suggestions and an operational level consultation forum, which will feed into the IDAG.
Rachel Baillache, LTA Senior Independent Non-Executive Director and Chair of the Inclusion and Diversity Action Group said: "We are thrilled to announce the formation of our Inclusion and Diversity Advisory Group. The group includes eight individuals who, between them, have a wealth of experience in the inclusion sector.
"When we launched our 2019 – 2023 Vision - Tennis Opened Up – we placed inclusion firmly at its heart, as we recognised that tennis was still viewed by some as hard to access. Through steps such as establishing this group, we have committed to changing that perception and ensuring that tennis truly is a sport that reflects the diversity of our communities across Britain. I, for one, am looking forward to seeing the contribution this group can make with its broad range of knowledge, experience and expertise, as we continue to open up our sport".
Our Inclusion Strategy was launched to support the LTA's 2019 – 2023 Tennis Opened Up Vision and with one clear ambition – that we would not be satisfied until participation in the sport fully reflects the diversity of our communities across Britain.
With the LTA Annual Report for Inclusion due to be released imminently, the creation of IDAG is one of the key actions taken by the LTA in inclusion over the past year.
Meet the Inclusion and Diversity Advisory Group
LTA Board Inclusion Lead and Senior Independent Director
Rachel joined the Board in September 2018 as an independent non-executive director. She is Chair of the Audit Committee, a member of the Board Nominations Committee and the Board Inclusion & Diversity Champion providing Board oversight on the implementation of the LTA's Inclusion and Diversity strategy.

Rachel was a partner at KPMG where she served as a member of the firm's global management team for eight years as the global Head of People, Performance and Culture with a remit which included Inclusion and Diversity. She was also the executive responsible for global internal and external communications. Rachel is an independent non-executive director of both UK Sport and Somerset County Cricket Club. She is the Chair of Minds@Work and is an avid tennis supporter.
LTA Board member and Chair of Kick it Out
Sanjay joined the LTA Board in August 2021 as an independent non-executive director. He is a member of the Audit Committee.
Sanjay has a portfolio career as a board member, business adviser and charity trustee. Sanjay is Chair of the Satellite Applications Catapult which seeks to catalyse innovation in the UK space industry and advises a number of businesses on innovation and growth strategies embracing disruptive technology.
Sanjay is experienced in driving cultural change through equality, diversity & inclusion strategies and also has a passion for sport and activity. Sanjay is Chair of Kick It Out (English football's equality and inclusion charity) and is a trustee of Greater Sport (the local Active Partnership seeking to get 2m people active in Greater Manchester) and the World Reimagined (a ground breaking arts education charity on the transatlantic trade in enslaved Africans).
Prior to this, Sanjay had a 30-year career in professional services as a lawyer specialising in international fraud and then as a consultant moving from legal and compliance technology into broader innovation roles. Sanjay was a Partner at EY for 12 years.
Inclusion and Diversity Director at Live Nation and former LTA Councillor
As well as being an expert in her field of Diversity and Inclusion, Funke advised the LTA during the creation of the Inclusion Strategy in 2021 and is a former trustee of the Tennis Foundation. Funke currently has lead responsibility for numerous D&I plans and has been instrumental in delivering education to players, coaches, managers, match officials at all levels of the game, as part of footballs anti-discrimination sanction framework, to create a more welcoming and inclusive atmosphere in football.
Global Head of Diversity and Inclusion at Ericsson
Emma is a champion of harnessing the power of diversity to achieve better results – for people, business, and society. In her role as Global Head of Diversity and Inclusion for Ericsson, she leads the company's D&I strategy across 100,000+ employees in over 180 countries. Before joining Ericsson, Emma was Co-Managing Director and part of the founding team of HSM Advisory, a consulting firm, where she advised CEOs and leadership teams on people strategy and inclusion. Emma is a trustee at UK Armed Forces and Veterans charity, Help for Heroes, ensuring that service personnel and military veterans receive lifelong support; Emma is also a trustee at Akram Khan Company, one of the world's foremost innovative dance companies telling the stories of what it means to be human.
LTA Independent Councillor and Chief Executive at Activity Alliance
Barry is a successful, values driven organisational leader with a passion for delivering real world change through the power of sport and active recreation. For the past 12 years, he has led work to help ensure that disabled people share in the many benefits which sport brings.
Previous to his role as an LTA Independent Councillor, Barry was a member of the Tennis Foundation Board.
LTA Independent Councillor and Founder, Caprihan Consulting
Shiv is the CEO and Founder of Caprihan Consulting, a specialist consultancy that provide strategy and training expertise in DE&I, Change Management and Executive Coaching as individual services or as a holistic growth package. He has 20 years of management consulting experience at McKinsey&Co, and Adobe's Professional Services group, primarily in the field of Digital Transformation and Change Management. Shiv is a certified Business and Life Coach (CTI), Personal Trainer and Group Fitness Instructor (ISSA), and Meditation Practitioner and uses these capabilities to provide a unique experience to clients.
Volunteering has always been a big part of Shiv's life. His short documentary Queens at Court was used to start the United States Tennis Association's (USTA) Pride events in 2014. He served as the Vice Chair of the USTA's National D&I Committee (2018-2020), and as Vice President of External Relations for the Federation of Gay Games (2018-2022), the world's largest quadrennial sports and culture event that is open to all.
After graduating with a M.A. in French Language and Literature, Shiv worked as an actor, model, journalist and fitness instructor in London, Mumbai and New York. He lives in Sussex with his partner and dog.
Leading barrister and an advocate for inclusion at the Bar
Selva has over 25 years of experience in regulatory and criminal law, with a particular focus on cases involving doctors and other healthcare professionals. He is often involved in the most serious types of regulatory cases where there is concurrent investigation by the police and regulators. In his criminal practice, he prosecutes and defends. Similarly, in his regulatory practice, he acts for regulators and defends. He sits as a Recorder (part time judge) in the Crown Court. In his career he has been an elected member of the Bar Council, a member of the Criminal Bar Association Committee, a member of the Bar's Race Relations Committee and a Member of the Bar Standards Board Prosecuting Counsel Panel for Disciplinary Hearings. Selva was the first non-white member of his Chambers when he joined in 1994. He has recently been elected as joint Head of Chambers. He is proud to say that his Chambers is now recognised for its diverse membership, with a published commitment to Equality and Diversity, a Fair Allocation of Work Policy, an Anti-Bullying Policy and a well-established outreach program at school and university level. Selva is also a lifelong tennis player and spectator.
LTA People Director and Executive Inclusion Lead
Vicky leads the HR, Recruitment and Learning & Development function for the LTA. Vicky was previously HR Director for the Business and Industry Division of Compass Group, where she worked for 21 years. During her time with Compass Group, Vicky developed and delivered the company's first on-line training programme for new starters and an award winning apprenticeship scheme. In 2017, Vicky won Personnel Today, HR Director of the Year.
Vicky acts as a governor for two schools: Vice Chair at a multi faith primary school with a focus on children from the Jewish community, as well as a governor for a high performing state secondary school. Vicky is also a member of the Sports and Recreation Alliance Remuneration Committee.