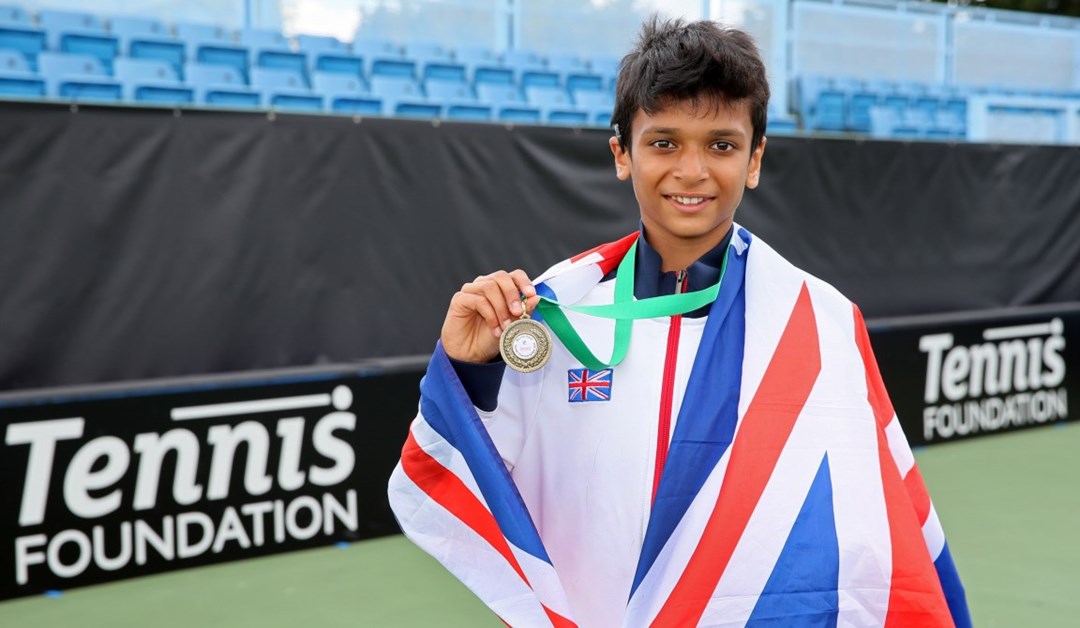 Diversity and Inclusion
Esah Hayat: 'I used to think tennis was stupid!'
• 3 MINUTE READ
As part of Deaf Awareness Week, Esah Hayat, Junior Boys' World Deaf Tennis Champion blogs for the Tennis Foundation about the impact the sport has had on his life, and how it's even taken over football as his number one sport.
"My dad and my brother already played tennis so I was introduced to the game at around six-years-old. However, I didn't like it and just wanted to play football. I remember after my first session saying to my Dad: 'this is a stupid game! All you do is run around after a ball and hit it!' For a while I didn't play tennis however I used to watch my brother Yousuf play and helped collect the balls and hit them against the wall. When I was about nine and a half I realised I couldn't play football as well as I wanted to with my hearing aid and cochlear implant so I tried tennis again.
At first I started playing at Westway Sport and I started off with 15 minute lessons with my coach (Andy Kemp), but it soon grew to ½ hour sessions and then a full hour. Since starting at Westway I have progressed into the Developmental Performance Programme. I was just playing in their mainstream programme and not specifically in a deaf tennis group when my dad got an email when I was 11 from the North London Deaf Children's Society asking whether I would like to play in the National Junior Deaf Tennis Championships which are run by the Tennis Foundation.
I went and won my round robin, and received a trophy. This got me more enthusiastic about deaf tennis, and started attending junior deaf tennis camps run by the Tennis Foundation. The next year, I went to Hamburg, Germany to play an international deaf junior tennis tournament. I reached the semi-finals and was by far the youngest one out of the four semi-finalists, so that boosted my confidence. After around a year and a ½, I did my first training camp with the adult squad, and was allowed to carry on playing with them which was really exciting and great for my game.
In July last year I was selected to represent Great Britain in the first ever World Deaf Tennis Championships in Nottingham which was exciting. I played in the men's division and the junior division; I got to the second round in the men's competition where I lost out to a much older and stronger player. In the junior competition I played really well and made the final. I was nervous beforehand as I had lost to the same player the year before, but I'd worked really hard with my coaches and I got my tactics right. It's a huge honour to be World Champion and I was really pleased.
Tennis has brought a lot to my life, at first I thought I hated it but it's given me so many chances and opportunities which have been amazing."
To find out more about the opportunities for deaf and hearing impaired players click here.