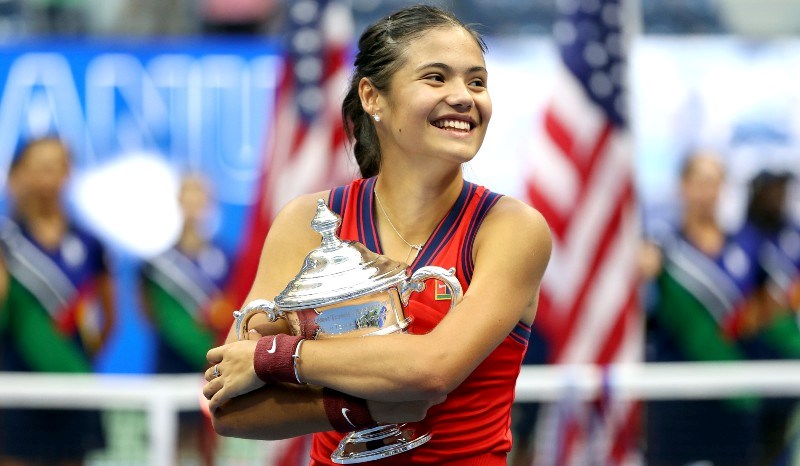 Players News
Emma Raducanu shortlisted for BBC Sports Personality of the Year Award
• 3 MINUTE READ
2021 US Open champion Emma Raducanu has been shortlisted for the BBC Sports Personality of the Year Award, ahead of the ceremony which takes place this Sunday 19 December.
The 19-year-old from Bromley has enjoyed an incredible 12 months, earned off the back of a string of impressive performances in her first two Grand Slams – coming through qualifying to become Britain's first women's singles major title winner for 44 years at the US Open.
In the summer, while awaiting her A-level results, Raducanu emerged as a star at Wimbledon, defying her ranking of 338 to reach the fourth round.
Read about the remarkable rise of Emma Raducanu
The LTA Pro-Scholarship Programme player is also an ambassador of the LTA Youth programme, and as part of her role, Emma paid a visit her old primary school in Kent to greet and inspire the children on sports day in July, following her grand slam debut at Wimbledon.
Vote on Sunday
Voting for the Sports Personality of the Year award will be open to the public during the programme on BBC One on Sunday 19 December. The public can vote by phone or online on the night for the main award, with full details announced during the show.
John McGowan – Unsung Hero Award
John McGowan of Hinckley Town Tennis Club has been recognised for his contribution to the community, winning the BBC East Midlands Sports Personality of the Year Unsung Hero Award for 2021 and will now represent the East Midlands when an overall Unsung Hero will be announced at the national BBC Sports Personality Awards.
John has provided years of volunteer support in tennis and has held various roles at Hinkley Town Tennis Club, ranging from assistant coach to club chairman, a role he held for seven years. He has also provided free tennis coaching for disabled players, as part of the LTA's Open Court programme.

The local hero has helped to increase the club membership by holding club open days and by supporting fun days on park tennis courts. He has also helped raise tens of thousands of pounds for club funds to improve the club's floodlights, so training sessions and matches can be played during the winter months.
Commenting on his award, John said: "I am both surprised and delighted to have won this award. It has been very pleasing to receive kind messages from people who know me, even from abroad. Hopefully the award will bring credit to the game of tennis when people see the kind of work we do at Hinckley Town Tennis Club.
"I am looking forward to the national awards evening on 19th December. It will be marvellous to meet so many national sporting heroes."