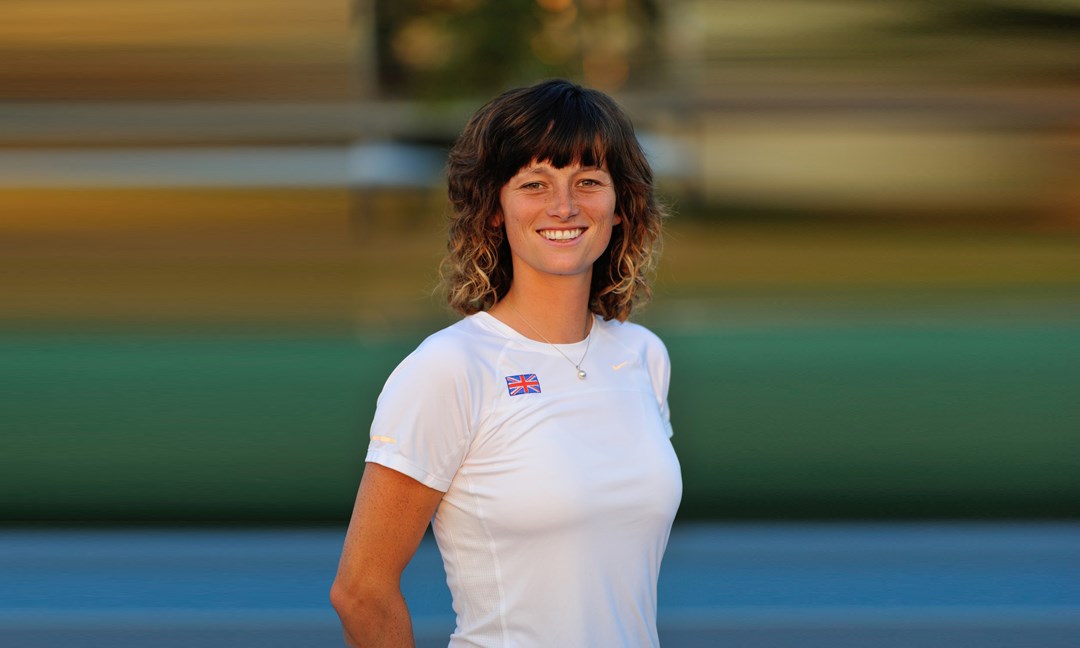 Diversity and Inclusion
Catherine's Story: Why making a noise about deaf tennis is my burning passion
• 4 MINUTE READ
Catherine Fletcher is passionate about giving something back to the sport she loves. She has been involved in tennis since she first started playing as an 11 year old.
Catherine was born profoundly deaf. As a player, she was one of the country's best, competing internationally for the Great Britain deaf tennis team from 1997-2013. As a coach, she is now helping others, with her own coaching business in Wiltshire. Catherine and her husband Lewis are Head Coaches at Ramsbury tennis Club, which was this month named South West Club of the Year as part of the British Tennis Awards.
An inspiration to many, Catherine has been the Tennis Foundation's National Deaf Tennis Coach since 2013. Such is the respect she has in the sport, yesterday she represented the Foundation and shared a stage with the likes of Judy Murray, Gabby Logan and Dame Katherine Grainger at the LTA's National Women's Coaches Conference to help inspire, connect and empower the British Tennis female workforce.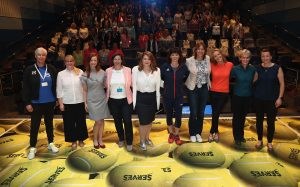 For those lucky enough to be in the audience, they will have heard an inspiring story. For the past five years, she has been helping the Tennis Foundation raise awareness of deaf tennis, and deliver on their mission to create opportunities for anyone to pick up a racket and play the sport, regardless of age, ability or background. Catherine's contribution has already helped to increase the numbers of participants around the country, and improve the quality of the sport.
First representing Great Britain in 1996, Catherine is the perfect fit for the National Deaf Coach job. She's reaped the rewards of the sport during her playing career and knows first-hand the benefits that it can bring. Now she has the opportunity to show aspiring young players what tennis can do for them.
"I was at the end of my playing career and it seemed the perfect opportunity," Catherine explained. "I have a huge passion for deaf tennis, and for me this was the natural progression, continuing to be involved in the game I love and being able to give something back to the sport that gave me so much.
"Being profoundly deaf myself, I have an empathy and understanding of deafness. As a previous player I understand tennis and playing a sport that I love to a high level. So to be in this job is perfect for me – I absolutely love what I do."
Working alongside the Performance Support team, Catherine's role includes running camps, individual player visits, and liaising with individual coaches. She is also tasked with increasing recognition of the sport, getting more players involved and building on the success that she and her GB colleagues have had since the turn of the century.
At the 2016 European Championships, Team GB earned six medals. Prior to that, there was international success at multiple Deaflympics and competitions all around the world – even as far as Melbourne. Later this year, the Dresse and Maere Cups and World Deaf Tennis Team Cup take place in Turkey.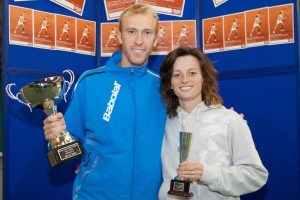 That just goes to show that the possibilities within the sport are endless. A chance to travel the world, meet new people, and potentially have the honour of representing your country – something which Catherine will treasure forever.
With the Tennis Foundation's Deaf Tennis Performance Programme, players are supported through national training and are given the opportunity to be selected to compete in international events, including the European and World Deaf Tennis Championships, Dresse and Maere Cups and the Deaflympics.
"They [2016 European Championships] were amazing and it just shows what success we have in GB deaf tennis. We had a gold medal at the 2009 Deaflympics in Taipei which was an amazing achievement – it had been years since a British player won gold.
"We are constantly thriving to grow deaf tennis, both nationally and internationally. We are running a deaf tennis festival in September. We are working hard to find more deaf tennis players and get more coaches, clubs and players to realise that deaf tennis is something they can take part in.
"It is paramount that we continue to promote the sport and get the message across of the opportunities available, to ensure that deaf tennis grows. The long-term vision is to utilise success in the sport's most significant events as a platform to ensure the Deaf Tennis Performance Programme, and the sport of deaf tennis, is recognised as elite."