GB Teams
British Tennis unveils cornerstone of Davis Cup legacy to inspire more junior players
• 1 MINUTE READ
The Lawn Tennis Association has today announced the biggest ever initiative to drive junior participation behind Great Britain's historic Davis Cup by BNP Paribas victory in Belgium.
Ten thousand introductory free junior tennis courses and 10,000 free rackets will be offered at local venues for boys and girls across the country. The lessons will be delivered by a team of 1,000 expert and passionate coaches. Recruitment will start in January 2016, and the opportunity for children and families to take up the offer will go live ahead of the first round Davis Cup tie in March.
Another exciting element will be implementing a national Davis Cup Trophy tour. Fifty different venues will have the chance to host the trophy in their local community, park or club, with some surprise visits from team members. The aim is that every one of the LTA counties will receive a visit from the trophy to thank as many people as possible for their support for the team over the past year.
LTA Chief Executive Michael Downey said, "Our Aegon GB Davis Cup team has done the hard part in creating history and bringing the World Cup of Tennis home. We have a four year strategic plan to get more people playing tennis more often and critical to this is the desire Leon and the team have to inspire the new players into our sport.
"A free racket will be donated to the first 10,000 juniors that sign up as we continue to make tennis a fun sport that can be enjoyed by the whole family. We are fortunate in Great Britain to have a first-class coaches and the support of our amazing volunteers help us deliver on this ambitious aim in the community. We will reveal more details in the New Year."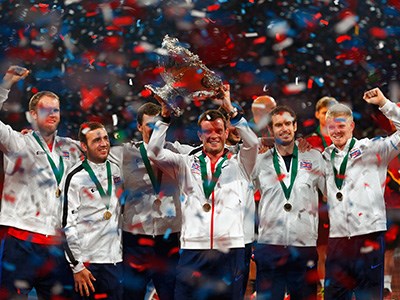 Aegon GB Davis Cup Captain Leon Smith said, "The whole team cares passionately about our sport. We actively want to make a difference in capitalising on this unique opportunity to get as many kids on court as possible."
Great Britain Fed Cup Captain Judy Murray said, "The Davis Cup victory created an enormous profile for British Tennis and took the sport to a whole new audience. We must capture that now with the message that our sport is accessible, affordable and fun for all.
"This initiative is a positive move to hopefully inspire more children to play and will take a lot of work. That means creating a network of tennis pied pipers who can deliver starter activity all over the country. We must invest in people to build a workforce in order to create a lasting legacy for the next generation."