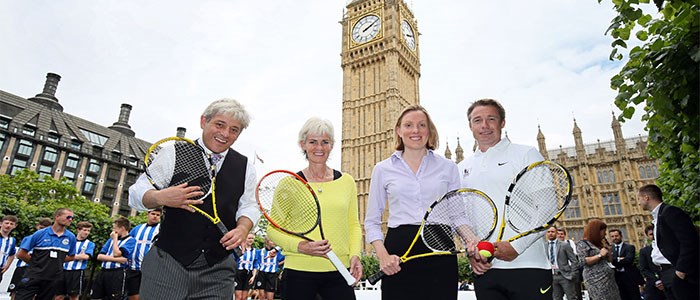 LTA
British Tennis and Premier League 4 Sport take over Westminster
• 3 MINUTE READ
British Tennis has teamed up with the Premier League to offer a unique opportunity for children involved in the Premier League 4 Sport (PL4S) scheme to play tennis in the grounds of the Houses of Parliament.
The LTA and the Tennis Foundation in partnership with PL4S transformed New Palace Yard into a hive of tennis activity as young people from across the country representing Wigan, Stoke, Chelsea, Aston Villa and Tottenham Hotspur football clubs took part in the day's activities.
Judy Murray, Graeme Le Saux and a host of Parliamentarians joined in the fun to help British Tennis and PL4S showcase the innovative partnership between the two sports.
The PL4S initiative offers the opportunity for young people to take part in sport outside of school and the chance to take part in a range of sports including netball, athletics and volleyball.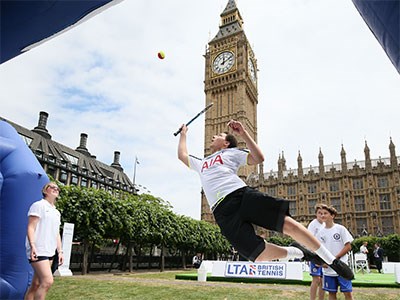 The partnership with British Tennis is now in its third year and over 3,500 young people have been involved in the tennis programme to date. This scheme, using the strength and recognition of the Premier League brand, allows British Tennis to take the sport to new audiences and engage young people who may not have previously had the opportunity to play.
Each Premier League Club has a dedicated coordinator who works with sports clubs and schools in their community to maximise the opportunities for taking part in a wide range of sport. British Tennis is working with 20 football clubs across England promoting tennis
Claire Webb, LTA Strategic Project Manager said: "This project is a great example of how sports can work together to increase participation and get kids more physically active by providing a range of sporting opportunities for them to experience. Working in partnership is essential if we are going to reach our mission of getting more people playing tennis more often and now in the third year of our partnership with PL4S we are seeing a significant increase in engagement. We hope to continue working with this innovative programme to provide as many kids as possible with the opportunity to play tennis".
Tom Gibbins, Head of Education at the Tennis Foundation said: "The Tennis Foundation is always looking for different ways to reach young people through our work in education and with disadvantaged communities and our partnership with the LTA and Premier League has been a fantastic opportunity to do that and give the opportunity for them to have fun and stay healthy playing tennis. I'm sure their experience today playing in such an iconic venue will inspire them to play even more tennis with their friends and family, whether in their local park or in school."
Simon Morgan, Head of Community Development at the Premier League said: "The Premier League's partnership with British Tennis, as part of the Premier League 4 Sport programme, has seen a 58% uplift in the number of young people participating in tennis lessons and coaching over the past year, as well as an increase of 107% in the number of females taking part. Such a large increase is testament to the hard work put in by the 20 professional football clubs who run the sessions as part of our Olympic Legacy programme."