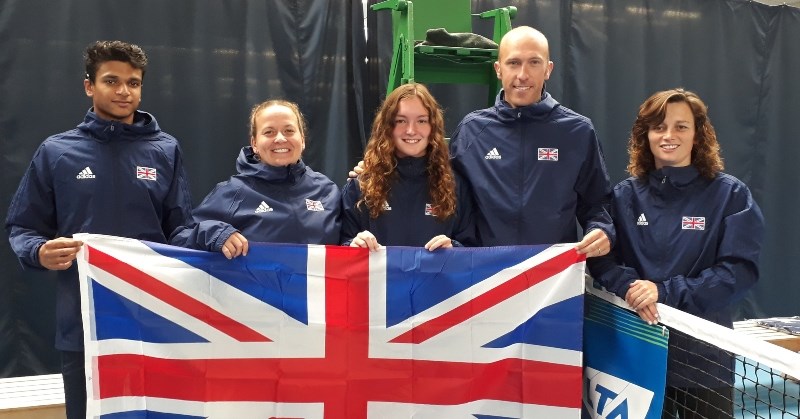 Diversity and Inclusion
British stars scoop awards at Deaf Sports Personality of the Year
• 6 MINUTE READ
Great Britain's deaf tennis players have been voted winners in a record three categories in the Deaf Sports Personality of the Year (DSPY) Awards after a tremendous wave of international and domestic success in 2019 and 2020.
Phoebe Suthers has been voted Young Deaf Sports Personality of the Year, with Catherine Fletcher, the LTA's National Deaf Tennis Coach, winning Coach of the Year. The entire GB Deaf Tennis Team have also been voted Team of the Year after playing for six medals and winning five of them at the 2019 World Deaf Tennis Championships.
The biennial awards were launched in 2010 to celebrate the achievements of deaf athletes in both deaf and hearing sport, with five British tennis players shortlisted in an unprecedented four categories this time ahead of and online public vote in early December.
Suthers, who was shortlisted for the Young Deaf Sports Personality of the Year Award alongside Great Britain teammate Esah Hayat, said: "Winning this award is the perfect ending to a difficult year. I'm also delighted to be part of the deaf tennis team's achievement and delighted for Cathy Fletcher for winning Coach of the year. This is all great news and a reflection of all the hard work and commitment that goes into making our performances and successes."
She was voted the winner this year after earning a full set of gold, silver and bronze medals at the 2019 World Deaf Championships in Antalya, Turkey and winning back-to-back women's singles and mixed doubles titles at the National Deaf Championships in 2019 and 2020.
The 17-year-old joins 2016 winner Hayat on the Young Deaf Sports Personality of the Year roll of honour after they paired up to win the junior mixed doubles gold medal in Antalya, adding the world title to their European junior title. Suthers also partnered Lewis Fletcher to win the silver medal in the senior mixed doubles in Antalya, while adding the junior girls' singles bronze medal.
Suthers won her fourth successive women's singles National title at the NTC in September before adding her second successive mixed doubles title partnering Fletcher. Suthers and Hayat were unable to defend their European Championships title this year after the 2020 event was cancelled due to the pandemic and Suthers now has her sights set on making her Deaflympics debut in Brazil next December.
Alongside her success in deaf tennis, Suthers was also part of the Yorkshire Under 18 Girls County Cup team that were runners-up in Division 1 in 2019.
Catherine Fletcher's passion for and dedication to deaf tennis as the LTA's National Deaf Tennis Coach has earned her the Coach of the Year award for the first time after she was first shortlisted for the award in 2016.
Catherine oversees all Deaf National Squad training weekends and development clinics, preparations before and during major international championships and she has played a key role in the development of talented young players such as Esah Hayat and Phoebe Suthers.
She was a winner in the very first DSPY Awards in 2010, sharing in the Team of the Year Award after winning the mixed double gold medal at the 2009 Deaflympics. With Catherine now the National Deaf Coach, the GB team of four players won five medals at the 2019 World Deaf Tennis Championships, with Valerie Copenhagen and Suthers also earning their place in the bronze medal match in the women's doubles.
Alongside her National Deaf Tennis Coach role, Catherine and her husband, GB player Lewis Fletcher, are partners in their own coaching business in Wiltshire, where they are joint Head Coaches at Ramsbury Tennis Club, which was named South West Club of the Year in 2019.
Catherine said: "I'm absolutely thrilled to win the Coach of the Year award and would like to say a big thank you to all those who voted for me and to the LTA for their support and encouragement. After many years as a player, being National Coach allows me to be involved in the sport that I have so much passion for and to give back to the sport that has given me so much over the years. I feel very privileged to have an excellent team around me, the players who are extremely committed and dedicated.
"In Phoebe and Esah we have two younger players who have achieved some really exciting results and have so much promise. They have a very exciting future ahead of them. Coupled with Lewis's experience and doubles expertise, this has enabled us to achieve some great successes over the last couple of years.
"Valerie Copenhagen has always been a great member of the team and partnered Phoebe to the women's doubles bronze match in Antalya, while Andy Graham, our sports therapist, has been excellent support working alongside me and instrumental in helping give our players the best possible preparation. All the off-court work is just as vital. To gain a hat-trick of DSPY Awards is a real reward for all the hard work, commitment and successes from everyone and to be voted Team of the Year Award, in particular, was very fitting."
While Lewis Fletcher was shortlisted for the overall Deaf Sports Personality of the Year award for the first time, Wiltshire Tennis's Coach of the Year in 2019 narrowly missed on a place in the top three. However, having won two doubles silver medals at the 2019 World Championships and back-to-back men's and mixed doubles National titles in 2019 and 2020, he said: "I'm extremely proud of Catherine for winning the Coach of the Year Award and to be a part of such a magnificent team that have been voted Team of the Year, with my two talented doubles partners Esah and Phoebe nominated for Young Deaf Sports Personality of the Year. Many congratulations to Phoebe.
While I would have loved to have finished in the top three for the overall Deaf Sports Personality of the Year Award, I'm delighted to have made the shortlist after an outstanding few years for British deaf tennis. We will continue to give our all as we work towards the 2021 Deaflympics. Catherinie already has a Deaflympics doubles gold medal and I shall be doing my best to add at last one more to that tally."