Domestic Competition
Derbyshire Men and Surrey Ladies crowned Aegon Summer County Cup winners
• 4 MINUTE READ
A high quality week of tennis packed with drama came to an end on Friday with Derbyshire and Surrey landing the Aegon Summer County Cup titles for 2015.
The champions were crowned at a wet and windy Devonshire Park in Eastbourne with bad weather scuppering most of the final day's play after a week of top action.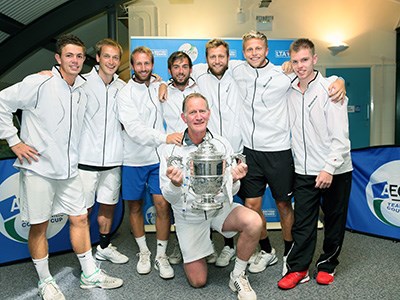 Derbyshire men's team powered past all five opponents to win all their matches and claim the prestigious trophy for the first time in their history.
A strong week from all the team including Chris Archer and James Rushby, who won 14 wins out of their 15 matches together, helped guide them to victory.
Team Captain Dennis Archer said: "It is the most fantastic day in Derbyshire's tennis history! We've been dreaming and talking about this for many years and it has finally happened. It has been a wonderful day."
Surrey Ladies also enjoyed a fantastic week to win all of their fixtures and come out on top in Group 1 with Melanie South recording 11 wins out of 12.
The team had their 49th title wrapped up with a match to spare and didn't play the final rubber with Lancashire due to the bad weather.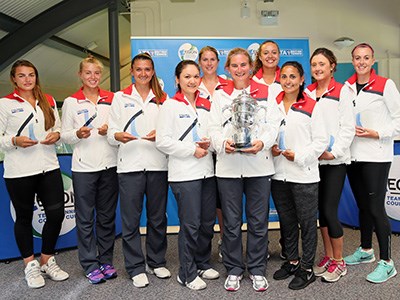 Team Captain Mandy Spicer said: "Having gained promotion in 2014, the girls were on a mission to certainly stay in Group One. As the week progressed, the realisation we could actually win the Championships became reality.
"The girls are a credit to Surrey tennis on and off the court and I am proud to be their Team Captain."
Joining them in the top divisions next year will be Essex and South Wales Men and Norfolk and Kent Ladies after they all won promotion from Group 2.
LTA President, Cathie Sabin, added: "County Cup tennis symbolises all that is good about British tennis. Families, friendship, fun and highly competitive matches."
Facts
85 teams and around 700 players were on show over the week
Kent Men and Buckinghamshire Ladies were the defending champions from 2014
Neil Bamford (Herts), Charlotte & Jade Windley (Lincs), Louise Holtum, Danielle Pym, Naomi Fellows & Katie Higson (Derbys) and Vincent Gillespie & Jonny O'Mara (North of Scotland) all achieved an unbeaten record of 15 wins out of 15
Winning teams
Derbyshire
Chris Archer, Sam Ferguson, Benjamin Rushby, James Rushby, Thomas Rushby, Christopher Simpson, Simon Thornewill
View Derbyshire's route to glory
Surrey
Emily Appleton, Jasmine Amber Asghar, Daneika Borthwick, Christa-Viktoria Gecheva, Emily Gibbens, Laura Peterzan, Megan Rogers, Lana Rush, Melanie South, Natasha Starling
Who went up and down?
| | | |
| --- | --- | --- |
| Group | Winners/Promoted | Relegated |
| Men's Group 1 - Eastbourne | Derbyshire | Lancashire / Suffolk |
| Ladies Group 1 - Eastbourne | Surrey | East Scotland / Hertfordshire |
| Men's Group 2 - Havant | Essex / South Wales | Cambridgeshire / Norfolk |
| Ladies Group 2 - Cromer | Norfolk / Kent | Essex / Hampshire & IOW |
| Men's Group 3 - Cambridge | Middlesex / Somerset | East Scotland / Leicestershire |
| Ladies Group 3 - Frinton | Yorkshire / Berkshire | Sussex / Avon |
| Men's Group 4 - Felixstowe | North Scotland / Lincolnshire | Sussex / West Scotland |
| Ladies Group 4 - Ilkley | Northumberland / Lincolnshire | North Scotland / West Scotland |
| Men's Group 5 - North Oxford | Dorset / Warwickshire | Nottinghamshire / Gloucestershire |
| Ladies Group 5 - Cheltenham | Cambridgeshire / Durham & Cleveland | Cornwall / Gloucestershire |
| Men's Group 6 - Hunstanton | Buckinghamshire / Northamptonshire | Herefordshire & Worcestershire |
| Ladies Group 6 - West Worthing | Derbyshire / Dorset | Bedfordshire / Cumbria |
| Men's Group 7 - Bowdon | Shropshire / Wiltshire | N/A |
| Ladies Group 7 - Tunbridge Wells | Shropshire / Wiltshire | N/A |