Grand Slam
French Open 2020 match updates: Day 14
• 45 MINUTE READ
Highlights
Alfie Hewett overcomes World No.4 Joachim Gerard to win men's singles title 6-4 4-6 6-3.
Yesterday Hewett and partner Gordon Reid won career Grand Slam of men's doubles titles with a 7-6 1-6 (10-3) victory over defending champions Gustavo Fernandez and Shingo Kunieda.
Andy Lapthorne beaten 6-2 6-2 in quad singles final against Dylan Alcott.
Jordanne Whiley and Yui Kamiji narrowly lose doubles final against Diede de Groot and Aniek van Koot 7-6(2) 3-6 10-8.
Get inolved on social media by using #BackTheBrits on Twitter, Facebook and Instagram
Day 14
Whiley and Kamiji lose close contest in doubles final

Jordanne Whiley and Yui Kamiji's bid for a third Roland Garros women's doubles title ended in a valiant defeat against Dutch top seeds Diede de Groot and Aniek van Koot 7-6(2) 3-6 10-8.
Whiley and Kamiji, who triumphed in Paris in both 2014 and 2016, won seven of the first eight points, breaking the Dutch top seeds to love for a 2-0 lead, but the momentum swung in favour of their opponents as they came back to establish a 5-3 advantage.
The British, Japanese duo – who won the US Open last month – battled back to take the first set to a tie-break but their resistance came to a halt as the Dutch top seeds convincingly took the tie-break 7-2.
After going down one set Whiley and Kamiji rallied to race to a 4-0 lead in the second, dropping just two points in the Dutch partnership's first two service games before Kamiji served out to love in the fourth game. Whiley and Kamiji would go on take the set 6-3 to force a match-deciding tie-break.
On this occasion the second tie-break of the contest was much closer, and ultimately it was a Whiley forehand hit long that handed the Dutch duo the championship 10-8.
Lapthorne beaten in quad final

Andy Lapthorne's hopes of winning a Grand Slam title on his Roland Garros debut ended in a 6-2 6-2 loss to Australian World No.1 and defending champion Dylan Alcott.
With Lapthorne and Alcott having finished runners-up together in Friday's quad doubles final, Lapthorne made an encouraging start to the singles final, earning a 2-0 lead. However, Alcott won the next six games to take the opening set 6-2.
At the start of the second set Alcott broke to go 3-1 up, and held to extend to 5-2, as Lapthorne found it difficult to re-produce the kind of tennis that saw him beat Alcott in the 2019 US Open final.
With World No.2 Lapthorne serving to stay in the match, Alcott continued to impress and earned three match points - the Australian would only need one, sealing his 12th Grand Slam title by hitting a backhand half volley drop shot that Lapthorne could not reach.
Hewett wins second Roland Garros singles title

Alfie Hewett won his second Major title in two days after defeating Belgium's Joachim Gerard 6-4 4-6 6-3 in an epic encounter in the men's wheelchair singles final.
Just 24 hours after completing the career Grand Slam of doubles titles alongside partner Gordon Reid, Hewett was back out on court at Roland Garros against the World No.4 Gerard.
The pair were well matched going into the final – Hewett slightly edging their head to head record 12-10 prior to today's match – and in an enthralling encounter the match ebbed and flowed over the course of two hours and 45 minutes in the French capital.
In a nervy opening to the first set the pair exchanged breaks with Hewett becoming the first to hold to take the match to 3-2. Hewett would establish a two-game cushion after breaking Gerard again to take a 5-3 lead, and then – with 51 minutes played – would go on to seal the opener 6-4 with a trademark crosscourt backhand landing with pinpoint accuracy to force an error from the Belgian.
But Gerard – who is a former World No.1 – bounced back strongly at the start of the second sailing to a 4-2 lead, which Hewett would peg back to 4-4, before the 31-year-old turned the screw again to level the tie with a 6-4 set win.
Gerard again found himself on top in the deciding set, romping to a 3-1 lead before Hewett called for a physio to tend to a shoulder issue. The treatment seemed to do the trick for the Brit who came back to fend off three break points and win the game to reduce the deficit to 3-2.
It wasn't plain sailing for Hewett from here on in, though, with the 22-year-old needing more physio in between games. He would go on to win the next four games though to reverse the tie in his favour and complete an outstanding victory.
"I hope to get a good pizza in tonight to celebrate," Hewett said. "To not only have us on the Suzanne Lenglen Court today but also having us here in what has been a very difficult year has been amazing.
"It's amazing to come here today and get the double, especially when it was looking unlikely that the event was even going to be on – thank you to everyone who made this possible."
Day 13
Not to be for Lapthorne in quad doubles title bid

Andy Lapthorne and Australia's Dylan Alcott opened their bid to secure back-to-back Grand Slam quad doubles titles impressively, racing to a 4-0 lead over Dutchman Sam Schroder and the American David Wagner before taking the first set off the same duo they beat to win last month's US Open.
However, they were unable to build on an early break in the second set and despite having a match point at 5-3 ahead they were ultimately taken to a deciding match tie-break.
From 2-0 down in the match tie-break, Lapthorne and Alcott rallied to move 7-5 ahead, but their challenge started to falter and Schroder delivered a top spin forehand that bounced out of Lapthorne's reach to complete a 4-6, 7-5, (10-8) win.
A disappointed Lapthorne said: "We had a match point in the second set and maybe we could have played that point differently but it is what it is, you can't win them all and we move on to tomorrow. I was trying to move onto the ball more today and just trying to do what the coaches have asked me to do. That's what I'll do tomorrow and hopefully I can play a bit better and get myself into a position to win. I'm the underdog so let's see what we can do."
Whiley and Kamiji race into women's doubles final

Jordanne Whiley and Yui Kamiji already have great memories of Roland Garros, having previously won the Roland Garros women's doubles title together in 2014 and 2016. They will bid to make it a hat-trick of titles on Saturday after easing to an impressive 6-0, 6-1 semi-final victory over Marjolein Buis of the Netherlands and Charlotte Famin of France
Playing in Paris for the first time since 2017 after Whiley took maternity leave, the reigning Australian Open and US Open champions dropped just four points as they took the opening set in just 17 minutes.
The second set brought slightly more resistance from Buis and Famin, but Whiley and Kamiji remained firmly in control to set up a title decider against Dutch top seeds Diede de Groot and Aniek van Koot.
Whiley, who has won 11 Grand Slam doubles titles with Kamiji since 2014, said: "We both feel really good. We didn't really have any tactics or anything today, to be honest. We just went out and played our own game and that was enough.
"I think Yui's on a high after winning the singles earlier today and, although I didn't win in the singles, I still felt like I played well today, so we both feel strong, On clay, with it being a bit slower, it might help us out in the final because it just neutralises the Dutch players' big hitting."
Hewett and Reid complete career Grand Slam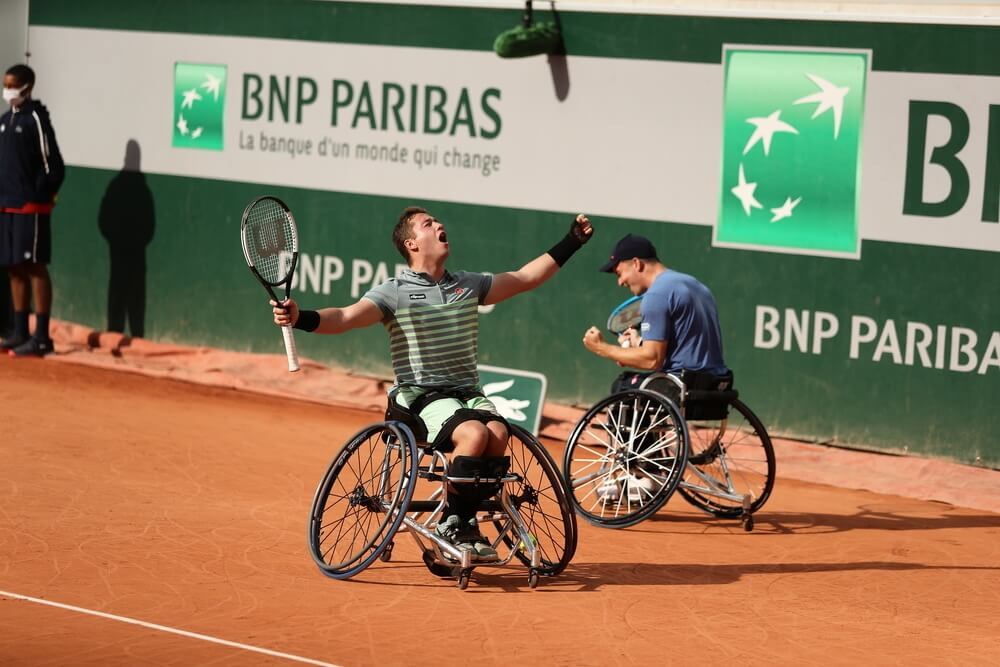 Alfie Hewett and Gordon Reid completed a career Grand Slam of men's doubles titles when they won their first French Open title together at Roland Garros with a 7-6(4) 1-6 (10-3) victory over defending champions Gustavo Fernandez of Argentina and Japan's Shingo Kunieda.
Hewett and Reid made a remarkable recovery to take the opening set of the men's doubles final, fighting back from 5-2 down and three set points down to take the first set.
The Australian Open and US Open champions could not find their way back from 5-0 down in the second set, but they made a much better start to the championship-deciding tie-break, establishing a 7-1 lead before taking their unbeaten winning streak for 2020 to 16 matches and seven tournaments.
With Hewett and Reid having now earned themselves a return to the top of the men's doubles world rankings. Hewett said: "I'm obviously very happy to win the career Slam with Gordon. It's something we've been keeping an eye on for a while now, and Roland Garros has always been that tournament where we've not managed to play anywhere near our best."
Reid, for whom Friday's victory brought a ninth Grand Slam doubles title partnering Hewett and a third Roland Garros doubles title after 2015 and 2016 wins with Kunieda, said. "I think the initial sense was of relief after quite an up-and-down match, a lot of twists and turns, and it was quite emotionally draining as well. It means a lot to us as a team, because it was the last Grand Slam that we hadn't won, and we're not sure how many more times we're going to have the opportunity to win it together.
Day 12
Hewett and Reid stay unbeaten to make final

Thursday's second day of play at Roland Garros ended for the Brits with Alfie Hewett and Gordon Reid stretching their unbeaten doubles record for the season to 15 matches as they beat Frederic Cattaneo of France and Gerard 6-3, 7-6(2) in their men's doubles semi-final.
The Australian Open and US Open champions will now face Japan's Shingo Kunieda and Fernandez in Friday's final as they bid to claim the only Grand Slam doubles title to have yet eluded them.
An immediate break of serve helped propel top seeds Hewett and Reid to the first set, but they had to recover from 4-2 and 5-3 down to force the second set tie-break.
Three quick points put the British pairing in control of the tie-break and, with four match points in their favour, Reid approached the net and put away a short crosscourt forehand that proved too much for Cattaneo to get back.
Hewett and Reid will now play Fernandez and Kunieda in Grand Slam competition for the tenth time. Having already beaten the Argentinian-Japanese partnership in both the Australian Open and US Open semi-finals this season, Hewett and Reid's only loss to Fernandez and Reid at one of the four majors came in their semi-final at Roland Garros in 2019.
Hewett topples World No.2

Alfie Hewett produced his second straight sets victory in less than a week against world No.2 Gustavo Fernandez to book a place in his second French Open men's singles final, winning Thursday's semi-final at Roland Garros 7-6(5), 7-5.
World No.3 Hewett will now play world No.4 Joachim Gerard of Belgium in Saturday's final as he bids to add to his maiden Grand Slam title in Paris in 2017.
Hewett recovered from 3-2 down to lead 5-4 in the opening set, but was unable to close out the set until the tie-break, earning two set points at 6-4. While Fernandez saved the first set point with a forehand winner, Hewett replied immediately with a sublime backhand return off the Argentinian's serve to secure the set.
Hewett faced game points that would have seen him trail 3-0 in the second set, but he fougth back with typical grit to level at 2-2 and 3-3 before breaking to love to make it 4-4. At 5-4 down Hewett saved three set points before an ace in the very next game saw him move 6-5 up.
While Fernandez had three game points to force a second tie-break, Hewett held firm. A backhand service return from the Briton landed just over the net on the Argentinian side and while Fernandes raced in to retrieve the ball, he failed to control his attempt at a delicate reply to hand Hewett his first match point.
Ultimately it was another error from Fernandez that presented Hewett with the victory as the second seed sent a backhand into the net to see Hewett avenged his straight sets loss in their 2019 semi-final.
Lapthorne wins on debut

Andy Lapthorne made a victorious Roland Garros debut on the second day of wheelchair tennis action in Paris, beating American world No.3 David Wagner 6-3, 2-6, 6-3 to book a place in Saturday's quad singles final.
World No.2 Lapthorne secured the first break of the opening set for a 3-2 lead. He soon turned that into a 4-2 lead, won the longest game of the set with a forehand winner at the net for 5-3 and serving out the set to love.
Lapthorne remained on course in his bid to secure a straight sets win in the opening exchanges of the second set before Wagner built momentum and forced the decider after taking five games in a row.
However, as in the opening set, Lapthorne again secured the first hold of serve to take a 3-1 lead in the decider with a topspin forehand that left Wanger in all sorts of trouble behind his own baseline.
A string of errors from Wagner's racket saw Lapthorne's lead grow to 4-1 and 5-2, but successive doubles faults ended the Briton's hope of serving out the match.
He then found himself 40-0 down on Wagner's serve, but Lapthorne produced some exquisite tennis to win five points in a row, closing out the match with a forehand lob that left Wagner stranded. Lapthorne has now reached the singles finals of all four Grand Slam tournaments before he attempts to secure a career Grand Slam of doubles titles on Friday.
Day 11
Hewett starts with a win

World No.3 Hewett, who won last week's French Riviera Open title in the south of France, maintained his unbeaten 2020 record on clay despite falling 3-0 behind early in his opening contest in Paris.
However, Hewett is no stranger to comebacks and after being 4-1 down he worked his way back in to the match, firing a backhand winner past Houdet to level at 4-4 and then breaking the Houdet serve to level again at 5-5. A forehand winner from midway inside his own court earned Hewett the lead for the first time and a double fault from Houdet presented the British No.1 with three set points. He only needed the first, swotting away a forehand down the line as he capitalised on a Houdet second serve.
Hewett, closed out the match by taking the last three games, striking a potential forehand winner on match point that clipped the net cord, with the ball losing all acceleration and bouncing out of Houdet's reach.
Hewett will now face world No.2 Gustavo Fernandez, who had earlier beaten Britain's Gordon Reid in their opening match, for a place in this year's final.
Hewett and Fernandez met at the same stage of last year's tournament, with Fernandez coming out on top. However, with Hewett having recovered from a set and 2-0 down to beat Fernandez in the 2017 final in Paris, he also beat the Argentinian 6-3, 7-6(6) last weekend at the French Riviera Open to complete his French Open preparations.
Reid bows out to defending champion

Gordon Reid's bid to make a third French Open men's singles final since 2016 came to an end at the first hurdle this year as he lost out 6-3, 6-3 to world No.2 and reigning Roland Garros champion Gustavo Fernandez of Argentina.
While Reid took the opening game, the player he's met in his met in his two finals in Paris gained the early break for a 3-1 lead and although Reid broke back, two further breaks for Ferandez sealed the opening set.
The first six games of the second set went in pairs to either player, Reid levelling at 2-2 before Fernandez regained the momentum to establish a 4-2 lead. However, Reid was unable to back up another break of the Fernandez serve to continued the pattern of games and instead dropped his last service game before Fernandez rlled off the last four game of the match.
Reid will now team up with Alfie Hewett in Thursday's men's doubles semi-finals as the Brits bid to extend their 14-match winning streak for the season when they face Frederic Cattaneo of France and Belgium's Joachim Gerard.
Whiley loses thriller in Paris

Jordanne Whiley was unable to build on a remarkable second set performance as her hopes of a second Grand Slam singles title ended in a first round loss to Dutch world No.1 Diede de Groot for the second major in a row. De Groot won their latest meeting 6-3 0-6 6-1 to advance to the semi-finals.
After a straight sets loss to De Groot at the US Open last month, Whiley fought back from 3-0 down in the opening set and had a chance to take a 4-3 lead in a match reminiscent of their meeting in New York as both players struggled on serve. However, a Whiley double fault brought the opening set to a close.
The British No.1 and World No.5 put the opening set firmly behind her as she won the first eight points of the second, making it 11 points from 12 as she raced into a 3-0 lead. Visibly more confident, Whiley served with much more confidence, chased down balls with renewed determination and ultimately outplayed de Groot as she took the set 6-0 to force the decider.
However, Whiley was only able to break serve in the third game of the final set as the reigning Roland Garros champion de Groot booked her place in the last four.
Day 10
Roland Garros juniors round up: Gill and Mutavdzic advance

Three Britsh juniors are into the third round of the Boys and Girls' Singles events at Roland Garros after Matilda Mutavdzic and Felix Gill won today.
Mutavdzic, who along with Gill and Arthur Fery is part of the Men's and Women's Programme stage of the LTA Player Pathway, overcame Elina Avanesyan in straight sets 6-1 6-3 as she continues her fine recent form.
The 16-year-old impressed last month by winning in only her third women's event, when she triumphed at the Melilla Trophy on the ITF World Tennis Tour.
Gill, who is aged 18, joined Fery in round three with an impressive performance as he defeated the 11th seed Khololwam Montsi 6-4 7-6 (4) 6-3.
Fery and Gill were due to play in the first round of the Boys' Doubles but their oppponents gave them a walkover after withdrawing through injury.
Mutavdzic was in action in the Girls' Doubles event partnering Ziva Falkner but they lose out to Elizabeth Coleman and Madison Sieg 7-5 6-2.
Murray and Skupski bow out in quarter finals

Jamie Murray and Neal Skupski were knocked out of the 2020 French Open by defending champions Kevin Krawietz and Andreas Mies 6-4 6-4.
The all-British pairing were looking to reach the semi-final stage of the French Grand Slam for the first time but they were up against a formidable German duo who edged a competitive encounter.
Skupski and Murray battled hard in the first set, but passed up on multiple opportunities to break their opponents – whereas Krawietz and Mies earned one break point and took it to win the opener 6-4.
The German partnership then broke Murray and Skupski at the start of the second set and it was an uphill battle from there for the Brits.
Serving to stay in the match Skupski and Murray saved four match points and held their nerve in a game lasting more than ten minutes to take the match to 5-4.
Although the Brits showed plenty of fight to stay in the contest, in the next game Krawietz would serve out for the match to ensure he and Mies stay on course to defend the men's doubles title they won at Roland Garros last year.
Day 9
Roland Garros juniors round up: Fery shines in second round

Britain's Arthur Fery strolled into the third round of the Boys' Singles at Roland Garros beating Mario Mansilla Diez 6-1 6-0.
The ninth seed, who has won four times on the British Tour this year, demolished his Spanish opponent in match that took only 47 minutes.
Also in action today in the Girls' Singles was Maria Mutavdzic who overcame Brazil's Ana Candiotto 7-5 6-1.
The 16-year-old Brit, who like Fery is part of the Men's and Women's Programme stage of the LTA Player Pathway, impressed last month by winning in only her third women's event, when she triumphed at the Melilla Trophy on the ITF World Tennis Tour.
Salisbury and Ram beaten in quarter-finals

Joe Salisbury and Rajeev Ram were beaten in the quarter-finals of the French Open by seventh seeds Mate Pavić and Bruno Soares 4-6 6-4 7-5.
The British, American duo had been in outstanding form in Grand Slams this year, winning the Australian Open in January and reaching the semi-finals of the US Open last month.
But they came unstuck in a final eight match at Roland Garros today against tough opponents in Pavić and Soares, who are both multiple Grand Slam champions.
In a tight first set there was little to separate the two sides, but Salisbury and Ram earned the sole break to win their seventh set in a row at this year's event.
Soares and Pavić did strike back in the second, breaking Salisbury at 5-4 to clinch the set late on. Although the Brit saved two set points on serve, he and Ram were unable to save a third after a whipped Soares backhand winner down the line sealed the set 6-4.
The deciding set was also fiercely contested and although Ram and Salisbury had four break points on Soares' serve, with the match at 3-3, they were unable to break their opponents again.
With a tie-break looming Soares and Pavić struck late on in the contest, earning a match point with Salisbury serving at 5-6 – which they took full advantage of after a Soares backhand found Ram at the net, which the American was unable to return.
Day 8
Roland Garros juniors round up: Fery and Gill sail through to second round

No.9 seed Arthur Fery got off to a flying start in the Roland Garros Boy's Singles with a 6-4 6-3 win over Medhi Sadaoui in the first round.
Off the back of a brilliant summer, where he won four LTA British Tour titles, Fery picked up where he left off with an impressive display on the clay. From the start of the match Fery looked in the zone, especially when serving, losing only 3 points on his serve in the opening set.
He never looked back from there and with two comfortable breaks in the second set, wrapped up a solid win to take him through to the second round.
Britain's Felix Gill also picked up an impressive comeback victory over Leonardo Malgaroli, 5-7 6-4 6-3.
Gill started slowly, having been broken in the second game but soon found his feet and showed great character to get himself back into the set and even had a chance to serve for the lead. But the Italian wasn't done yet and after breaking the young Brit twice in a row, clinched the first set.
Whilst many might have then fallen away, Gill grit his teeth and dug deep to produce some stellar tennis. He went on to win the set 6-4 and from there, looked like the favourite to go all the way. He broke in the opening game of the third and never looked back, making it two for two of the young Brits in the Boy's Singles.
Day 7
Salisbury and Ram power through with comfortable win

Joe Salisbury and Rajeev Ram booked their place in the quarter-finals with a 6-3 6-2 win over Jeremy Chardy and Fabrice Martin on Day Seven at Roland Garros.
After comfortable wins in their opening two matches, Salisbury and Ram have looked every bit worthy of their No.3 seeding at Roland Garros this year and there were no signs of them slowing down in the Third Round.
Despite a tough draw against the 14th seeded French duo, Salisbury and Ram looked a class above in the opening set. The pair won 93% of their points on first serve and took both of their break point opportunities on the first time of asking to win the set 6-3.
Their strong serving performance was backed up by lethal play in and around the net, where the British, American team were able to bring heaps of pressure. Chardy and Martin had no answers to challenge the intensity from the reigning Australian Open champions and quickly found themselves a break behind in the second set as well.
There was no way back from there as Salisbury and Ram continued their dominant display with relative ease. A further break on the Chardy serve and the match was wrapped up in straight sets, taking just over an hour.
Salisbury and Ram now move to a 17-6 record on the 2020 season and will be tough proposition for any teams left in the competition. In the next round they will face either Horia Tecău and Jean-Julien Rojer or US Open champions, Mate Pavic and Bruno Soares.
Murray and Skupski upset No.2 seeds to reach quarter-finals

Jamie Murray and Neal Skupski produced a brilliant performance to upset No.2 seeds Marcel Granollers and Horacio Zeballos 6-3 4-6 6-3 to reach Roland Garros quarter-finals.
Kick starting the action on a fresh Parisian Saturday morning, Murray and Skupski had their eye in from the get go in this men's doubles Third Round clash. The Brits overcame early break point opportunities to hold, with a killer serve and volley punch from Murray.
It seemed to give the duo the added confidence they needed to get a hold in the match, as they broke Zeballos on the first time of asking and followed it up with a very impressive game on the Skupski serve. The British pair were playing some of the best tennis they'd displayed all week, limiting the unforced errors and piling on the pressure from both the baseline and the net.
The No.2 seeds had very little to answer to Murray and Skupski's dominance in the opening set and seemed to struggle to find any form of rhythm. The Brits marched on to clinch the set 6-3 with a big smash from Skupski.
The second set stayed tightly poised from the start, until the World No.2 pairing finally got their breakthrough and would serve at 5-3 with a chance to level the match. The Brits broke back but couldn't prevent their opponents taking the set 6-4.
Murray and Skupski settled themselves in the decider with a much needed hold on the seven time Grand Slam champions serve, ending a run of breaks. Then at 2-2 the Brits took their opportunity to pounce on a poor service game from Granollers and found themselves with a chance to cause a major upset.
The British duo would go on to win 88% of points on their first serve in the set and sealed the decider 6-4. They now go through to the quarter-finals, equalling Murray's best ever men's doubles performance at Roland Garros.
Day 6
O'Mara and Arevalo beaten in second round

Britain's Jonny O'Mara and El Salvador's Marcelo Arevalo were knocked out of the 2020 French Open in the second round by 12th seeds Horia Tecău and Jean-Julien Rojer 6-3 6-2.
O'Mara was looking to join Jamie Murray, Neal Skupski and Joe Salisbury in the third round of the men's doubles event at Roland Garros but he and Arevalo were comprehensively beaten in a match lasting one hour and two minutes.
In a competitive first set there was hardly anything separating the two sides with the only break point of the set falling to Tecău and Rojer who took full advantage to break O'Mara's serve and clinch the opener 6-3.
High on confidence Tecău and Rojer romped ahead, breaking Arevalo at the start of the second set. After letting one break point slide the Romanian, French partnership gathered themselves and a fine Tecau forehand winner sealed the break.
Looking to reverse the momentum in the tie O'Mara tried to fire back, but when he overstruck a fierce forehand on break point on his serve Rojer and Tecau went up 3-0 with a double break.
On this occasion there was to be no fairytale comeback for O'Mara and Arevalo and they went on to lose the tie 6-3 6-2.
Norrie and Fucsovics exit Roland Garros

Cameron Norrie and partner Martin Fucsovics battled hard in the second round at Roland Garros before falling 7-6(2) 6-2 against France's Jérémy Chardy and Fabrice Martin.
The Brit and Hungarian duo matched their opponents blow for blow in a tight first set, and after neither pair could break the other extra points were needed to decide the opener.
In the resulting tiebreak a Norrie double fault gifted the French pair a mini break, and the Brit would give away another after failing to return a driven forehand from Martin. From there the French duo would take full advantage to seal the first set 7-6(2).
Buoyed by an opening set win Chardy and Martin raised their game in the second set, and capitalised by winning both the break points given to them as they powered on to a 6-2 set win.
Following victory Chardy and Martin will face Britain's Joe Salisbury and his American partner Rajeev Ram in the third round in Paris.
Salisbury and Ram ooze class in second round win

Joe Salisbury and Rajeev Ram outclassed their opponents in the second round at Roland Garros storming to a 6-3 6-1 victory over Alex de Minaur and Matt Reid.
The number three seeds, who triumphed at this year's Australian Open and reached the semi-finals of the US Open, were in total control against their Australian opposition surrendering no break points as they clinically wrapped up the match in under an hour.
The dynamic duo were strong on serve and formidable on return throughout, and in the first set they broke their opponents twice – Salisbury would wrap up the set 6-3 after a well-judged volley at the net found the baseline.
It was also one-way traffic in the second set as the team chemistry between Salisbury and Ram shone through as they won five games in a row to cruise to a 6-1 second set win.
Comfortably through to the third round the pair will face the winners of the match between Britain's Cameron Norrie and Hungary's Márton Fucsovics against France's Jérémy Chardy and Fabrice Martin.
Day 5
Murray and Skupski through after gritty win

Jamie Murray and Neal Skupski dug deep to advance to the third round at Roland Garros beating French pair Arthur Rinderknech and Manuel Guinard 4-6 6-4 7-6 (3).
In a lively encounter held in front of a partisan home crowd on Court 10 the British duo repeatedly overcame setbacks to prevail in a match lasting two hours and 21 minutes.
During a tight first set there was hardly anything separating the two teams – Murray and Skupski won 29 points while their opponents claimed 30. With each pair only earning a sole break point, it was the home favourites who took advantage, taking the first set 6-4.
The match began to open up more in the second set, with Skupski and Murray letting ten break points slide before they took a game off their opponents – a phenomenal Skupski forehand down the line sealed the second set for the Brits 6-4.
In a topsy-turvy final set Skupski and Murray repeatedly had their opponents on the back foot with some exemplary returning – in total they earned 18 break points during the match.
After exchanging multiple breaks the match was settled by a tiebreak. A Murray volley at the net earned the Brits three match points – they only needed one as a thunderous Skupski forehand wrapped up the final set 7-6 (3).
Evans and Hurkacz bow out to second seeds

Dan Evans and partner Hubert Hurkacz were outclassed by the formidable pairing of Marcel Granollers and Horacio Zeballos losing 6-2 6-2 in the second round at Roland Garros.
The Brit and his Polish partner worked hard to progress through the first round less than 24 hours before this contest, beating Marcelo Demoliner and Matwe Middelkoop 7-6(2) 3-6 7-5 in a match that went well into the evening in Paris yesterday.
Granollers and Zeballos, the second seeds in this year's men's doubles, were outstanding on serve in the first set, averaging well over 90% on first serve percentage for the majority – an uncharacteristic Granollers double fault in the last game of the set the pair's only blemish as they wrapped it up 6-2.
Evans and Hurkacz showed glimpses of their class in the second set – where they managed to break their opponents – but on this occasion Granollers and Zeballos were far too strong.
Despite giving more chances in the second set on serve the second seeds' return game grew stronger as they broke Evans and Hurkacz three times to romp to a 6-2 6-2 win.
Day 4
Late win for Evans and Hurkacz to round off Day Four

Dan Evans and Hubert Hurkacz overcame a comeback scare as they beat Marcelo Demoliner and Matwe Middelkoop 7-6(2) 3-6 7-5.
It was a first outing for Evans alongside world No.31 Hurkacz Hubert and despite losing an early break, it was easy to sense the quality that both players bought to the table. They responded quickly to level things up and appeared to be growing in confidence as a team.
At 6 foot 5 inches, Hurkacz is certainly someone you would want at the net on your side of the court and he and Evans were dynamite towards the end of the first set. After taking it into a tie-break, the British, Polish pair took control, rolling over their opponents 7-2 to deal the first blow.
However, the two seemed to lose their edge at the start of the second – energy levels were down and it showed as Demoliner and Middelkoop found themselves back in the match with two breaks of serve. From there they swooped up the set 6-3 and it was game on for the decider.
If the energy had perhaps been a bit down in the second set, Evans certainly brought it in the third. His trademark cheers and fist pumps were there after every point as the Brit made every effort to raise both his and Hurkacz's game.
The tactic worked brilliantly as suddenly the pair hit a purple patch in the match and were beginning to dominate on both sides of the ball. They broke and looked untouchable, before a sudden blip in form saw them back at 5-5.
But there's a reason these two are ranked in the top 35 in the world and their quality came through as they clinched the decider 7-5.
Inglot and Qureshi edged in close three set battle

A tight battle for Dom Inglot and Aisam Ul Haq Qureshi ends in a loss to French team Manuel Guinard and Arthur Rinderknech 6-7(6) 6-3 7-5.
Perhaps unsurprisingly, power was the name of the game in this one with both sides serving well in the opening exchanges keeping rallies to a minimum. Both sides traded big blows on the first serve and made it difficult for their opponents to find their feet.
Without a single break point opportunity in the first 12 games of the match, it was tightly poised for an first set tie-break. Both sides refused to give an inch and were trading heavy shots from both the back of the court and around the net. But at 6-6, Inglot and Qureshi got the all-important breakthrough and took a one set lead.
It was obvious that break point opportunities were going to be few and far between so when Guinard and Rinderknech were presented with two gifts on the Inglot serve, they made swift work in taking them. The French pair would then go on to clinch the set, forcing the decider.
The final set had an air of tension about it, as both sides started to tighten up a little with the time reaching beyond 10:00pm in Paris. But things started to open up towards the end of the set and the French duo found themselves serving for the match at 5-4.
What better time for Inglot and Qureshi to get their first break of the match, but then disaster struck for the British, Pakistani team. Guinard and Rinderknech dealt the final blow on Inglot's serve to then go on an take the set 7-5.
Bambridge and McLachlan come short against No.9 seeds

Of all the Brits in the men's doubles draw, Bambridge and his partner McLachlan had certainly been dealt the hardest test, coming up against two US Open finalists from only a few weeks ago. Koolhof and Mektic displayed that quality straight from the start, but despite going a break down, Bambridge and McLachlan were making them work for every point.
Bambridge and McLachlan both held strong well on serve for the remainder of the set, clocking up 77% winning points off the first serve. They were putting the pressure right back on the No.9 seeds but struggled to find the answers on the return of serve, losing the first set 6-4.
In the second set the pair showed exactly why they have held a strong record so far this year, starting with a championship run in Auckland back in January. With the set on a knife edge, the pair were dictating more and more of the points and even had set point on Mektic's serve.
With nothing to split between the two teams the set went to a tie-break, where the high quality doubles play continued. Bambridge and McLachlan came back from a mini break down to square things up, but a big miss on the smash gave their opponents the chance to serve it out.
There the experienced Koolhof wasn't going to miss his opportunity on the serve and they sealed the win in 2-sets.
Webley-Smith misses out on fairytale Roland Garros debut

A valiant effort from Emily Webley-Smith and Vivian Heisen as they eventually bow out to Alison Riske and Ajla Tomljanovic 6-2 6-3.
Coming in as late replacements for Sorana Cristea and Sara Sorribes Tormo, Webley-Smith and her German partner Heisen had nothing to lose as the Brit made debut at Roland Garros. They fell behind to an early couple of breaks against the experienced singles stars, but quickly overcame their initial match nerves started to show what they were capable of.
They broke back and after a strong hold looked far more comfortable out on court. Ultimately however, it wasn't enough to prevent the world No.23 and 64 singles players from finishing the set 6-2.
Webley-Smith and Heisen were then shown a glimmer of hope at the start of the second, racing off to an early break as their opponents were caught in a slump. Even when the two were broken back, they had several chances on the Riske serve to extend their lead but couldn't quite find the killer blow.
That would be the final opportunity for Webley-Smith and Heisen as they eventually bowed out in straight sets despite putting up a strong fight after their late call up.
Salisbury and Ram make winning start at Roland Garros

Back to winning ways for Joe Salisury and Rajeev Ram as they beat Gregoire Barrere and Quentin Halys 6-4 7-6(1).
The 2020 Australian Open champions got off to a flyer, breaking on both of their opponents opening service games to take a 3-0 lead. It was clear that the two were looking to dominate from the net early on and Barrere & Halys were struggling to deal with the pressure.
Despite a brief scare, when Salisbury's was broken in the following game, the duo were able to hold off any sign of a comeback sealing the set 6-4.
It was a similar story to begin the second set as well, with Barrere and Halys looking slightly shaky to start on serve and the No.3 seeds taking advantage. The British, American pair were had been extremely efficient on their break point opportunities and were making their opponents pay when they had the chance.
However, another blip on the Salisbury serve and Barrere and Halys were right back in the set and looking more confident again with things tied up at 4-4. Later in the set the two would also face set points on the Brits serve again but showed strength to force the tie-break.
Salisbury set the tone for the breaker with a huge single-handed backhand return of serve to force an error and they then went on to win the following six points in a row before closing out the match.
They will face Australian team Alex De Minaur and Matt Reid in the second round.
Belgian duo too strong for Watson and Arruabarrena

Heather Watson and Lara Arrubarrena fall 6-3 6-2 to Greetje Minnen and Alison Van Uytvanck in the opening round of the Roland Garros women's doubles.
It was a shaky start for both sides, with four breaks of serve in the opening exchanges. The set quickly became a battle for who could hold their nerve as both teams tried to get a foothold in the match.
Playing at only their second event as a pair, Watson and Arrubarrena hadn't had the same level of experience together as their opponents and the Belgians had perhaps looked to use that to their advantage. Watson manged to hold on her next service game, but with her Spanish partner still struggling to close out big points on her side, Minnen & Van Uytvanck took the opener 6-3.
That would end up being the story of the match as the serving woes continued into the second set - winning only 48% of points on the first serve throughout the match. The Belgian's broke early in the set and never really looking back.
Watson and Arrubarrena managed to build some momentum towards the end of the match and started to pick up some big points in the longer exchanges, but unfortunately it came too late to give them a way back in as they eventually went out in straight sets.
O'Mara and Arevalo cruise into round two

Jonny O'Mara and playing partner Marcelo Arevalo made light work of their opponents in the opening round of the men's doubles at Roland Garros winning 6-1 6-2.
In a match lasting only 52 minutes the British and El Salvadorian pairing demolished Albert Ramos Viñolas and Gianluca Mager with a clinical display on the clay.
O'Mara and Arevalo, who reached the quarter-final stage of this year's Australian Open, were strong on serve and even stronger on return in the first set as they amassed 11 break points – taking three of them – to win 6-1.
At the start of the second set Viñolas and Mager did show some resistance, holding serve as the set went to 2-2, but that didn't last long as O'Mara and Arevalo turned the screw and won four straight games to take the set 6-2.
O'Mara is the fourth Brit into the second round of the French Open men's doubles so far, joining Cameron Norrie, Jamie Murray and Neal Skupski who all made it through yesterday.
Day 3
Norrie and Fucsovics advance to second round

Cameron Norrie and partner Márton Fucsovics progressed to the second round of the men's doubles after beating American duo Mackenzie Macdonald and Tennys Sandgren 6-4 2-6 6-2.
The British No.3 exited the men's singles event at Roland Garros yesterday after a five-set epic against Colombia's Daniel Elahi Galán, but found more success today alongside Hungary's Fucsovics.
The pair broke early in the match and in a hugely competitive first set they held their nerve to win 6-4 – Norrie and Fucsovics won 42 points compared to 39 from their American opponents.
Sandgren and Macdonald bounced back in the second set to level the tie, but they will rue plenty of missed opportunities as they could only win two out of 15 break points in the contest.
But it was Norrie and Fucsovics who held their nerve when it mattered most, and it was ultimately down to the Brit to serve out for the match, who after saving a break point hit a series of forehand winners to seal third set 6-2.
Murray and Skupski move into second round

Jamie Murray and Neal Skupski remaind patient to defeat Juan Londero and Jiří Veselý 6-4 4-6 7-5 following a series of delays at Roland Garros.
With afternoon rain delays seemingly coming to a close, Murray and Skupski entered the French Open stage for the first time as a pairing and there were positive early signs for the all-British partnership who were serving with confidence and managing to create chances on the return.
The opportunities kept coming for the Brits – two break points in the third game of the match and a further five in the fifth – and it was only a matter of time until they finally got the breakthrough to take the lead at 5-4 and then serve out the set.
The second set was more even with the Argentinian, Czech duo finding their range on serve and generally appearing more comfortable in some of the bigger points, but still Murray and Skupski continued to look like the favourites to win and through their first nine games of the set they won 100% of points on first serve.
But one freak game on Skupski's serve and all of a sudden Londero and Vesely had drawn level at one set each.
With light disappearing on Court 2 play was suspended temporarily, but after the delay the Brits re-emerged to claim another competitive set 7-5, with Skupski serving out to seal victory.
Watson beaten by home favourite at Roland Garros

Heather Watson fought hard before succumbing to France's Fiona Ferro 7-6(4) 6-4 to leave no more Brits in the men's or women's singles draws at Roland Garros.
The British No.2 faced a player ranked seven places above her in the world and in a fiercely competitive match there was little to separate the two women.
Ferro started strongly and earned two break points on Watson's first service game, but the Brit held firm and broke her opponent in the next game, finishing off a lengthy rally with a whipped forehand that Ferro could only parry into the net.
As the rain fell on Court 14 conditions became more difficult, and it was a mis-judged Watson drop shot that allowed Ferro to break back – the home favourite reaching the ball with ease to hit a winner and take the match back to 3-3.
Watson would have another opportunity for a break with the set tied at 4-4, but after Ferro held the pair would serve out to take the match to a tie-break – Watson saved three set points to take the set to extra points.
In the resulting tie-break unforced errors would be the Brits undoing, and Ferro took her fifth set point to claim the set 7-6(4).
In the second set Watson fought back immediately, holding serve then claiming an early break of her own, but Ferro broke back and the two were closely matched as the match went to 3-3.
The French player's strong forehand proved to be the difference in the end, and after breaking Watson late in the second set she would go on to close out the set 6-4 to advance to the next stage of her home Grand Slam.
Ken Skupski and Gonzalez edged out

Ken Skupski and Santiago Gonzalez were unable to prevent Simone Bolelli and Maximo Gonzalez from coming back to clinch a 2-6 6-2 7-5 victory in the first round at Roland Garros.
Skupski and Gonzalez came out of the starting blocks all guns blazing and after a comfortable hold on the Brit's serve, broke serve to race to a 2-0 lead. The pair then stayed strong through the set, winning 77% of points on first serve and looked increasingly more comfortable in the key points. The two went on to break again at 5-2 to seal the opener.
Bolelli and Gonzalez found their feet at the start of the second and after throwing away a number of break point opportunities, finally made the breakthrough. The early break seemed to give the duo a new lease of life and within only a couple of games the match had been turned on its head. The Italian and Argentinian held strong to wrap up the set 6-2.
In a cagey start to the final set both pairs took few risks in their bids to advance to the next round. The set stayed on serve until 5-5, despite a few break opportunities on both sides, with seemingly little to choose between the teams.
But eventually it was Bolelli and Gonzalez who dealt the killer blow, sealing the break and going on to finish the match 2-6 6-2 7-5.
Day 2
Norrie bows out in tense five-set clash

Cameron Norrie found himself on the wrong end of a marathon match bowing out of this year's French Open 4-6 6-3 5-7 6-1 6-1 following a resilient performance from Daniel Elahi Galan.
The British No.3 got off to a fantastic start in the match, clinching an early double break over the Colombian and commanding the court with ease.
The 25-year-old Brit seemed very comfortable in the opening exchanges, particularly on the forehand side, where he managed to find his range from the outset, dictating play from the back of the court.
Norrie took a 5-0 lead before Galan began to edge his way back into the match, preventing the Brit from serving out for the set, before going on to win four games on the bounce. But it came a little too late and the world no.72 went on to take the first set 6-4.
The warning signs had been there for Norrie from early on, though, and Galan fought back strongly in the second, hardly putting a foot wrong as he levelled the tie with a 6-3 set win.
Norrie found his feet again at the start of the third, racing to a 3-0 lead, but yet again, Galan refused to go away. The world No.153 kept on fighting to bring the set to 4-4, yet it was the Brit who would get the final breakthrough to win the set 7-5.
In the fourth Galan was again able to find another gear and was deadly on the return, winning 56% of points on Norrie's first serve. With the match into it's third hour, the Colombian raced away to a 6-1 set win to force the decider.
As the match went on, the quality of Galan's performance improved - while Norrie's dipped. Despite some blockbuster stuff from the Brit early in the set it was his opponent who stole the show, winning the final set 6-1 to progress into round two.
Spirited Broady comes unstuck against Vesely

Liam Broady put in a spirited performance on his Roland Garros debut during a 6-2 5-7 6-3 6-2 loss against the Czech Republic's Jiří Veselý.
The British No.5 had progressed through three rounds of qualifying to make it into the opening round of the 2020 French Open, and during a match lasting two hours and 45 minutes he showed glimpses of his quality before succumbing to a player ranked 139 places higher than him in the world.
Vesely, the World No.68, arrived in Paris having reached the last 16 of last week's Hamburg Open and made a bright start in today's contest, breaking Broady twice and winning 93% of points on first serve in the opening set to race ahead to a 6-2 lead.
In a far more evenly-matched second set Broady showed his quality and with the match equal at 5-5 the 26-year-old earned three break points after a series of strong forehands and would convert at the first opportunity, with Vesely finding the middle of the net after a sliced Broady return.
The World No.207 then backed that up with a hold to love, serving back-to-back aces to seal the set 7-5.
Broady pressed on early in the third set, and after back-to-back forehand winners he claimed an early break in the first game. The Brit would then hold serve to go 3-1 up, before Vesely turned the tie on its head by winning five successive games to claim the set 6-3.
The fourth set was also one-way traffic. Vesely made his breakthrough with the set tied at 2-2, taking Broady to 0-40 before turning the screw by coming to the net and forcing the Brit into giving him the break.
The Czech player would then win four unanswered games to win the set 6-2 and cruise into the next round.
Day 1
Johanna Konta falls to rising star Cori Gauff

A tough day for the Brits at the French Open ended with British No.1 Johanna Konta falling to highly rated 16-year-old Cori Gauff 6-3 6-3.
Ninth seed Konta, a semi-finalist in Paris last year, struggled to find her rhythm against the American teenager who despite making her main-draw debut at Roland Garros is already a proven Grand Slam competitor having reached the fourth round of Wimbledon and the Australian Open, and the third round of the US Open.
Cold, blustery conditions admittedly did not help Konta who found the going difficult from the the start as Gauff strode into a 3-0 lead.
Konta still had her chances, largely thanks to a series of double faults from Gauff, but on the points that really mattered, she found the service box.
In the opening set the Briton was unable to take any of her five break points, with a frustrated Gauff saying "finally" after winning a long game to clinch the opening set 6-3.
Konta made a strong start to the second set with a break for 2-0 but let her advantage slip straight away and Gauff made her pay with a run of five games in a row.
More double faults surfaced as Gauff tried to serve out for the match and although Konta retrieved one of the breaks, she could not hold her own serve and would go on to lose 6-3 6-3.
Andy Murray loses in straight sets to Stan Wawrinka

Stan Wawrinka proved too strong for Andy Murray on his first appearance at the French Open since their semi-final in 2017.
The 16th seed, and 2015 champion, powered past Murray 6-1, 6-3, 6-2 in what was the Brit's joint heaviest defeat at a Grand Slam.
The former World No.1 struggled to get going and was punished repeatedly by his fellow three-time Grand Slam champion Wawrinka who is also making his own injury comeback after a serious knee inury.
A low first-serve percentage of 37% heavily contributed to the defeat, with Murray making 26 unforced errors and landing just 10 winners.
That led to his most comprehensive loss at a major since Rafael Nadal beat him 6-3 6-2 6-1 in the 2014 French Open semi-finals.
Although conceding it was 'the worst performance of his Grand Slam career' the 33-year-old Brit remains confident he can play at a much higher level going forward, saying: "I wouldn't expect to physically be the same as what I was before I had the operation.
"But in terms of ball striking and in terms of my strokes and stuff, there is no reason that I shouldn't be able to do that from a technical perspective.
"I'll keep going. Let's see what the next few months hold, and I reckon I won't play a match like that between now and the end of the year."
Dan Evans falls in epic to Kei Nishikori

The opening day of the 2020 French Open saw British No.1 Dan Evans fall in an epic five set battle to former US Open finalist Kei Nishikori 1-6, 6-1, 7-6(3), 1-6, 6-4.
Evans, who was looking for his first win at Roland Garros, faced a tough draw in former World No.4 Nishikori who is working his way back from an elbow injury.
The British No.1 made the better start on the Parisian clay, pulling clear in the first set as he got the better of Nishikori in a series of baseline exchanges to win 6-1 in just under half an hour.
A more resolute Nishikori appeared for the second set, as the cheap errors from set one disappeared. Evans was broken twice with two costly double faults handing games to Nishikori. A complete turnaround from the opener saw the talented Japanese player race to the second set 6-1.
The third looked to be heading the same way with Nishikori going from strength to strength, but Evans fought back to force a third set tie-break - which the Japanese player would claim after winning six unanswered points.
The match turned again in the fourth set as Evans flew out of the blocks breaking the Nishikori serve immediately. It continued to be one-way traffic as Evans looked the much more relaxed in British-like grey conditions as he levelled the tie at two sets apiece.
In another twist, Nishikori blazed out to a 3-0 lead in the decider by playing with a freedom and confidence that went missing in the fourth. Evans hit back again and the two remained locked in battle taking the contest well past the three-hour mark. Eventually it was Nishikori who claimed the crucial break at 5-4 to claim victory.