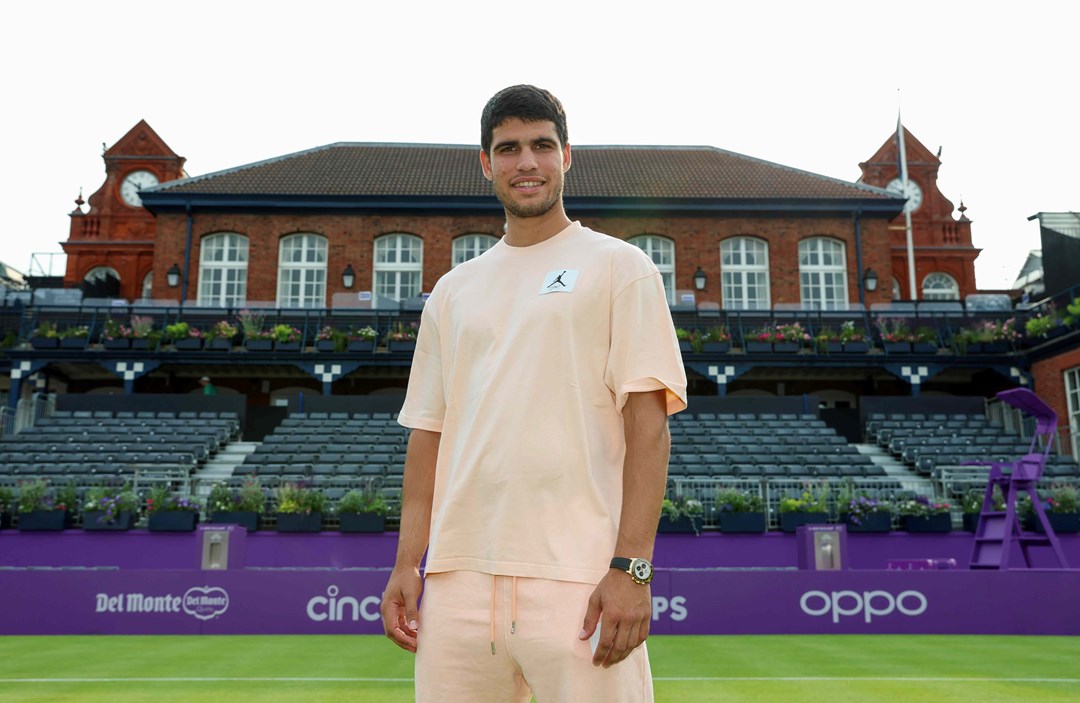 cinch Championships 2023: Carlos Alcaraz is ready to make his mark on tournament debut
• 3 MINUTE READ
Playing in only his third professional tournament on grass, world No.2 Carlos Alcaraz is gearing up for a highly-anticipated debut at the cinch Championships where he headlines a star-studded line-up of the world's best ATP players.
The 20-year-old was scheduled to take to the stage at last year's cinch Championships but was forced to withdraw due to injury.
12-months on, four additional ATP trophies and a Grand Slam title later, the reigning US Open champion is preparing to make his mark at this year's tournament, where he's fighting to earn a maiden title on the grass.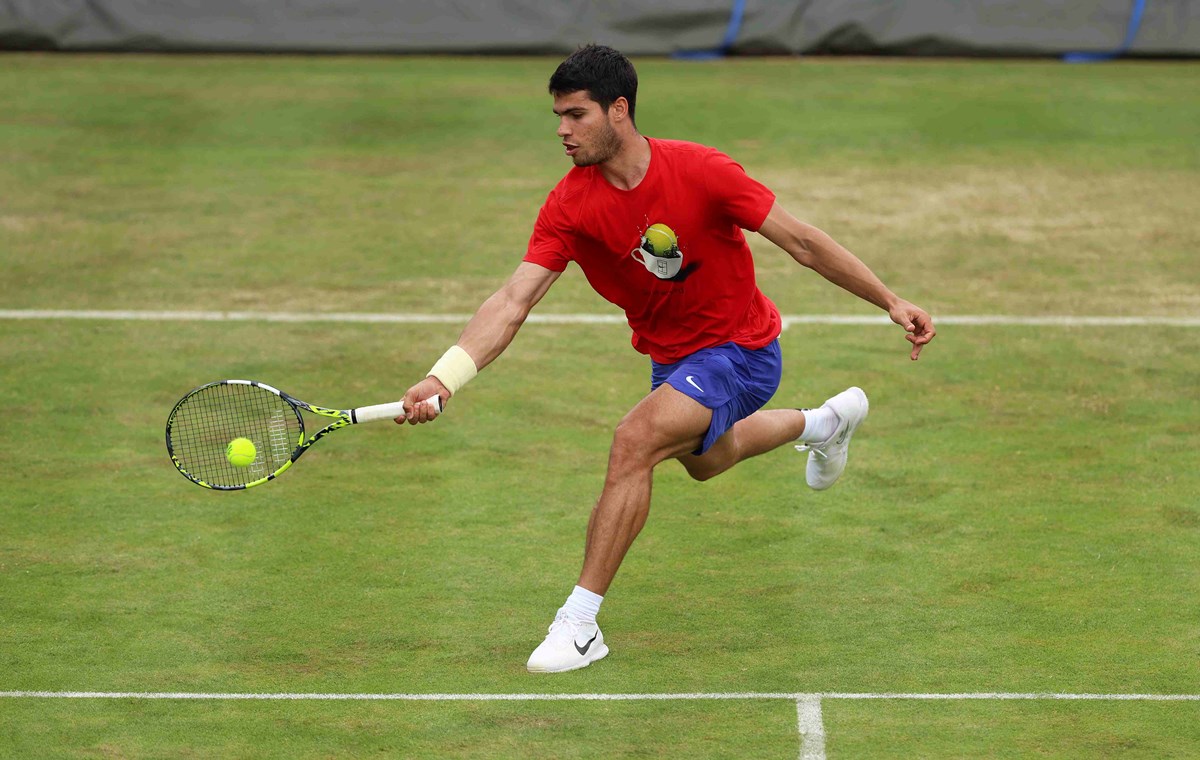 "I arrived yesterday morning and had my first practice on the grass yesterday" Alcaraz said.
"I wasn't able to practice too much at home - we have no grass courts, so it's been a bit difficult to adapt the movement and the shots on the grass but I'm really happy with the practice I've had here so far (at the Queen's Club)."
Coming in off the back of a semi-final appearance at Roland Garros, the Spaniard has had a quick turnaround between leaving the Parisian clay courts behind and finding his game on the grass in West Kensington.
"After the French Open I had four days off to rest a little bit and turn my mind off. I picked up a racket and practiced for three days back at home but that was on a hard court. I tried to make similar movements on the hard courts that you'd make on the grass but obviously it's never the same."
Alcaraz has undoubtably been a dominant force on both the hard and clay courts over the past 18 months, having clinched seven of his ten ATP titles on the clay and the remaining three on hard courts.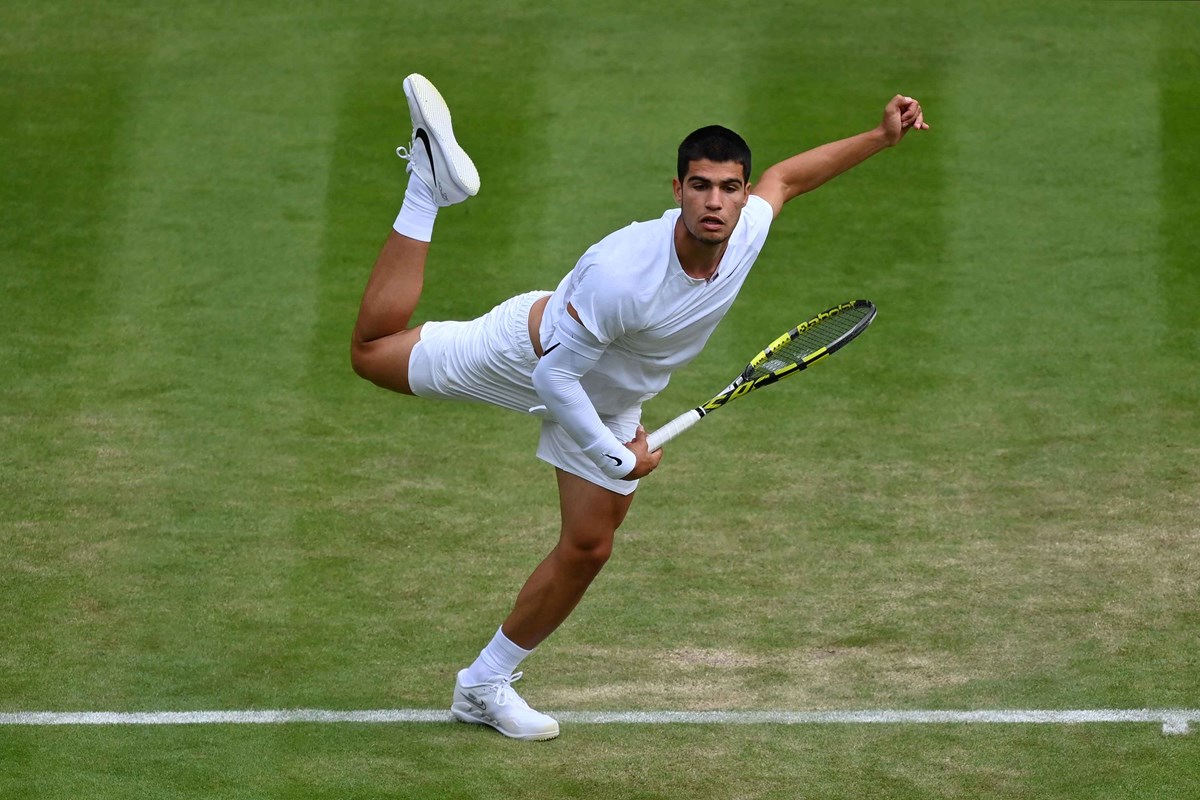 Despite this, his experience on the grass lays thin – having only played six matches on the surface in his young career, all of which were at the Wimbledon Championships; but given his resilient performances so far this year, it's not hard to imagine that Alcaraz will make a smooth transition to the historic grass courts at the Queen's Club.
"The most difficult part of playing on grass is being able to move well. You have to be more careful than on the other surfaces; but the most comfortable thing for me is being able to go to the net and play more aggressive all the time.
"That side is similar to the other surfaces so playing that style is comfortable and natural for me - I really like it."
"There are a lot of players who slide on grass and I'm not one of them, so I have to think a lot more about my movement and be really focused on every move and every shot I make.
"It can be more tiring because you're constantly moving - it's totally different to the other surfaces and I have to put in a specific type of work to get ready for it."
Alcaraz enters the tournament as the first seed, and is accompanied by a strong contingent of tennis talent, including world No.6 Holger Rune, 2022 Rothesay International Eastbourne champion Taylor Fritz and British No.1 Cam Norrie.
His campaign will get underway on Tuesday with a mouth-watering first-round match up against rising French star Arthur Fils, who is having a breakthrough season himself after picking up a career-first ATP title in Lyon last month.