Tennis Wales
Tennis Wales Awards Celebrate the Exceptional People in Welsh Tennis
• 2 MINUTE READ
The annual Tennis Wales Awards took place at the iconic Cardiff Arms Park on 23 February.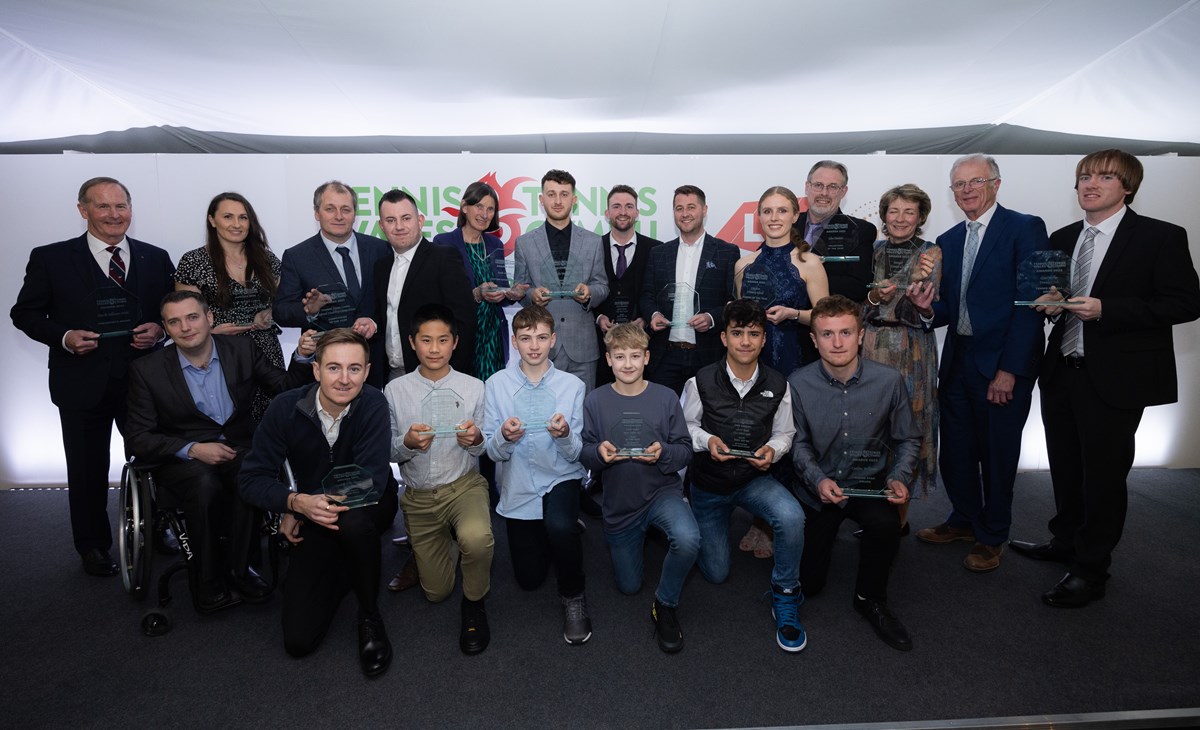 The glittering ceremony celebrated the amazing dedication, inspiration, and achievements of players, volunteers, coaches, clubs, and supporters across Wales.
Winners from the majority of Tennis Wales Awards are automatically put forward for the UK-wide LTA Awards, which will be announced in stages between January and May.
Rosie Adams of Penallt Tennis Club received the Lifetime Achievement Award. She has been described as the heart and soul of the club and her values of friendliness, openness and good sport in good facilities, run throughout it. Rosie has been a member of the Club for 40 years, 30 of which have been spent on the club committee and 28 as Club Chair. In November 2022 she stood down as Chair and will become the club's Honorary President. She organised all committee meetings and events and has led the way in providing a welcoming atmosphere - and the opportunity for all ages to learn to play and improve their game, whether competitively or socially. On the court Rosie remains an active player with a total of 20 championship wins.
David Stillman was presented with the Tennis Wales President's Award by Tennis Wales President Baroness Amanda Sater. This award recognised his exceptional contributions to tennis in Wales and Great Britain. A teacher by profession and player for over half a century, David represented his school, college, the RAF, combined service, county, and national teams, and in 2022, and captained the Senior Home Nations Team for the fourth year running. As a member of the South Wales Senior Tennis Committee for 24 years, Chair of that same committee for 10 years, and treasurer of the RAF Tennis Association for the last six years, a significant portion of David's life has been committed to tennis development both on and off the court.
James Story was named as winner of the Adult Player of the Year award. He was recognised for his achievements during 2022 including his success at the World ATP singles and doubles. James, who is now a player on the South Carolina University Men's Tennis Team, has long been a name to watch in Welsh tennis, and previously represented GB from under-10s all the way through to under-18s.
Cardiff LTC Men's 1st team was named Club Team of the Year. They picked up the gong after they were becoming reigning champions in the Summer Premier 1 Cup for the ninth season in a row, during which they have won all of their 90 matches. Their positive and inspiring work ethic on and off the court was also noted. What's more, 2022 saw the 1st team take their place in the top eight men's teams in the whole of the UK.
South Wales Boys under-14's claimed the Team of the Year award sponsored by Genero Productions, after being the first team in South Wales to win to be crowned County National Champions at their level. Comprised of Ollie Page, Archie Gray, Niall Pickerd-Baura, Evan Lendrum and Rundong Kevin Huang, the players are no strangers to competitive tennis - many having already made their mark on the world stage.
Following her wildcard entry into the Ladies Singles at Wimbledon in summer 2022, playing in Junior Wimbledon, and impressive showing at the Orange Bowl, Mimi Xu was awarded Junior Player of the Year. Other achievements in an amazing year for Mimi included representing Wales and reaching 27th in the junior girls' world (ITF rankings). It was all due reward for the Swansea youngster's hard work and non-stop commitment to improvement.
The Performance Coach of the Year award was presented to Luke Simeone from Swansea Tennis Centre. As captain of three South Wales teams, 2022 saw Luke lead the South Wales under-14s to the national champions title, the under-12s county team to national finals, and the under-12s Home Nations team to victory in the GB Nationals. Luke has since been selected as assistant captain for the Great Britain under-18 Summer Cup team.
Bangor Tennis Club was named 'Club of the Year'. The club has worked with local refugee charity, Pobl i Bobl, to bring regular, free tennis coaching to 15 locally-housed Ukrainian refugees - providing a safe space for life-long tennis fans to get back into the game, while encouraging young players to pick up a racket for the first time. The club has also welcomed more young people to the sport and renovated its Victorian tennis courts.
Ben Coates, from Penarth was crowned the Official of the Year. The award recognised his dedication and commitment to raising the standards of competitive tennis across Wales through supportive and consistent on-court judgement. He was nominated for his thoroughness, and the pride he takes in everything that goes on around the tournaments to make sure players, parents and spectators all have a positive experience.
Mark Thomas from Bridgend Lawn Tennis Club won the Dragon Signs Development Coach of the Year – in recognition of his efforts encouraging more players to give tennis a go, including over 300 local school children. Mark has transformed all aspects of the coaching programme; from introducing new events and leagues to the club, to training school pupils from the Bridgend area. What's more, through Mark's dedicated work and commitment, more than 30 new adult members and over 175 new junior members have joined the tennis club.
Newport Tennis Club clinched the Competition of the Year Award for 2023 – celebrating the club's unparalleled achievements in increasing opportunities for disability sports players. Newport Tennis Centre has provided game-changing opportunities for disability tennis players. The club is setting the standard for UK tennis venues, hosting tournaments that welcome players to compete in wheelchair tennis events, visually impaired tennis contests, and learning disability tennis tournaments. Players of all ages are encouraged to take part, and competitors are supported through regular training sessions and 'give it a go' accessible Open Days.
Gethin Williams from Rhiwbina Tennis club was named winner of the Rising Star Award, that recognises the volunteering work of someone aged 13-21. Gethin helped organise and deliver the junior club championships to more than 70 players and delivered free taster sessions to 600 primary school pupils in 2022. He has also volunteered as an umpire, referee and organiser, including at the ITF Masters 200 World Tour event where he helped with delivery and organisation for 110 players from all over the UK and Europe.
Rhondda Tennis club's John Denton took the Volunteer of the Year Award. John has transformed the club over the last few years. This has included renovating courts and the clubhouse, and renewing floodlights, as well as securing leases on courts. Add to that his appointment of consultants to increase attendance and membership at the club, raising close to £100,000 in funds, and introducing weekly coaching for members and guests, and free turn up and play social tennis sessions - John has had an enormous impact on the club.
The Urdd Gobaith Cymru organisation won the Connecting Communities Award sponsored by Floodlighting Electrical Services, for its engagement with the LTA Serves programme, which takes tennis into underserved and underrepresented communities. The LTA SERVES programme has been a great success in Wales with 38 venues up-and-running, in 12 Local Authority areas, and in nine areas of deprivation. The partnership with Urdd centred around increasing participation and supporting more Welsh-speaking young people to play tennis who may not have had that opportunity previously. In addition Urdd multi-sport coaches have the opportunity to upskill through the LTA SERVES programme.
The Tennis for All award went to Caerphilly Tennis Club and Head Coach Jonathan Morgan. The club has gone above and beyond to bring tennis to under-represented communities in the sport. Among the many examples are running the first Sensory Tennis pilot and securing funding for it to continue afterwards; working with Vale Community Council to run LTA Youth Start courses for children from high deprivation areas and offering an affordable follow-on scheme; as well as supporting 10 female leaders in their role; and spearheading the Club's involvement in Rainbow Laces and White Ribbon campaigns.
Coryton Primary School was named School of the Year for its work to include tennis in the PE curriculum, to provide competitive opportunities, and developing links with coaches and clubs. Through making tennis inclusive and accessible more than half the school's pupils attended the extra-curricular tennis club. The school also entered the local schools' tournament, with their Year-4 boys winning their competition. Meanwhile, a number of the children have gone on to have coaching with local clubs Whitchurch and Cardiff Met, while strong links have been developed with Cardiff Met to provide promotional sessions to children at the school.
Simon Johnson, Tennis Wales CEO, said: "It's been a great year for tennis in Wales. These awards show what great people we have in tennis in Wales – the future of our sport is very bright indeed. Congratulations to all the winners, and all those who were nominated as well.