Tennis Wales
Darren Millar MS joins Tennis Wales to discuss Covid impact at James Alexander Barr Tennis Centre
• 3 MINUTE READ
Indoor tennis in Wales was back in the spotlight last week as Darren Millar, MS for Clwyd West, visited the James Alexander Barr community indoor tennis centre in Colwyn Bay on Friday 27 November.
He was joined by centre manager Shaun Thompson, Simon Johnson (CEO, Tennis Wales) and Jamie Clewer (Head of Participation, Tennis Wales) to discuss the impact of the Covid-19 crisis on the centre, which has recently re-started tennis activity following the end of the firebreak lockdown.
The James Alexander Barr Tennis Centre, which is operated by Conwy County Borough Council, re-opened initially on 11 August in the summer following easing of Covid-19 restrictions by the Welsh Government. Tennis Wales and the centre are working in partnership to relaunch the existing tennis programme whilst adding additional new activities to capitalise on current high levels of interest in playing tennis across Wales as a naturally social-distanced sport.
The centre has a comprehensive programme of activities with further plans to expand early in 2021. With the current offer including coached adult pay and play on Monday and Fridays along with team training on a Wednesday evening all delivered by coach Martyn Lewis. The centre has recently launched new junior and adult coaching sessions on a Sunday 9am till 12pm in partnership with First Advantage Tennis.
In 2021, the centre plans to add additional activities including elements of the LTA Youth programme and Cardio Tennis. The centre is an important venue for Tennis Wales activities in North Wales with competition and county training taking place regularly on weekends.
Alongside the LTA, the national governing body for tennis in Great Britain, Tennis Wales supports six community indoor tennis centres in Wales.
The centres deliver a range of tennis activity to local communities across the country, offering extensive junior programmes and hosting activity as part of the LTA's Open Court disability programme. They are also crucial in helping to provide opportunities for people to participate in the sport and enjoy its health and wellbeing benefits, year-round.
Simon Johnson, Tennis Wales CEO, said: "I was very pleased to meet with Darren Millar and Shaun Thompson at the centre last Friday, and to discuss in more detail how they have coped throughout the pandemic and how Tennis Wales and the LTA can continue to support them to manage the impact of the crisis. We are grateful for the support Welsh Government has provided for sporting activity thus far, and it is important that they continue to do so as the future for our community indoor tennis centres remains uncertain. These centres are a vital outlet for people of all ages, backgrounds, abilities and disabilities to enjoy the unique mental and physical health benefits of tennis, and it is vital that they are safeguarded for the future."
Darren Millar MS for Clwyd West, said: "It was a privilege to visit the James Alexander Barr Tennis Centre in Colwyn Bay on Friday, to learn more about how the centre has coped with the pandemic and discuss their hopes and concerns for the future. I know Tennis Wales and the LTA do a lot to support Community Indoor Tennis Centres like this, and it is vital that they are protected so they can continue to play a pivotal role in supporting the physical and mental health of their local communities."
South Wales Crowned National LTA Under-14 Boys' County Cup Champions 2022
The South Wales under-14 Boys' team made history when they were crowned National LTA County Cup Champions at Nottingham Tennis Centre.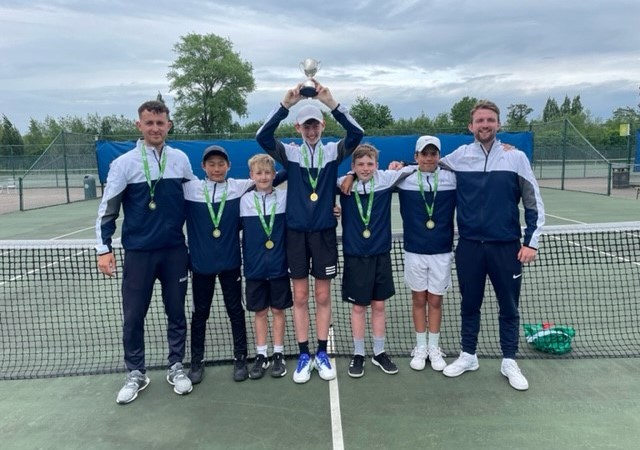 LTA Announce Funding Agreement
The LTA and Tennis Wales have announced today a new funding agreement for Tennis Wales that will last for two years and will see Tennis Wales receive a 20% increase in funding.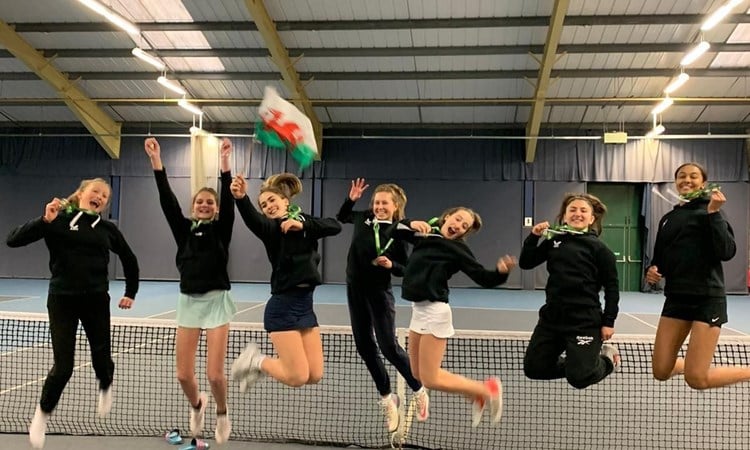 Evan Hoyt to take time out
Evan Hoyt has announced he is taking a break from tennis competition to overcome injuries that have interrupted his career.