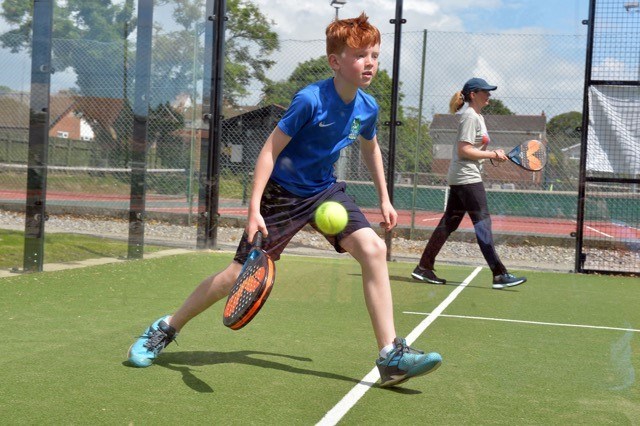 Tennis Wales
Annabel Croft Officially Opens First Padel Court in Wales
• 3 MINUTE READ
Former British number one tennis player, Annabel Croft, will be visiting Windsor Penarth Lawn Tennis Club on 18th May to officially open the first padel court in Wales. The court was installed in April 2021 by Game4Padel but due to Covid restrictions an official launch was not possible. The Club is delighted to be putting on the event a year later, in celebration of bringing this exciting new sport to Wales.
Padel is reported to be the world's fastest growing sport. The game was originally started in Mexico and quickly swept through South America and then into Europe. Spain is reckoned to have over 20,000 padel courts, and an estimated six million players - it is now the country's second biggest participation sport after football. Forecasters predict padel will become an Olympic sport by 2032.
At the launch event in May which is during the club's British Tour Tier 1 Tennis Tournament, Annabel Croft will be playing a number of Pro Am padel matches and showcasing the sport to anyone interested in giving the game a go. Anyone interested in coming along to the event should visit game4padel.com to find out more.
Speaking about the event, Windsor Penarth LTC Former Chairman Anthony Phillips said:
"We are very lucky to have these fantastic padel facilities here at Windsor Penarth. Padel is a really fun, addictive game and it's easy to learn, so it's great for players of all abilities. The court has been extremely popular since it was installed and, after today, we're expecting more people to come and try it out".
Game4Padel Co-Founder and CEO, Michael Gradon added: "The sport of padel has huge potential to grow in the UK because it is fun, easy to pick up and highly sociable. Other European countries, like Italy, France, Belgium, Portugal and Sweden, are seeing enormous take up of the sport. We are really pleased to have facilitated the opening of this first court in Wales and are already in discussions with a number of other venues in Wales to open more courts."
Game4Padel already has the most venues open around the UK including:
Thistle Padel Club, Edinburgh
Barnton Park LTC, Edinburgh
Windsor Penarth LTC, Penarth
Huddersfield LT&SC, Yorkshire
Ipswich Sports Club, Suffolk
Withdean Sports Complex, Brighton
The company has a total of 29 venues open or secured including Westfield London shopping centre, a partnership with golf's R&A at Lethamhill Glasgow, Ocean Terminal Leith, Ipswich Sports Club, Parabola Edinburgh Park business park, Broxbourne Sports Club (Hertfordshire), Draycott Sports Centre (Staffordshire), Liverpool Cricket Club, Heron Tennis Centre Newquay, Bedfont Business Park (Heathrow) and Forthill Community Sports Club Dundee, and is in discussions with an additional 50 venues.
Game4Padel boasts a diverse group of experienced UK investors and ambassadors, including former world no.1 tennis players Andy Murray and Jamie Murray, the former British no.1 players Annabel Croft and Andrew Castle, and Welsh rugby legend Jonathan Davies. The company's Chief Executive is Michael Gradon, a former FTSE 100 main board director and longstanding Commercial and Finance Chair of the Wimbledon Championships.
Game4Padel offers to partner with a wide range of venues, including sports clubs, leisure centres, parks, schools, universities and, increasingly, commercial venues. Its capital and technical expertise enables it to finance, install, maintain and operate padel courts in any setting. The company also creates bespoke coaching and playing programmes, events, tournaments, and engagement activities for children and schools.