Tennis Wales
Tennis Wales Awards 2019 Results
• 1 MINUTE READ
The results of our Tennis Wales Awards have now been announced and recognise the many people and organisations that have contributed most to tennis in Wales over 2019.
The ceremony, was hosted by TV presenter Lewis Vaughan Jones, and took place on Saturday 25 January 2020 at the Voco St Davids Hotel, Cardiff. The 11 award categories recognised the achievements of players, volunteers, coaches, education providers, clubs and centres from across Wales over the past year.
9 of the Tennis Wales Award winners (*) will now go onto be considered for the British Tennis Awards, being held at the Wimbledon Championships in July.
Simon Johnson, CEO at Tennis Wales said:
"All of our nominees were fantastic this year, with great people & projects being recognised from right across Wales. I want to thank every single person who helps make our sport happen across Wales, from our volunteers, coaches and officials, to our players, parents & fans who are all vital to making event like the Awards such a success. I wish all the winners the best of luck as they progress to the LTA Awards finals in Wimbledon later in the year"
Guests of the evening helped to raise £500 for Tenovus Cancer Care, following the amazing vocals of Cardiff Sing With Us Choir.
Our winners included:
Young Person of the Year (sponsored by Inspire2Coach) – Jonah Jones (Caerphilly Tennis Club) *
Volunteer of the Year – Alison James (Windsor Lawn Tennis Club, Penarth) *
Education – Lewis School Pengam *

Disability Programme Award – Wrexham Tennis Centre *
Coach of the Year (sponsored by Dragon Signs) – Jonathan Morgan (Caerphilly Tennis Club) *
Official of the Year – Paul Pritchard *
Player of the Year – Evan Hoyt, Llanelli
Competition –Penarth Open Grade 3 Event *
Team of the Year – Junior Home Nations Team
Club or Centre (sponsored by Chiltern Sports Contractors) – Caerphilly Tennis Club *
Lifetime Achievement Award – Stephen Clarke *
William and Shaw capture Tier 1 British Tour titles in Wales
Middlesex's Tiffany William took the Womens' title at the LTA British Tour, Penarth, sponsored by Chiltern - while Buckinghamshire's Michael Shaw was crowned Mens' champion.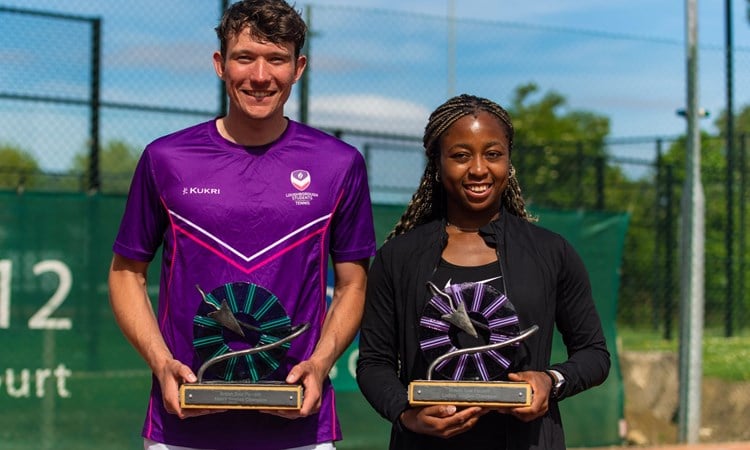 Non-executive director wanted for Tennis Wales Board
We're looking for a dynamic, passionate and professional person  to join us on the Tennis Wales Board.
Susie Griffiths wins LTA Award
Bangor Tennis Club member, Susie Griffiths, won the Cathie Sabin Volunteer of the Year gong at LTA Awards for her work in boosting membership and tennis participation at the club.