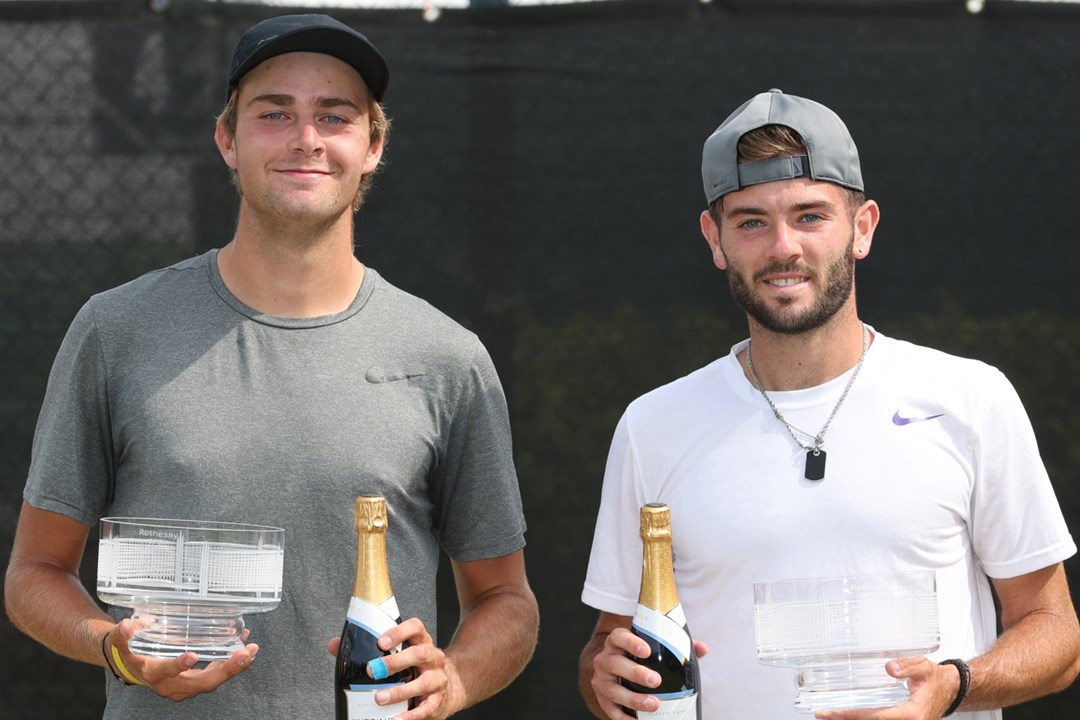 Singles and doubles titles as Scots dominate in Nottingham
• 3 MINUTE READ
All the latest results and reports after a highly successful week for the Scots
Jacob Fearnley and Johannus Monday secured their maiden ATP Challenger title at the Rothesay Open in Nottingham.
A wildcard entry, Fearnley and Monday had never played a pro-level doubles match together, but kicked off their campaign by beating top seeds Andre Goransson and Ben Mclachlan, ranked 62 and 73 in the world respectively, 6-4 7-6(3).
The next round saw them overcome Indian pair Anirudh Chandrasekar and N Vijay Sundar Prashanth in straight sets 7-6 6-3.
The former Merchiston Castle School pupils continued their phenomenal run as they battled back to beat third seeds Robert Galloway, ranked 76, and John-Patrick Smith, ranked 96, in the semi-finals 2-6 6-4 10-8.
Fearnley and Monday went on to complete their dream run on Saturday as they took on fellow Scot Jonny O'Mara and partner Liam Broady, who were on a seven-match winning streak after their title win in Surbiton.
The final went the distance with Fearnley and Monday finally emerging victorious 6-3 6-7(6) 10-7 to lift their first ATP Challenger trophy.
"It was a great week," said Fearnley. "Coming into the tournament, we weren't expecting much, but to win a Challenger with someone I went to school with is really special and an experience that I'll remember for a long time."
The pair will look to capitalise on their win as they kick-off another Challenger campaign this week at the Ilkley Trophy, where they play Dutch duo Gijs Brouwer and Jesper de Jong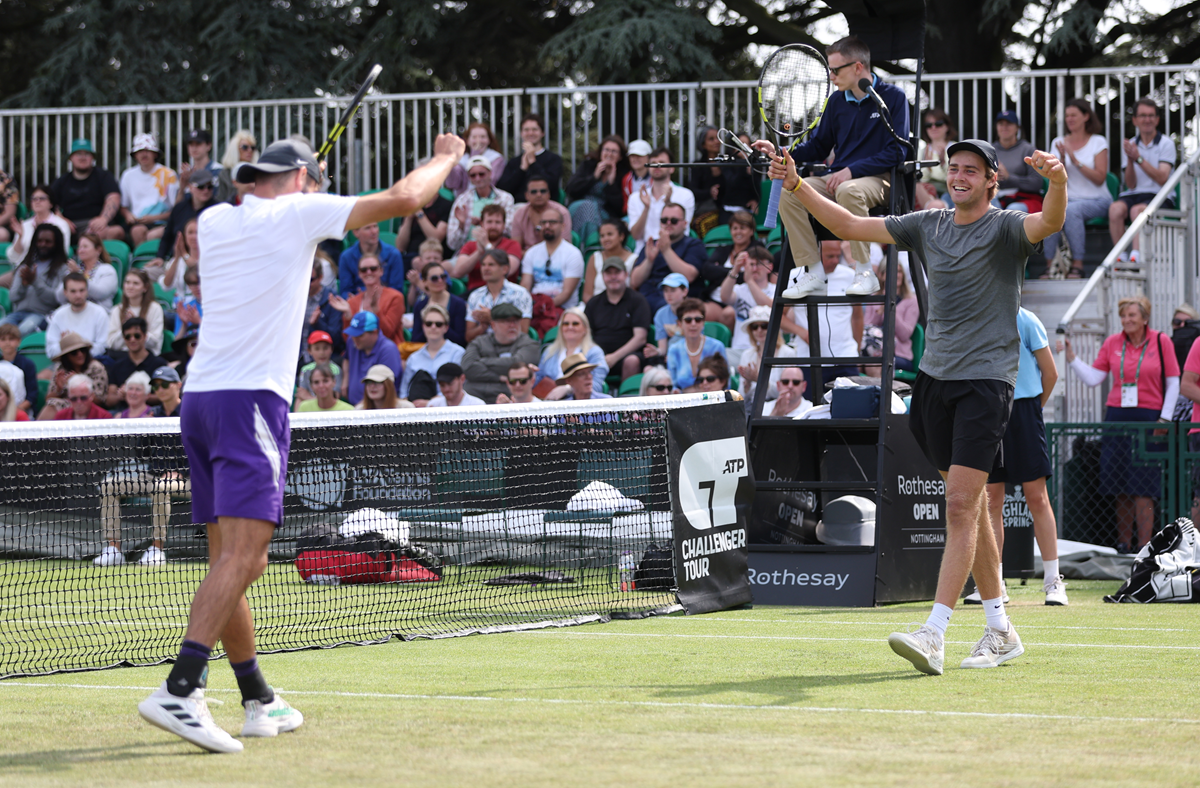 Murray continues perfect grass court prep
Andy Murray continued the Scottish success in Nottingham, as well as his fine grass form, in the men's singles as he captured his second ATP Challenger title in as many weeks.
Murray didn't drop a set en route to the trophy, including a tight 7-6 7-5 win over Swiss ATP Next Gen star Dominic Stricker.
The 36-year-old then punched his ticket to the final with a commanding 6-3 6-2 semi-final win over world number 69, Nuno Borges.
The final saw Murray face 20-year-old qualifier Arthur Cazaux, who was looking for his first ATP Challenger title. However, the Scot proved too strong for the Frenchman as he secured his fifth straight-sets victory of the week 6-4 6-4.
Next up for Murray is the Cinch Championships at Queen's Club this week, where he'll play Aussie number one Alex de Minaur in the first round on Tuesday.
Murray will also team up with compatriot Cam Norrie in the doubles at Queen's. The pair play third seeds Joe Salisbury and Rajeev Ram.
Deep run for O'Mara and Thomson
Jonny O'Mara and Connor Thomson were also among Scots to enjoy doubles success in Nottingham, with O'Mara continuing his Surbiton form with partner Liam Broady.
The duo picked up a pair of convincing wins to start their week, including a 6-4 6-1 victory over second seeds Yuki Bhambri and Saketh Myneni.
In the semi-finals, O'Mara faced countryman Connor Thomson and his partner and South Carolina teammate Toby Samuel, who were also making the most of their wildcard with impressive wins, including a 6-3 6-7(8) 10-8 victory over fourth seeds Julian Cash and Luke Johnson.
O'Mara and Broady emerged victorious, but not without being pushed all the way in a 6-7(9) 7-5 10-3 win, before falling to Fearnley and Monday in the final.
Queen's is next for O'Mara and Broady, where they face Dan Evans and Lloyd Glasspool in their opener. Meanwhile, Thomson and Samuel head to Yorkshire for the Ilkley Trophy ATP Challenger where they will face German pair Constantin Frantzen and Hendrik Jebens.
Reflecting on his last couple of weeks, Thomson said: "It's been a good couple of weeks. Seeing the level and getting wins against good players has been a confidence boost for sure.
"It's great to see that we're in the mix with these guys and I'm looking forward to going out there again and having another opportunity."
Reid reaches the semis
Gordon Reid made an impressive singles run last week at the French Riviera Open, ITF Super Series event.
He picked up two commanding wins over Maikel Scheffers and Guilhem Laget in his first two rounds before toppling world number three Joachim Gerard.
Reid snatched a close first set 7-5 before suffering a 0-6 setback in the second, but managed to bounce back to take the decider 6-2.
Reid's campaign came to an end in the semi-final 1-6 0-6 as second seed, and eventual winner, Gustavo Fernandez proved too strong.