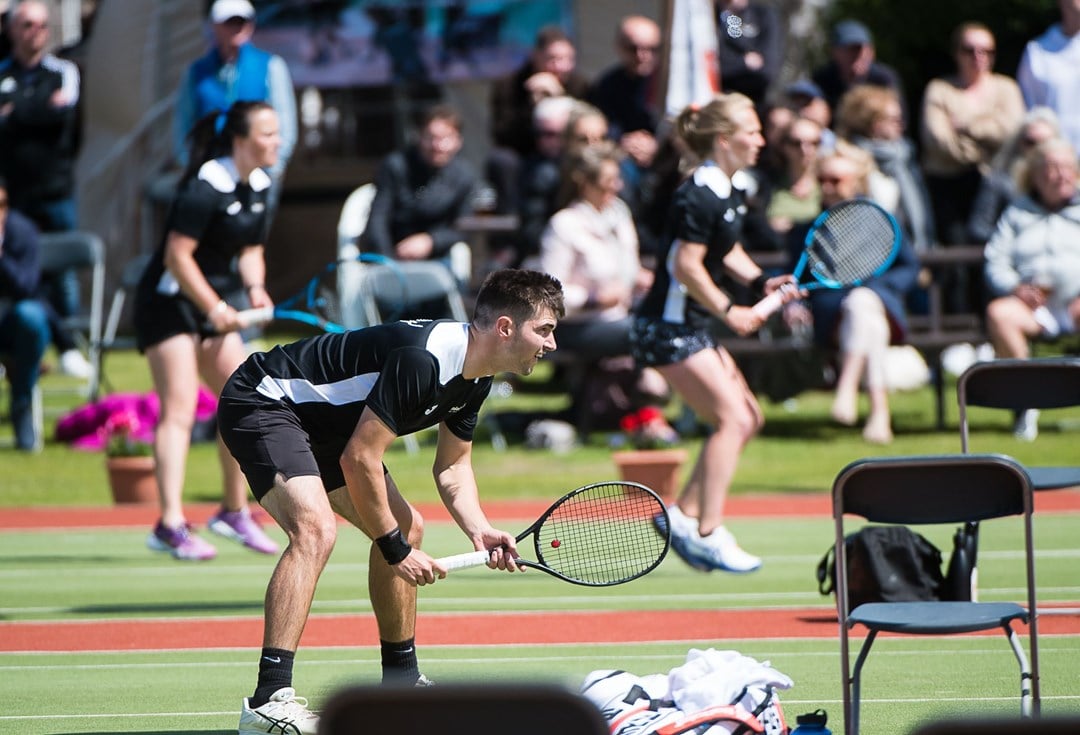 Scottish Cup Finals 2023: The tale of the tape and what Saturday holds in store
• 3 MINUTE READ
Scotland's premier inter-club competition, the Inter-Club Challenge Cup, culminates at the home of the reigning champions Newlands Lawn Tennis Club this Saturday, 17 June.
With Newlands Men and Women vying for their third consecutive Scottish Cup title, anticipation is high following last year's thrilling finals. The men's team secured a resounding 7-2 victory against Thorn Park, while the women's team dominated with a 5-1 win over Western.
In a repeat of last year's showdown, Thorn Park Men are determined to overcome Newlands Men in an what will be an exciting on court battle. Thorn Park Men enter the final with confidence after their impressive 6-3 victory against Kilmarnock in the semi-finals, while Newlands secured their spot with a convincing 5-1 win against Giffnock.
Meanwhile, Braid Women, having triumphed over Thistle Women with a 5-2 victory in the semi-finals, are eager to claim their maiden title as they face off against the two-time champions Newlands on their home ground.
Speaking about the significance of the final, Newlands captain Scott MacAulay said: "To win another title with Newlands, and to do it with mostly the same group of players over the last four or five years is very special. We've got a couple of guys making their final debuts in Liam Hignett and Marcus Mclaren, so it will be good to see how they rise to the occasion."
Jordan Gray, Thorn Park captain, says the team are very excited to play in another final. Gray added: "We have a young, home-grown team. It's good to be lined up alongside with my son Finlay, Fraser [Craig], Kyle [Mckay], who are guys that I've coached for a very long time. Cameron [Fryer] has come in this year as well and it's great for the young guys to develop."
Newlands Women look to defend their 2022 title with the addition of two new players this year in Eleanor Cochran and Anna McKnight. Jennifer Steel, Newlands captain, said: "We've been fortunate enough this year to field the same team for the majority of the league and cup season, we've gelled really well and everyone is feeling good and excited for what will be a big day"
Braid Women, who will be competing in the Scottish Cup final for the first time, are looking to make the whole club proud. Suzie Provan, Braid captain, said: "Winning would mean everything. I'm sure any club would say that, but we're playing on Saturday not just for us players on court, but for the wider club. We want to win for everyone.
"The support we get from Braid is just unbelievable, from coming to watch matches, positive messages and feedback on our Facebook page, or even clearing court time for us, it's been a real team effort."
Entry to the event is free and supporters are encouraged to come down to Newlands Lawn Tennis Club to cheer on their teams, with live matches from 11am. Viewing areas will be available for spectators, and the club's bar will serve food and drink throughout the day.
Blane Dodds, Tennis Scotland Chief Executive, said: "The Scottish Cup final is a fantastic event that celebrates the top players from around the country. As the heartbeat of our sport, clubs play a vital role in fostering talent and creating a thriving tennis community all year round.
"I am sure there will be a big turnout to support the clubs involved in the finals and to enjoy the tennis on display. On behalf of everyone at Tennis Scotland, I would like to wish all players contesting the final the very best of luck."
The Scottish Cup was first contested in 1896 and was quickly established as the pinnacle event in the summer competition calendar. The event has continued to attract teams from across the country, with 68 clubs entering the men's and women's competitions this year.
Team line-ups:
Newlands Men: Scott Duncan, James Mackinlay, Liam Hignett, Scott MacAulay, Marcus McLaren, Patrick Young
Thorn Park Men: Fraser Craig, Ewan Moore, Jordan Gray, Cameron Fryer, Finlay Watters, Kyle McKay
Newlands Women: Heather Barlow, Eleanor Cochran, Anna McKnight, Rachel Pang, Caitlin Steel, Jennifer Steel
Braid Women: Mhairi Beattie, Emily Gates, Suzie Provan, Heather Croll, Ayu Sophia Okusawa, Eva Vrhunec.