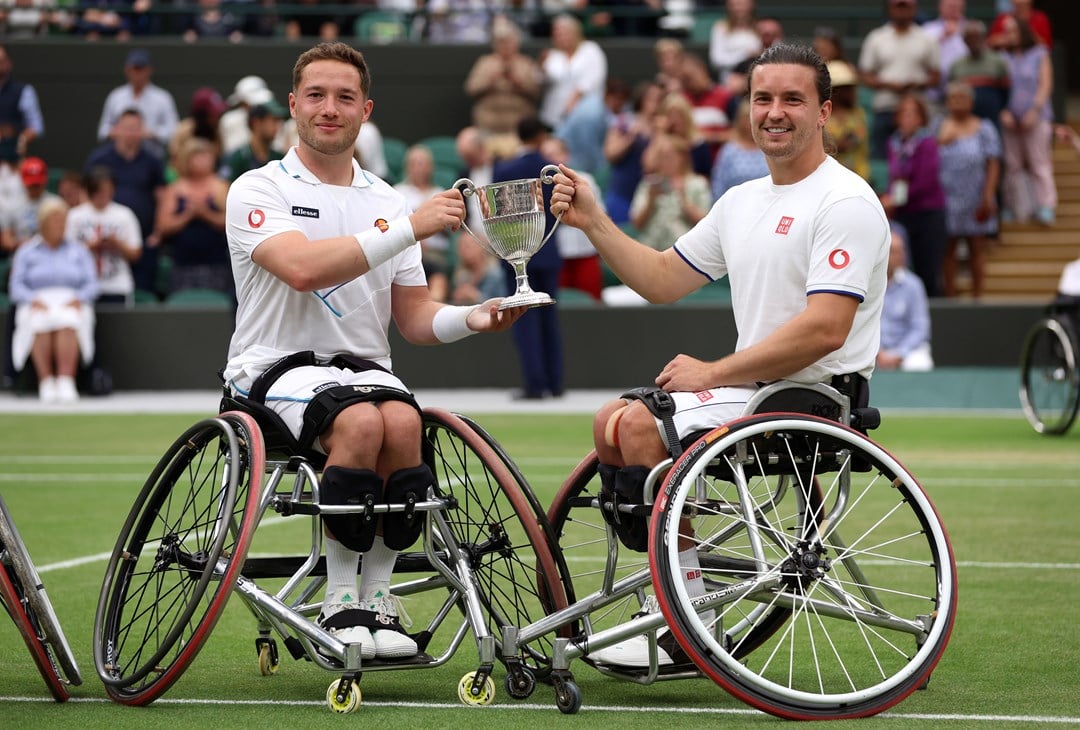 Reid and Hewett win fifth Wimbledon title together, Lumsden and Bains reach quarter-finals, O'Mara runs deep in the mixed
• 4 MINUTE READ
All the latest updates from a busy year at Wimbledon for Scots and more
Gordon Reid and Alfie Hewett win their fifth Wimbledon doubles title
Gordon Reid and Alfie Hewett lifted their fifth Wimbledon doubles title as a pair on Saturday.
After a 7-5 6-3 straight sets victory in the semi final against Gustavo Fernandez and Martin De La Puente, Reid and Hewett took on Japan's Tokito Oda and Takuya Miki in a packed Court 1.
The pair dropped the opening set 3-6 but battled back and raised their level to win the second set 6-0 and force a decider. Reid and Hewett kept their momentum to gain a lead in the third and a classy dropshot from Gordon on match point sealed the Championship as Court 1 erupted.
The pair remain unbeaten in Grand Slams this year as they add completed their third slam title run of 2023.
Maia Lumsden and Naiktha Bains' Wimbledon quarter-final run snaps 40-year wait
Wildcard doubles pair Maia Lumsden and Naiktha Bains ended a 40-year wait for a British pair to reach the women's doubles quarterfinals when they progressed past Viktoria Hruncakova and Tereza Mihalikova in the third round on Monday.
Lumsden and Bains secured an early advantage taking the first set 6-3 before being narrowly edged in the second 6-7(5). The duo wasted no time in bouncing back as they went on to win the third set 6-3
Maia and Naiktha would then take on third seeds Elise Mertens and Storm Hunter on Court 2 on Wednesday. Mertens and Hunter demonstrated their top ten pedigree as they proved too strong for the British pair, prevailing 6-2 6-1.
Despite the loss, Maia was upbeat about their tremendous run and first Wimbledon quarterfinal experience, she had this to say:
"It's been an amazing couple of weeks, unbelievable experiences and it's given me more belief to know I can compete and win at this level. It also feels great to be in the top 100, it's one of those milestone goals that you always aim for".
Maia is now sitting at 95 in the WTA doubles ranking in her first week as a top 100 player.
Jonny O'Mara runs deep once again in the mixed doubles
Jonny O'Mara teamed up with Olivia Nicholls for the mixed doubles at Wimbledon this year to make another remarkable and entertaining run to the semi-finals.
On Monday the pair upset fourth seeds Wesley Koolhof and Leyla Fernandez in the second round 6-4 3-6 6-2.
In the quarterfinals, O'Mara and Nicholls overcame another tough challenge beating fifth seeded Aussie pair Matthew Ebden and Ellen Perez 7-5 7-5 to take Jonny one step further than last year.
The final four match occurred on a vibrant Court 3 as the pair faced Croatia's Mate Pavic and Ukraine's Lyudmyla Kichenok. They were edged out in a tight first set tie-break 6-7(6) before taking the second 6-4 to level the match.
It wasn't to be though as O'Mara and Nicholls fell 3-6 in the final set to the eventual winners.
Jamie Murray and Michael Venus lose out in quarter-finals
Monday saw Murray and Venus upset fourth seeds Hugo Nys and Jan Zielinski 6-4 6-3 to book their place into the last eight of the Championships. However, the pair were then ousted by German duo Tim Putz and Kevin Krawietz 6-4 6-3 on Wednesday to end the Jamie's 2023 Wimbledon campaign.
Fearnley and Thomson debuts come to a close in round two
After impressive first round wins during week one, Jacob Fearnley and Connor Thomson lost out to tough opponents in their second round match ups.
Jacob and Johannus Monday lost out to sixth seeds Matthew Ebden and Rohan Bopanna 5-7 3-6 on Court 3 which brought their first Wimbledon to a close
Meanwhile, Connor Thomson and Toby Samuel faced fifth seeds Edouard Roger-Vasselin and Santiago Gonzalez. They were bested 3-6 6-7(4) which also put an end to their Championships.
Junior Wimbledon Round Up
Four players represented the GB National Tennis Academy in the Junior Championships last week.
Charlie Robertson showcased his class rising to the occasion to win his first round on his Wimbledon debut against Jakub Filip of Czech Republic 6-4 6-2. Charlie then lost out in the second round ITF world number eight Joao Fonseca 1-6 4-6.
Henry Jefferson also impressed the Wimbledon crowd last week. He came through a tough encounter in his first round, beating Volodymyr Iakubenko 7-6(5) 6-1.
In the second round he faced world number four Yi Zhou. Henry pushed the third seed all the way to the very end before being narrowly edged out 6-4 3-6 6-7(7) in a dramatic third set super tie break.
Ella McDonald also came through her first round match against Martina Genis Salas in convincing fashion 6-3 6-2 before losing out 5-7 3-6 to Rebecca Munk Mortensen of Denmark in the second round.
Ella did however progress in the doubles draw, reaching the quarterfinals with her partner Luciana Moyano of Argentina. After a straight sets win in the first round the pair then came through a second round epic against Spain's Martina Genis Salas and Charo Esquiva Banuls 6-4 5-7 16-14.
The run was then ended my Czech Republic's Alena Kovackova and Laura Samsonova 3-6 3-6.
Hephzibah Oluwadare earned a hard fought first round win in the girls' singles against world number sixteen Slovakia's Nina Vargova 2-6 6-4 7-5. However, it was not to be for Hephzibah in the second round, she was bested by Nikola Bartunkova 2-6 3-6. An in form Bartunkova would then go on to finish runner up in the singles.
Hepzibah teamed up with GB's Mika Stojsavljevic, winning their first round 7-5 6-4 agasint Mia Slama and Amelie Smejkalova before falling against Japanese duo Hayu Kinoshita and Sara Saito 3-6 1-6.
Charlie and Henry teamed up in the boys doubles but were bested in the first round by Joao Fonseca and Juan Carlos Prado Angelo 2-6 4-6.
Tennis Europe success for Hanna Augustynska
Hanna Augustynska enjoyed international success last week when she won the TE-14 Ireland 3.
The top seed made her way to the semi finals without dropping a set before coming through a tough encounter against third seed Pui Yin Lung 6-3 1-6 6-2. She then went on to secure the title by beating Carlotta Kasiske 7-5 6-2 in the final.
Hanna also teamed up with fellow Scot Becky Macleod to make a run to the doubles final. The pair fell just short, losing the decider 2-6 6-4 6-10 to British duo Katie Chen and Daphne Lovdahl.