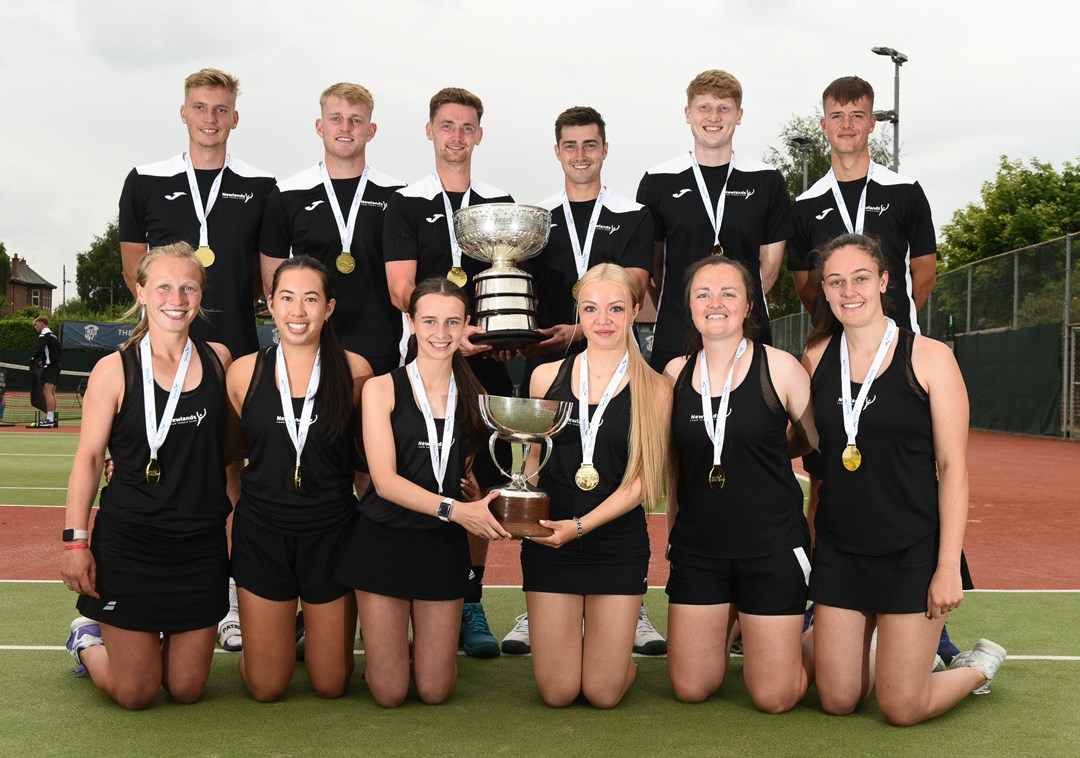 Newlands shine at Scottish Cup Finals 2023
• 5 MINUTE READ
Newlands Lawn Tennis Club's men and women's sides retained their Scottish Inter-Club Challenge Cup silverware in fine fashion on their home courts.
The men's team faced off against formidable opponents, Thorn Park, in a highly anticipated rematch of last year's final. After their 6-3 semi-final win over Kilmarnock, a young Thorn Park team arrived inspired to challenge once again for the title. However, after two rounds, and three tie-breaks in round one, Newlands emerged victorious after a series of hotly contested matches 3-0 2-1.
Round one saw both teams' strongest pairs go head-to-head in a hard-fought duel as Newlands' Scott Duncan and captain Scott MacAulay edged out Jordan Gray and Cameron Fryer 6-4 7-6 with only one break of serve in the match.
Meanwhile, on court five, Newlands' Patrick Young and Marcus McLaren clashed against the powerful pairing of Kyle McKay and Finlay Watters from Thorn Park. After dropping the first set 3-6, Young and McLaren staged an impressive comeback, rallying to claim the second set 6-3. The match was eventually decided by a gripping third-set tie-break, with Young and McLaren earning Newlands crucial points with a 10-8 victory.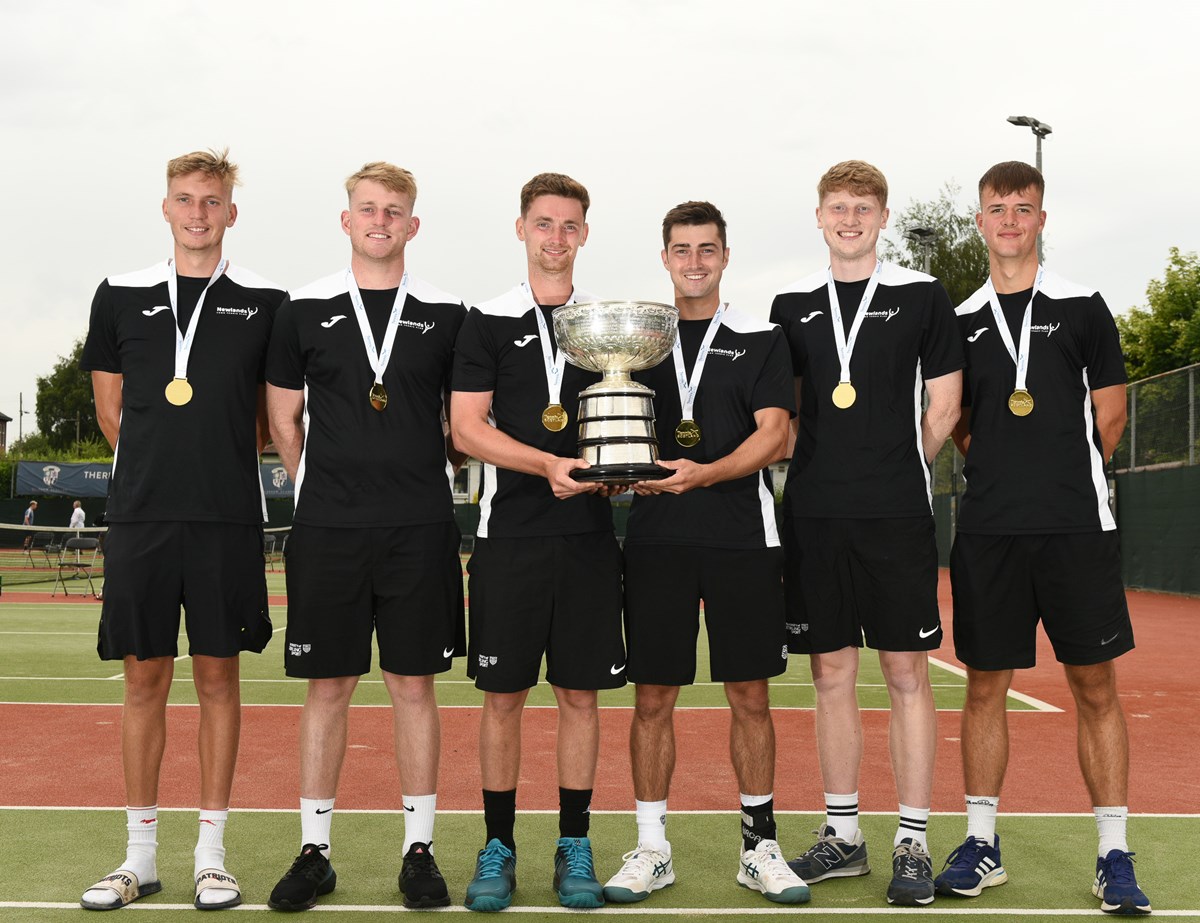 After an intense first round, Duncan and MacAulay quickly widened the gap with a dominant 6-2 6-3 win over Tohotom Tiboldi and Fraser Craig.
Thorn Park bounced straight back as Gray and Fryer demonstrated their resilience by securing their team's first points of the day, outplaying Young and McLaren to secure a 6-4 6-4 victory.
It was James Mackinlay and Liam Hignett who managed to hold their nerve in a tight second set to seal the championship for Newlands, winning 6-3 7-5 against Mckay and Watters.
Double delight for Newlands
Newlands Lawn Tennis Club's women's team once again showcased their dominance as they clinched their third consecutive Scottish Cup title. Their opponents, Braid Tennis Club from Edinburgh, had shown their mettle in the semi-finals with a resounding 5-2 victory over Thistle Women, fuelling their aspirations for a maiden championship.
However, two-time champions Newlands proved too much, emerging triumphant on their home turf with a commanding 3-0, 2-1 victory.
In round one, debutants Anna McKnight and Eleanor Cochran posted an impressive performance, powering past Ayu Sophia Okusawa and Eva Vrhunec 6-2 6-2.
Meanwhile, in a captivating contest, Caitlin Steel and Heather Barlow of Newlands faced off against Braid's Mhairi Beattie and team captain Suzie Provan. There was little in it as the first set went to a tie-break, with exhibition-style points keeping the crowd on the edge of their seats. The entertaining contest ended 7-6 6-2 to complete Newlands' 3-0 clean sweep.

In the second round, Steel and Barlow picked up where they left off, beating Emily Gates and Heather Croll 6-1 6-2.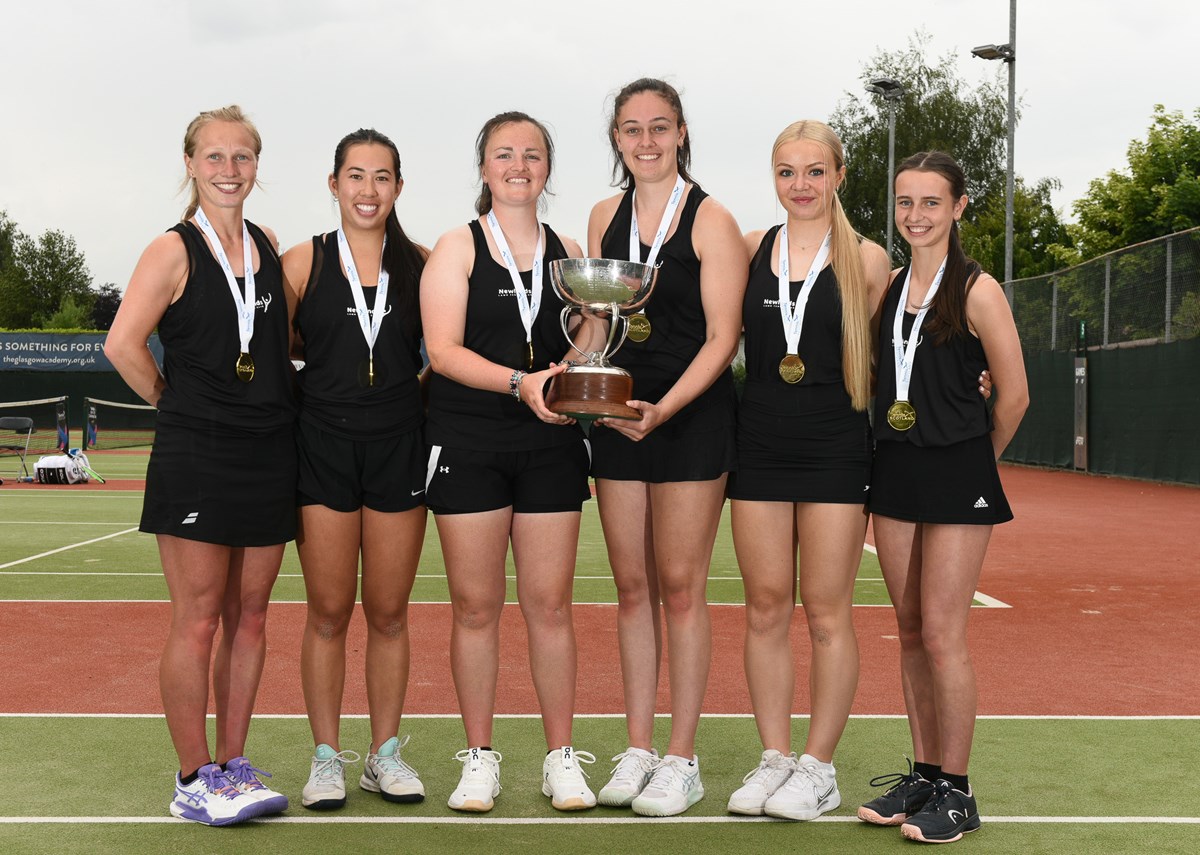 In front of their home crowd, and in their first final, Cochran and McKnight clinched the title for Newlands in a thrilling second set tie-break against Okusawa and Vrhunec 6-3 7-6.
Though the championship had been decided, Braid kept battling and Beattie and Provan exhibited their class by delivering a spirited performance to score their team's first point. In a tight battle against Newlands' Rachel Pang and Jennifer Steel, Beattie and Provan prevailed with a hard-fought 7-5, 6-3 victory in what would be the final match of the day.
Team line-ups
Newlands Men: Scott Duncan, James Mackinlay, Liam Hignett, Scott MacAulay, Marcus McLaren, Patrick Young
Thorn Park Men: Fraser Craig, Tohotom Tiboldi, Jordan Gray, Cameron Fryer, Finlay Watters, Kyle McKay
Newlands Women: Heather Barlow, Eleanor Cochran, Anna McKnight, Rachel Pang, Caitlin Steel, Jennifer Steel
Braid Women: Mhairi Beattie, Emily Gates, Suzie Provan, Heather Croll, Ayu Sophia Okusawa, Eva Vrhunec.