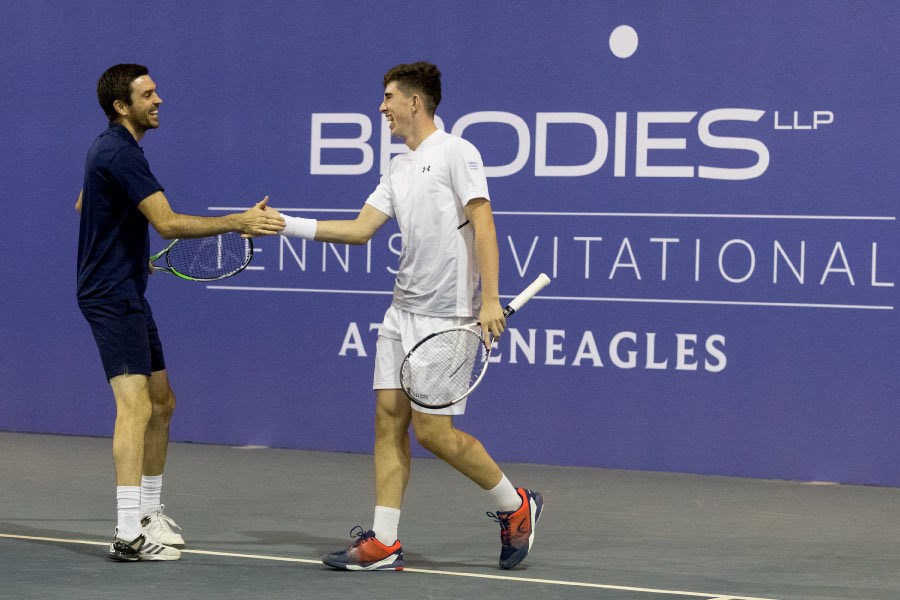 Excitement Builds as Brodies Tennis Invitational Tennis Event Returns to Edinburgh
• 3 MINUTE READ
Later this week Edinburgh will play host to the Brodies Tennis Invitational, an unforgettable showcase of tennis talent, combining legends of the sport with Scotland's rising stars.
Held at the EICC, the Brodies Tennis Invitational has always been a unique fixture on the tennis calendar, and this year is no exception. Running from Thursday 28 September – Saturday 30 October the event features a unique blend of legends of the sport including Feliciano Lopez, and Johanna Konta and rising stars like Freya Christie, Maia Lumsden, Ali Collins and Aidan McHugh.
Colin Fleming - Tournament Director
Colin Fleming, former professional tennis player and tournament director for the event, spoke with TennisScotland and shared what makes this year's edition particularly special.
"We're really looking forward the tournament this week. It's great to be able to bring top-level tennis players like Feliciano Lopez, Johanna Konta, and Marcos Baghdatis to Edinburgh," he said.
"One of the real selling points when I've been talking to players about coming to play is bringing them to Edinburgh - it's such a beautiful city.
"The atmosphere in the ICC will be really intimate - the crowd is very close to the court - and it will give fans a chance to get up close and personal with some big names.
"It's fantastic to have a mix of legends as well as some of our Scottish players who are still playing the game and trying to climb the rankings. It's a pretty unique mix.
"I'm really looking forward to the women's doubles where we've got Johanna Konta, Laura Robson, Maia Lumsden, Ali Collins and Freya Christie all taking part. I think that'll be one of the most entertaining matches of the event."
The Event Offers A Compelling Format
The Brodies Tennis Invitational offers a compelling format that includes men's singles, men's and women's doubles, and mixed doubles matches. Among the highlights will be a host of men's singles matches featuring Feliciano Lopez, Mark Philippoussis, Greg Rusedski, and Aidan McHugh which is sure to showcase some remarkable skills and high-quality tennis action.
The event will also see Scots Ali Colins and Aidan McHugh involved and give them the chance to take on of former grand slam champions and top 10 players.
"We want this event to be a real inspiration for people. We want families to come along and for kids get a chance to watch these high-level players, see just how good they are, and how they operate," Fleming added.
"It's great to be working with TennisScotland and have them providing the ball team for this event. The ball team will get a chance that very few get - to be literally on the court watching these top players playing at such a high level - and hopefully get inspiration from that."
"At the event there will be a lot of different activations around including mini tennis courts and a chance for kids to get involved, have a lot of fun and try the sport out. When you come along to an event like this, and you get to watch high level tennis it really gives you the feeling that you want to go and play.
"Hopefully we can inspire kids to get on court, be that at their local club or maybe go and try it at a local park or join a club or who knows where their journey could go."
A Mix Of Legendary Players And Rising Stars
With a captivating mix of legendary players and rising stars, and a stunning venue, this event promises to be a highlight of the tennis calendar. Plus, the event's intimate atmosphere will allow fans to get up close and personal with tennis greats, past and present.
Secure Event Tickets Online
Whether you're a die-hard tennis fan or just looking for a memorable day out, the Brodies Tennis Invitational has something for everyone. Tickets are available on the event's website. With a variety of ticket options, you can choose the sessions that suit you best.
Don't miss your chance to be part of this tennis extravaganza in the heart of Edinburgh!