Women's 35+ Inter-county Championships 2021
• 2 MINUTE READ
After missing a year of competitive tennis in 2020, the Women's 35+ Inter-county Championships was welcomed with enthusiasm, with restrictions in the most part eased. Unfortunately, with four counties unable to gather a team or 'pinged' ahead of the weekend it meant there were some gaps in the draws. We were in a comfortable position playing for promotion or to remain with the absence of Northumberland.
The Team
Sarah Wright
Sumitra Fox
Stephanie Barling
Caroline Milns
Maia Dunn
Day 1 – Nottinghamshire vs Wiltshire
We welcomed two newcomers, Sumitra Fox and Stephanie Barling this year, making for a very strong team! The day started with rain which delayed the start of play, followed by 50mph gusty winds! An enjoyable set of matches ensued, with balls flying in all sorts of directions but as usual, Sarah Wright made it look easy and we were fortunate enough to come through the two singles and won the first doubles with Caroline and Steph, in a match tiebreak. Rain stopped play for the rest of the afternoon with the announcement that just the first three matches would count.
Nottinghamshire 3-0
Day 2 – Nottinghamshire vs Oxfordshire
It was a surprise to wake up to bright sunshine, so we were looking forward to playing all five matches without a delay. Even the wind was behaving itself for once! Sumitra and Steph followed the two singles wins playing an experienced pair, but with their lighthearted enthusiasm came through winning the match tiebreak 10-7. We were happy to be going into the second round 3-0 up, with Sarah and Maia taking the next doubles before Caroline and Sumitra narrowly missed out on the next match tiebreak 10-6. Amazing effort by all and it meant that we won the group!
Nottinghamshire 4-1
The Nottinghamshire ladies played brilliantly despite only over two days. It was unfortunate we couldn't play a third but, as always, we gave it our best, resulting in promotion into Division 4 for 2022. We will be joining Lincolnshire, Berkshire, Devon, Norfolk, Kent, Dorset and Buckinghamshire. We look forward to the challenges in a competitive division! Thank you for all your support, enthusiasm and effort once again.
Girls 10U County Cup 2022 Report
The Nottinghamshire Girls 10U team travelled to the County Cup. Read about how the team got on.
Girls 14U County Cup National Finals 2022 Report
The Nottinghamshire Girls 14U team travelled to the National Finals, played at the Nottingham Tennis Centre. Read about how the team got on.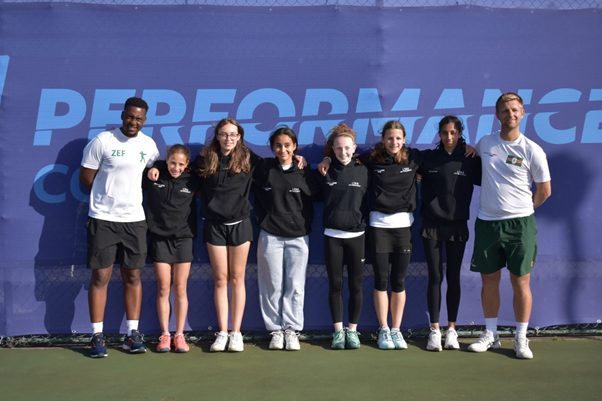 Boys 14U County Cup 2022 Report
The Nottinghamshire Boys 14U team travelled to the County Cup, played at Repton, Nottinghamshire. Read about how the team got on.