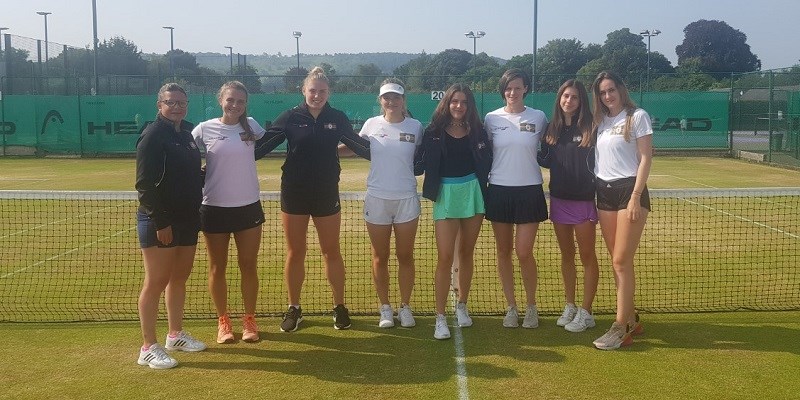 Ladies County Cup Report 2021
• 5 MINUTE READ
After what seemed like a lifetime since promotion to Division 2, Nottinghamshire ladies were finally back on the road competing at one of our favourite venues – The East Gloucester Club in Cheltenham. The weather throughout the week was in the high 20s to 30 degrees so very hot and humid for all players and spectators alike which made things interesting.
On paper we knew it was going to be a tall order to stay in the division with some really top class counties, but we had fighting spirit.
Facing Lancashire on the first day, we were aware that their first pair had won 29 of their last 30 matches at county week – so stiff opposition. Round 1 saw us sneak in to a 2-1 lead with wins from Sarah Wright and Millie-Mae Matthews, and Millie Rajecki partnering Livvy Tomkins. After a close battle with Lancashire's 1st pair, Millie and Livvy lost out in a third set match tie break (10-1), but great wins from Sarah and Millie-Mae, and Lucy Gill pairing up with Laura Cooper put us in a really great position to get the win.
Into the final round, Sarah and Millie-Mae faced the unstoppable Sabrina Federici and Holly Staff giving it everything before being edged out 10-6 in the match tie-break. Millie and Livvy, however, secured a resounding 6-1 6-0 win over the Lancashire 3rd pair, giving us a great 5-4 win to start the week.
Tuesday saw us up against Essex who had come down from Division 1. Going in with the previous day's winning team it was a case of déjà vu with Millie and Livvy and Sarah and Millie-Mae battling to win (more match tie breaks – you'll see a theme here) and Lucy and Laura coming so close to a third win but losing out in – you guessed it – a match tiebreak (4). Round 2 was a quick fire round – the longest set being 6-3 but putting us in a leading position again of 4-2. Newcomers Melissa Maddock and Jess Spencer made their debut putting up a valiant effort before losing 6-2, 6-4 making it 4-3 and Sarah and Millie-Mae losing 10-7 in a thrilling match tie-break. So it was all down to Millie and Livvy playing the legendary Mandy Wainwright and her partner Nyah Kauders. Taking the first set on a 14-12 tie break (shock) the Notts pairing dug deep to secure the win with a 6-4 second set.
Going into Wednesday and starting to suffer from the heat, we faced Kent who were also unbeaten so far. Round 1 saw an inspired performance by Kent's Gabby Chidwick and Natasha Munday to beat the Notts 1st pair Millie and Livvy, and Lucy and Jess lost to Sofia Johnson and Sarah Wray who hadn't lost a match. Sarah and Millie-Mae picked up a great win in round 1 and consolidated it by beating Gabby and Natasha in round 2. Livvy and Millie came back out battling to try and end the winning streak of Sofia and Sarah, but despite having match points the Kent pair came through in a final set match tie break that went to 12-10. This put us at 4-2 down, but could so easily have been 3-3 going into the final round where Millie and Livvy secured 1 further victory – ending in a 6-3 loss.
Thursday was a key match if we were to have a shot at the elusive Division 1 and we were up against Warwickshire. Clinching two wins in the first round (one a match tie-break) and one in the second round, we went in to the final round with a fantastic opportunity in our sights. Millie and Livvy put us 4-3 up and needing just 1 more win to be in the promotion zone we (obviously) had two courts both playing third set match tie breaks where, sadly, both Sarah and Millie-Mae and Laura and Lucy lost in tense nail biting matches 10-8 putting our dreams of Division 1 in the hands of the very in form, unbeaten and already promoted Northumberland.
Despite a fantastic start gaining a 2-1 lead through Millie and Livvy and Sarah and Millie-Mae (guess what 6-3 5-7 1-0(7), The Northumberland ladies upped their game to take all of the second round, putting Notts 4-2 down going in to the final round. Livvy teamed up with Melissa in the final round to gain a fabulous win against a very strong 2nd pair 6-7(5) 7-6(3) 1-0(4) (ooo match tie break!) bringing us to a 6-3 defeat.
Sarah and I have asked ourselves – could we have won if we had played full three set matches. We'll never know, but what we have learnt from the week is that we have the ability and talent to get into Division 1 at some point, but for now – we will be happy with our position in Division 2 and continue to develop our younger players both on and off the court for when that opportunity comes. And possibly that we need to practice match tie breaks.
Sarah Usher
Captain
Boys 14U County Cup 2022 Report
The Nottinghamshire Boys 14U team travelled to the County Cup, played at Repton, Nottinghamshire. Read about how the team got on.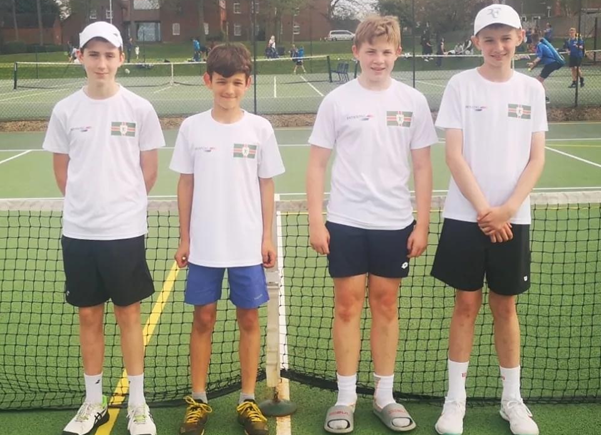 Girls 14U County Cup 2022 Report
The Nottinghamshire Girls 14U team travelled to the County Cup, played at Caunton Lawn Tennis Club. Read about how the team got on.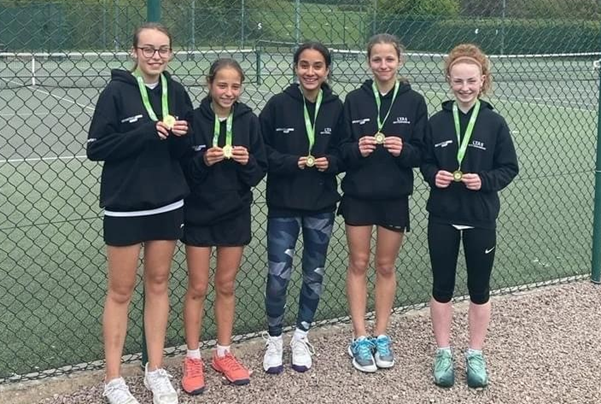 Girls 9U Northern National Finals 2022 Report
The Nottinghamshire Girls 9U team travelled to the Northern National Finals, played at The Graves Centre, Sheffield. Read about how the team got on.