Girls 14U County Cup Report
• 3 MINUTE READ
Notts County Teams are sponsored by Brenntag
This year at Corby Tennis Club we shared Girls group H with, Oxfordshire, Warwickshire and Northamptonshire. Our team for both days was Mia Wainwright, Sophie Lager, Rebeka Hodi and Henna Quraishi.

Firstly, a special thank you to our sponsor Brenntag for our county kit - the girls loved the matching tops and hoodies!
On Saturday May 1st we started our singles matches vs a very strong Oxfordshire. The team did amazingly well to split the singles with Rebeka battling hard to take an extremely close 4-3(3), 3-4(5) 10-8 in the deciding tie break! Going into the Doubles our team was Rebeka/Henna and Mia/Sophie.
Rebeka and Henna went on first and lost a very close match vs a very experienced doubles pair from Oxford, which meant we needed to win the last doubles to take it into a deciding tie break. We lose the first set 1-4, changed our tactics and won the 2nd set 4-1, going into a 3rd set tie break! After finding ourselves in a 9-8 up with a match point it was not meant to be as Oxford didn't shy away from the challenge and took the tie break 10-8 and the overall match 4-2.
I was extremely proud of the fight during the first round of matches and we needed to bounce back ready to end day 1 with the singles rubbers vs Northamptonshire, dropping just 2 games in all 4 singles matches it was just the performance they needed to boost moral ready to play the doubles on day 2 and finish playing Warwickshire!
Arriving early to get prepared for our doubles on the 2nd of May, the girls warmed up well and worked on some doubles tactics that would hopefully help us in the matches remaining. Winning both doubles matches 4-0/4-0 our confidence was high ready to play Warwickshire for 2nd place for the weekend.
Henna had a great battle and won her singles In a 3rd set tiebreak 4-2/2-4 - 10-7 and Rebeka lost her singles in another 3rd set tiebreaker 4-0/3-4(0) 9-11 it was even going into the next round of singles ... Sophie calmed her nerves and blasted her opponent off the court 4-0/4-1 giving us a 2-1 lead in the match! Mia up next and putting in an amazing performance managed to give us a 3-1 going into the doubles 4-2/4-3 (2)!
Rebeka and Henna stayed true to weekend form and after losing the first set, winning the 2nd set decided to treat us all to another 3rd set tie break which they narrowly lost in 12-10! Mia and Sophie won the first set 7-3 in a tie break after being 3-1 down in games! We are now 1 set away from finishing the group in 2nd place behind Oxfordshire. The match keeps splitting games until they find themselves at 3-3 and into another tie break! They managed to take it 7-3 giving us an overall 4-2 win in matches and finishing the weekend in 2nd place.
The girls' positive spirit and fight when it came to important points (mainly in tie breaks) showed through the weekend and as the captain I could not be prouder! – Maybe next time try and finish it before the tiebreak to help my blood pressure?
Captain: Carl Saxby
Click here to view full results
Girls 14U County Cup National Finals 2022 Report
The Nottinghamshire Girls 14U team travelled to the National Finals, played at the Nottingham Tennis Centre. Read about how the team got on.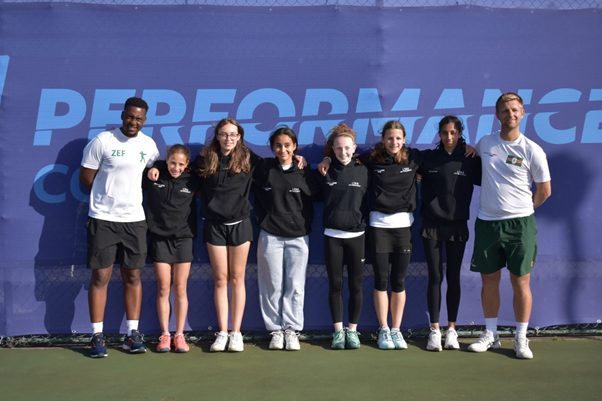 Boys 14U County Cup 2022 Report
The Nottinghamshire Boys 14U team travelled to the County Cup, played at Repton, Nottinghamshire. Read about how the team got on.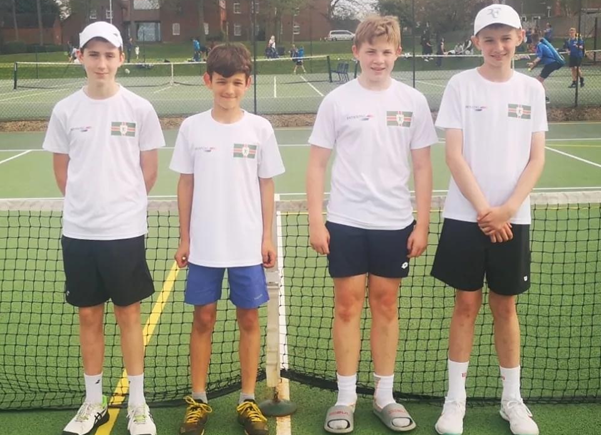 Girls 14U County Cup 2022 Report
The Nottinghamshire Girls 14U team travelled to the County Cup, played at Caunton Lawn Tennis Club. Read about how the team got on.