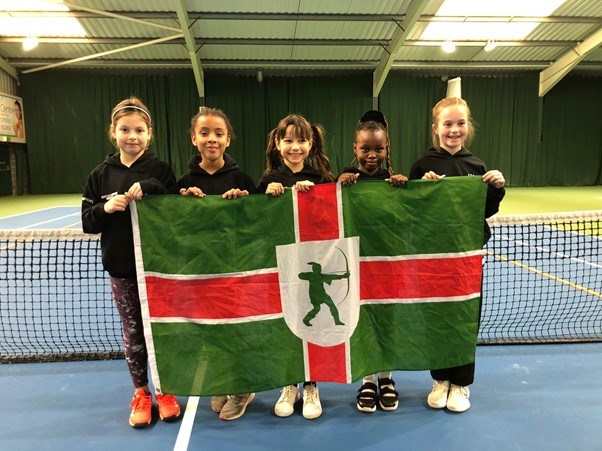 9U Girls through to National Finals!
• 2 MINUTE READ
Team: Evie Pritchard, Star Mkhwell, Sofia Walton, Imogen Drummond, Mila Allen
This event was held at the Boston Tennis Club on four indoor courts. Nottinghamshire were in a group of 4 Counties, with Leicestershire, Northamptonshire and Lincolnshire. The format was a short set to 4 games with a tie break at 3-3 with tennis scoring.
The first round was against Leicestershire, Evie had a bit of a nervous start, adjusting to the shorter orange court, but with good concentration won 4-1. Star also had a nervous start, she really struggled on the shorter court, sadly made a lot of errors and lost 0-4. Sofia played some solid tennis, had seen what had happened to Evie and Star and had a 4-0 win. Mila played the fourth match, sadly was outplayed by her opponent losing 0-4. We were 2-2 going into the doubles. Evie and Sofia played well together, having a comfortable win 4-2. Star and Imogen played well, good volleying with the match going to 3-3. They had to play a tie break to 7, with 2 clear points. All four girls played well, with a score at 6-6 it just continued! They held their concentration, with parents and me hoping for the win, they eventually won 14-12. The girls had not realised they had achieved a 4-2 win for Notts!
The second round was against Northamptonshire. Evie had a tough match against a player we had seen at the Corby 12 Counties 10 u event. There was some excellent tennis played, it was close match with Evie sadly losing 2-4. Star had the measure of the court this round achieving a 4-2 win. Sofia played another solid confident match winning 4-1. Imogen played the singles in this round, she usually plays red ball, but on this occasion, she coped well with the orange ball kept it in play, making her opponent play one more ball, she won 4-0, a great win for her at eight years old. This took us into the doubles 3-1 up, the girls were excited to achieve another win. Evie and Sofia had a great 4-1 win, with Star and Imogen going to 3-3 again, but this time the tie break slipped away 2-7. It was another great 4-2 win for the Notts girls.
The last round was against Lincolnshire. Evie had a tough match again, held her concentration to win 4-1. Star was on form to have an easy 4-0 win. Sofia and Mila's opponents had little experience, with both Notts girls winning comfortably. I had a very excited girls' team who then went on to win their doubles 4-0 and 4-1 respectively.
The girls were so excited to know they were going to the National Final, along with going home with a medal. Congratulations.
My thanks to the parents for their support.
Jane Stokes