Nottinghamshire LTA 2020 Awards Ceremony
• 3 MINUTE READ
Due to the current lockdown, our Awards Night took place virtually this year, via Twitter, Facebook and Instagram.
Online posts were made live from 19:00 on Saturday 6 March at five minute intervals and each of the eight awards was introduced by a guest presenter and followed by a pre-recorded acceptance speech by the worthy winner.
Club of The Year – Chilwell Memorial Institute Tennis Club
Received on behalf of the club by their Chairman, Chris Clift and presented by Sarah Wright, captain of Notts Ladies & U18 Girls County teams.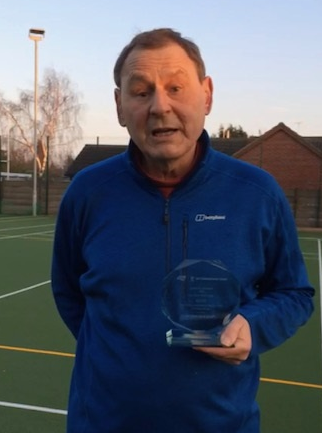 This club has achieved so much in 2020 that they really are worthy winners of this award.
The committee has truly transformed the facilities at the club - quite amazing during this difficult period. The club has only ever had grass courts, but this year they have converted one to an artificial grass tennis court with floodlighting; they have resurfaced the remaining grass courts, and also improved the surrounding fencing and spaces.
So this is the first time in the club's history that tennis can be play throughout the year and during darkness.
The improvement plan has taken much effort and drive by many members, especially through the difficult periods of planning permission and sourcing funding. All this was only possible from a dedicated voluntary group of skilled members.
It was however the committee's Chair, Christopher Clift, who was key to drive and the organisation to achieve the club's vision. Chris's effort and resilience was the motivation.
Volunteer of the Year – Isabelle Bramhall
Presented by Jocelyn Rae, former Fed Cup player, Commonwealth Gold medal winner and Wimbledon mixed doubles quarter finalist.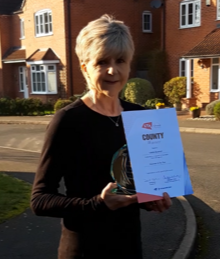 Izzy came to the Wollaton Village Tennis Club's rescue in early 2020. Her boundless energy and enthusiasm galvanised the committee and the membership as we faced the challenges of the COVID-19 pandemic. Izzy singlehandedly, and at no cost to the Club, ran an amazing recruitment campaign throughout the year which helped increase the adult membership from 92 to 134 during the year.
Izzy introduced singles and doubles box leagues, mobilised non-committee members to get involved with everything from running teams to revamping our Facebook page to watering the flower displays and created such a "buzz" at the Club, so many people just wanted to be involved. Committee members were all given areas of responsibility by Izzy so that the running of the Club was not left to a few individuals and her plans for 2021, will take the Club to another level, with our first ever teams participating in the National League Inter-Club Seniors Competitions and the establishment of the Wollaton Village Junior Tennis Academy.
Izzy has also been supporting an upcoming junior player by offering her experience and expertise to develop his game. She does this to 'give back' to the sport that she has herself excelled at.
I should mention here that Izzy has recently retired from the Elite Singles Racketlon having represented GB and reached the World Championships in 2019. She is also no 5 on the all-time list of Women's Elite Racketlon Singles winners and has recently been selected for the GB 50's team
Tennis aside, during lockdown Izzy has run a daily circuit training class for the local residents on her street – and they love it! She always has boundless enthusiasm for helping people reach their full potential and this shines through in the local community as well.
Today, she is being awarded Volunteer of the Year for the tremendous work she has done at her local club.
Development Coach of the Year – James Harding
Presented by Andy Higham, Notts Junior County Training Co-ordinator.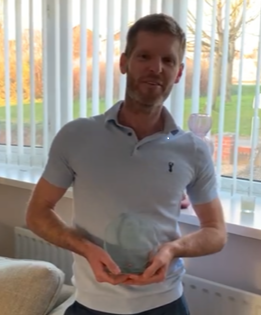 James runs a team of 8 coaches and assistants at Caunton Tennis Club. He has shown incredible determination throughout 2020 to maintain an active coaching schedule in the face of serious challenges due to the pandemic.
James didn't let the pandemic and lockdown stop his coaching entirely. He utilised zoom to be able to deliver a multitude of events to keep members active and engaged in tennis throughout. These included continuing lessons for Juniors and Adults focussing on racket skills and agility. Each session ended in a quiz for the ladies to keep minds active as well. There were knock out competitions run across juniors and adults during lockdown focussing on racket skills. and even a quiz night as a social event to boost everyone's moral.
For junior members he organises and runs holiday camps during school breaks which are both great fun and often include fancy dress to keep them entertained. This helps juniors develop social skills outside of tennis - critical to getting on in the world.
James not only gives much top drawer coaching, but he also runs all the coaching team and fully participates in the club. Further he has helped grow membership numbers to well over 400. He is part of the very foundations of the club.
The entire team at Caunton have followed James' example, caring and supporting every child. James works with each coach to ensure the tuition is cohesive between all the coaches.
Performance Coach of the Year – Peter Godber
Presented by Freya Christie, winner of 13 ITF doubles titles.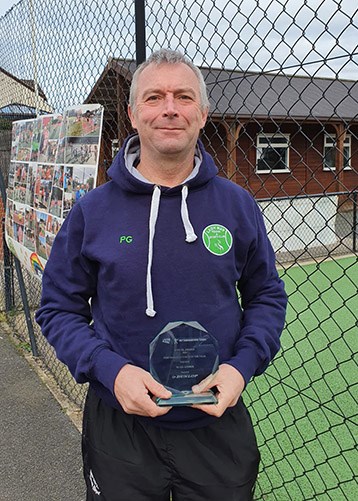 Pete's nomination is an indication of his unparalleled career in performance coaching. He has an unerring eye for talent - often from complete beginners - and has taken these individuals to a very high level. The list of individuals he has taken to county level and beyond is endless. Pete cares passionately about tennis and shares this with those he coaches, going the extra mile to ensure they reach the peak of their ability.
As Head Coach at Lady Bay Tennis Club, he has had a huge impact there, taking both ladies' and men's National League teams to national finals and feeding countless youngsters into league teams.
Due to Covid travel restrictions, Pete has run several internal tournaments run to take the place of travelling to tournaments.Members of the men's national team squad, assembled and captained by Pete, have continued to train at the club. Some of these players (before returning to USA for college) have spent time coaching and playing with the juniors, giving them an insight into what is possible.
The nomination for Pete comes not only for this year but from previous years of having players compete at National tournaments. It is credit to him as a coach that he continues to keep touch with a lot of the players he's coached over the years with numerous continuing in tennis such as Ben Dunbar who is currently the Head Coach of Lobo Tennis for The University of New Mexico and Rob Chambers who coaches at an academy in Hong Kong.
Best Domestic Performance – Phoenix Weir
Presented by Luke Bambridge (in Dubai), ATP doubles player and current world number 58.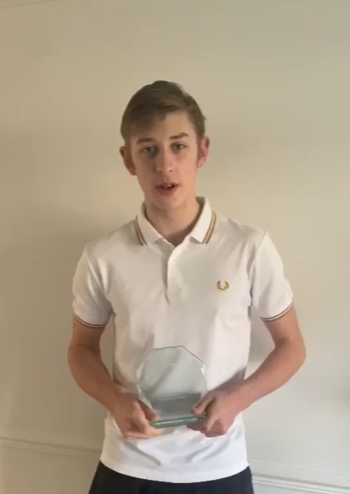 Phoenix, who has grown up in Bingham, has managed to continue his improvement across this obviously disrupted year. Since playing for the men's county team at 14 years old in 2019, winning 5 out of 6 matches, he has continued to grow in 2020.
He started the year by making the final of the Winter National Series Grade 1 at the National Tennis Centre, losing out narrowly in the final. Then followed the first Covid lockdown and competition was halted for Phoenix until August when the LTA ran a National Series across 3 weeks held at our home venue of Nottingham Tennis Centre. Playing in his first year as a 15-year-old in the 16u category, he started a run that saw him win 2 of the events and made the semi-finals in the other week. Pushing on from there, he continued his streak at the Fred Perry National Finals, winning for the 2nd successive year to maintain his clothing sponsorship. Phoenix finished the year with a last 16 at the 16u Winter Nationals and rounded it off by winning an 18u tournament at Loughborough University.
He has been a credit to his family who have all worked hard and supported him throughout his tennis journey and we look forward to following his tennis over the years to come. Congratulations, Phoenix!
Communities and Parks Awards – Nottingham Tennis Centre
Received by Dave Everington, Tennis Manager at NTC and presented by Callum Chivers, captain of the Mens and U18 Boys County teams.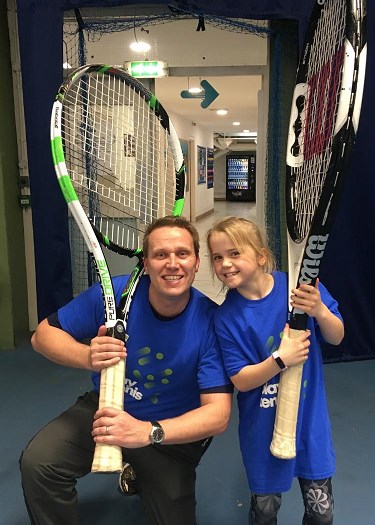 Dave Everington is the Tennis Manager at the Nottingham Tennis Centre and has been the primary leader of the team there during 2020.
Dave and the team have worked tirelessly to reintroduce Tennis to Nottingham post lockdowns.
Hours of risk assessments, programming, communications, staff training as well as working to obtain the relevant permissions from the Council, often saw Dave and the team working 7 days and often alte into the evenings.
As 95% of the workforce was furloughed, this left just Dave and a very small number of staff to plan and organise all of the above.
Once the outdoor courts were opened to the public, the "ClubSpark" system was introduced to NTC so anyone to book the courts without the usual membership systems.
Up until the point that the indoor facilities were allowed to reopen, there were 4,000 visits to the Nottingham Tennis Centre, Vernon Park and Valley Road.
Once indoor play was given the green light, the Junior and Adult coaching programme relaunched adapting to all the government guidance and as a result of all the time and effort that Dave and the team put in, this allowed for over 1,000 members to return with over 2,000 visits per month! That's a lot of tennis!
Education Award – University of Nottingham
Received by Matt Wildt, Head of Tennis at the Uni of Nottm (pictured top right), and presented by Jade Shah, our vounteer from UoN who has been supporting Notts LTA with our Social Media.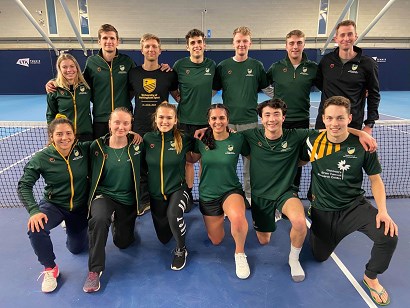 UoN Tennis forecast the challenges of Covid would have in attracting students, so ran six open days to attract players. This helped the club to attract more members than last year, and it is now the largest sports club at the university.
The programme delivery was adapted creatively to be an 'open training session' format, enforced by Covid and NHS Track and Trace. All students book into practice sessions and are then allocated coaches and courts. The club was innovative in creating online google sheets used with capacity limiters to allocate spaces. Head of Tennis, Matt Wildt, received email notifications then allocated coaches and courts. Planning during COVID has been challenging, but students have appreciated the effort put in.
This past year has seen an increase in the number of coaching for beginner and intermediate players. There was a peak of 403 spaces available in 1-week, all being 'sold out' in 3-mins, showing evidence of a hugely popular programme. Players attend these indoor training sessions on a weekly basis where they learn concepts of the game but most of all have a chance to interact with other students.
UoN Tennis also ran Coach Q+A's, physical challenges, HIIT sessions and encouraged student presentations (to aid employability skills) during lockdown.
The Club members have logged over 500 volunteering hours in the past 12 months, supporting as session leaders, helping at events and competitions and organising a range of social engagements for the club membership. The club represents the definition of inclusivity, running a wide variety of events throughout the year for their diverse membership.
This year on International Persons with a Disability Day, the committee attended an inclusive tennis training session and launched their own inclusive tennis programme, supporting disabled students with the opportunity to try the sport for the first time.
Performance wise, this past year saw the club achieve 4 promotions and reach 3 out of a possible 4 BUCS Big Wednesday Finals. For the second year in a row a member of the club also represented Great Britain at the MastersU' event in France. Dan Little is now on board with the coaching team through the TASS player-coach scheme and imparting his knowledge onto current players, whilst following his own ambitions to play professionally.
Lifetime Achievement Award - Tony Hawke
Presented by Richard Joyner, ex manager of Nottm TC and now LTA director and referee of British Tour events.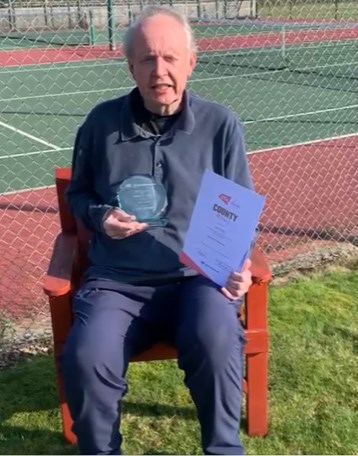 This nomination was submitted on behalf of Sutton Bonington Tennis Club by their Chairman who first met Tony about 50 years ago playing in a Kegworth men's doubles team seeking promotion to Leicester division 1. Tony's serve volley was a sight to behold, which struck fear into the opposition, but underneath it all he was and still is a gentle giant of a man.
In 1991, although working full-time for Rolls Royce Tony decided to put something back into the game he so loves, and the financial side was not a priority. He became a qualified tennis coach progressing to level 4, and coached tennis in 3 counties, Leicestershire, Derbyshire and Nottinghamshire. He now plans to retire from coaching in July 2021, completing 30 years in this role. No-one could be more deserving for this award
Tony has always helped with team coaching. Sutton Bonington's Ladies team which comprised of mainly senior players, have always enjoyed their games but rarely came out on the winning side. They approached Tony who after watching them play said he could improve their court performance. He took the ladies team, many of whom had never had any coaching before and transformed them to their delight into a winning promotion team.
Tony was most successful with group junior coaching and has a style that appealed to that age group. He believes that if they enjoy group coaching, they will progress and become better players.
Tony develops a sporting attitude to his coaching and teaches court etiquette to respect the opposition and the fundamentals of fair-play.
Junior tournaments are arranged on a regular basis and the children he coaches know that there will be generous treats and rewards, paid for by Tony himself if they show improvement and good behaviour.
After 30 years, it is time now for retirement which we hope he can enjoy. Tony is nominated for this award due to his long years of service and the club believe no-one could be more deserving.
In Conclusion
The proceedings were brought to a close by Rick Britton, the Chair of the Notts LTA Awards Committee, who congratulated all our worthy award winners of 2020. Thanks were also given to our guest presenters; to all those that worked hard to make the online presentations possible, and also to our sponsors, Dunlop.

Boys 14U County Cup 2022 Report
The Nottinghamshire Boys 14U team travelled to the County Cup, played at Repton, Nottinghamshire. Read about how the team got on.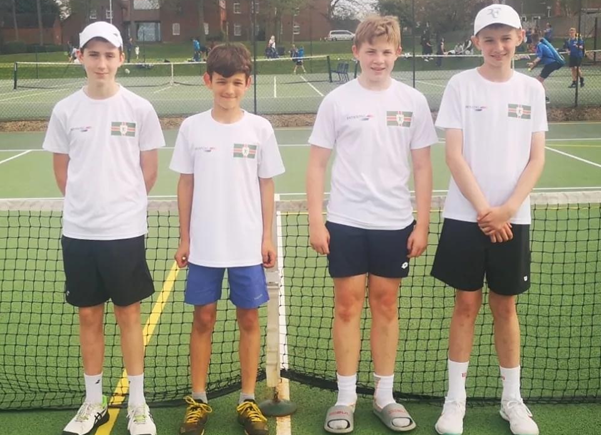 Girls 14U County Cup 2022 Report
The Nottinghamshire Girls 14U team travelled to the County Cup, played at Caunton Lawn Tennis Club. Read about how the team got on.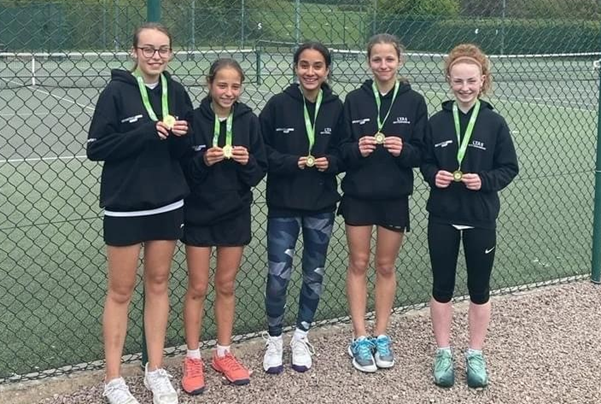 Girls 9U Northern National Finals 2022 Report
The Nottinghamshire Girls 9U team travelled to the Northern National Finals, played at The Graves Centre, Sheffield. Read about how the team got on.