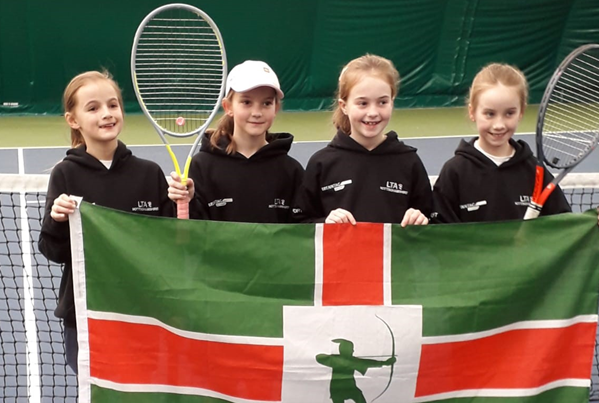 10u Girls 12 Counties Corby Report
• 3 MINUTE READ
Date - Saturday 12th February 2022 Team: Clementine Rennoldson, Evie Pritchard, Eleanor Richardson, Lucy Perry. The non travelling reserve : Sophia Walton.
As the Corby 12 Counties did not take place last year due to Covid, everyone was delighted to be back on court competing.
Nottinghamshire's first round of matches was against Leicestershire. Clemmie had a tight first set, with long rallies, which she eventually won 5-3. She the changed her game pattern, sometimes playing a slightly slower ball, with her opponent making more errors, Clemmie won the second set 4-0. Evie was on court at the same time, against a very solid consistent player, who I felt could have been playing at number 1. Evie played very well, staying in the rallies, but lost 0-4, 0-4. Eleanor had a similar match to Evie, not being outplayed, but just not able to finish the long rallies, she also lost 2-4, 0-4. Lucy played well at number 4, again it was an evenly balanced match, Lucy held her concentration to win 4-2, 4-0. Our match result was 2-2.
The next round was against Middlesex, this is the first time we have been in the same division. Middlesex is a large County, renowned for producing good players. The Notts team played well, but their opponents were all technically amazing, as well as tactically strong for their age. All four of our girls lost in straight sets, hopefully learning through this experience.
The last round of matches should have been against Norfolk, but they were unable to raise a team. To enable everyone to have three matches, an All Stars team was created. Two girls from Middlesex played aged 8 years, one from Norfolk and the other who lived locally. Clemmie played one of the Middlesex girls, they had long rallies, but the same style of play emerged with her opponent having a comfortable win. Evie played a some lovely tennis, she lost the first set 4-5 with the tie break 4-7, it really could have gone either way. Sadly the second set slipped away 2-4. Eleanor was suffering form stomach ache, she played on but lost 2-4,2-4. The last match to go on was Lucy, there were long rallies, a lot of deuce games, but she held it together to win 4-2,4-2. The fact that Norfolk could not field a team it did mean that Notts had the 4-0 win in that round.
It was a long day for the boys and girls, they all played well, supported each other, with great team spirit throughout the day.
My thanks go to the parents for their support.
Jane Stokes (Captain)