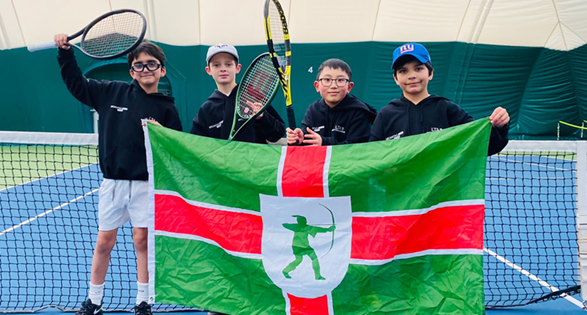 10U Boys come second at Corby
• 2 MINUTE READ
The 10U boys continued the 12 Counties series over in Corby competing in division 2A against Norfolk & Leicestershire and Middlesex. On the day, the boys all played 3 singles with short sets to 4 which were best of 3 with a championship tie break against each County.
Representing Nottinghamshire on the day:
Reid Dixon, Kai Yao Yung, Fanus Kaliraman and Jibrael Niazi.
The boys competed with every intention of growing stronger as they progressed through every game, match and county. Overall Nottinghamshire boys came 2nd with every player going away with 2 wins and only 1 loss against Middlesex who proved to be too strong on the day.
Another fantastic 12 Counties event with the team bringing enthusiasm, strong team spirit and an ability to improve as the day went on.
Thank you to the parents that came out to support.
Team Captain Zef.
For all the results from the day, check out the link here.