Neil Frankel and his No Barriers programme have scooped the LTA National Award 2021 for Disability Tennis
• 5 MINUTE READ
CONGRATULATIONS TO NEIL FRANKEL AND NO BARRIERS AT RIVERSIDE TENNIS CLUB
Neil Frankel and his No Barriers programme at Riverside Tennis Club have scooped the LTA National Award 2021 for Disability Tennis. He won the Regional award and then went on to win the National Finals which was broadcast on the LTA YouTube channel.
In the Winter Term 2020 they achieved a record high of monthly participation of 102 players with specific groups with Special schools, VI, LD, DS, players with Autism and Wheelchair sessions. Alongside this Dermot Bailey continued his rise up the ITF world rankings to gain a top 30 place and Gary Cox was in the top 50 in the Quad singles.
A new programme was launched alongside Transitions UK and Team Beds and Luton designed to help support young adults with disabilities and mental health issues receiving £2,500 of funding to run a year long programme. They made a safe and quick return to our Disability Tennis programme with 9 sessions running each week whilst working with our local Special Needs Schools to make sure they could get back in action as soon as was feasible. An online programme was launched on their Facebook page on March 30 with 27 weekly sessions on a "pay what you want" basis. These ranged from Fitness to Footwork patterns to Meditation and Quizzes. There was something to keep everyone connected and active in body and mind. Our Disability programme was switched from the Face to Face Transitions UK sessions to twice weekly online "Get Active" programme. This continues today and is digitally shared across the network of Transitions UK projects across the Region. As they moved out of the first lockdown they added a weekly Zoom "Get Active" session in conjunction with Autism Beds to help support the wellbeing of the players who were less confident to return to the Club for face to face sessions. They have continued to use streaming on private Facebook Groups, public access pages, and Zoom to continue their drive to stay connected and provide the best opportunities for all of their disabled players and the groups that they work with. All risk assessments and considerations to running sessions with Covid 19 restrictions have been carefully managed.
They have supported a new Wheelchair Tennis player to apply for grants to enable her to purchase her own sports chair. They are working towards a buddy system for one of their new wheelchair players to work with Gary Cox (GB Quad #5) for advice and support. Part of this buddy system is also aimed towards getting more "chair time" outside programmed sessions to speed up the learning process.
CONGRATULATIONS TO FLITWICK AND AMPTHILL TENNIS CLUB
Flitwick and Ampthill Tennis Club won the Club of the Year Award in the County and then went on to be the Regional Winner. They also went through to the National finals but were not successful. The Regional Award was presented to the Club by Leo Tutt from the LTA, supported by Veronica Bradley who runs the county Awards.
2020 has been an extraordinary year for Flitwick and Ampthill Tennis Club. At this time last year they had a membership of 226 across Junior and Adult categories and had 8 courts, 4 of which were carpet, 3 tarmac and 1 acrylic, and the 4 carpet courts were floodlit. Now, a year later, and the membership is 288 which is an increase of 27%, and they have 8 courts, 7 carpet, one acrylic, and 6 of the 7 carpet courts are floodlit. This is a fantastic development of their facilities in one year and all their existing members and all the new members are enjoying tennis with much more quality court availability. The grant manager sourced a funding opportunity to Central Bedfordshire Council of £25,000 and after careful calculations the committee agreed to reserve £25,000 of their sinking fund to allow the match funding to be sought, and its success led to their replacement with new carpets.
When the Club closed on 24 March we moved all committee meetings to Zoom and got to grips with the technology. There is an email distribution for all the members and everything was carefully and comprehensively communicated that was happening on Covid, and what their approach was as the guidelines changed. They made sure that the website and Facebook pages were also current with every twist and turn which also helped with communication to members and the wider community. The Clubspark booking system was implemented which proved excellent as it was carefully set up to accommodate all the member categories.
After each lockdown release date all games had to be booked on Club Spark, there was no ad hoc play which could result in players congregating and mingling. They also were keen to follow the LTA's initiative to open up tennis, and so they registered with LTA Rally and made the coaching and the pay and play courts available for members of the public to book and pay online through Club Spark. They make a big effort to make new and existing members welcome at the Club, and their increase in membership from 226 last year to 288 this year is a testament to that approach.
Riverside Tennis Club
Local MP, Mohammad Yasin joined LTA President, David Rawlinson to personally present Riverside Tennis Club with its 2021 National LTA Award.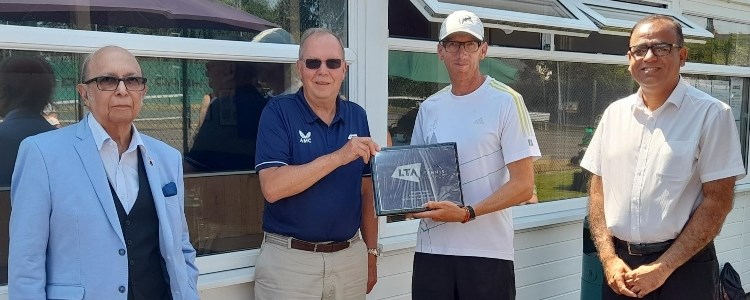 Bedfordshire County Award Winners
Bedfordshire County Award Winners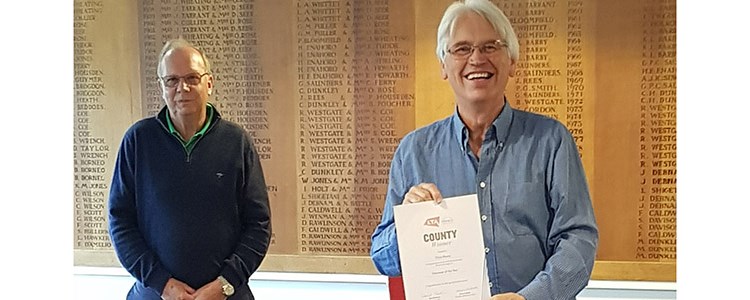 Neil Frankel and his No Barriers programme scoop the LTA National Award 2021
Neil Frankel and his No Barriers programme have scooped the LTA National Award 2021 for Disability Tennis