Bedfordshire County Award Winners
• 3 MINUTE READ
Volunteer of the Year

Chris Moore from Bedford Tennis Club, nominated by David Hall. Chris's life is always about helping others. This might be his own family, his friends or neighbours and also Bedford Tennis Club for which they are very lucky. Chris is always willing to volunteer for jobs around the Club and is probably the most connected member of the Club despite being a bit of a technophobe. So, every club needs a Chris and Bedford Tennis Club is very fortunate to have the original.
Young Person of the Year

Ben Robinson from Flitwick & Ampthill Tennis Club, nominated by Mike Cocke. Ben is an active player at the club and because of his maturity he joins in many of the adult mix-in sessions. He also offers to help in working parties at the club which makes him a great team member. When it was apparent that one of the carpet courts had become unplayable he organised and did the cleaning of the court which took many days to complete, at no cost to the club. This was a huge success and the court is now back in use. He repeated the cleaning process on the acrylic court which was dirty and virtually unplayable. So, with help from his father Tim, Ben managed to return 25% of the courts at Flitwick back to normal usage.
Education Award

Bedford Girls School – nominated by Sue Bullerwell. Bedford Girls School embraced the Covid 19 restrictions with successful changes to its early morning tennis programme in a partnership with Riverside Tennis Club. A change of plan was needed when school re-opened in September where the pupils would go to the club for their session. The only option was to ask the Riverside Coaches to come to the School and coach on site in the Sports Hall. Mini Red tennis for Years 3 and 4 who had to be taught in their class bubbles. There were two x Year 3 classes and 3 x Year 4 classes. Coaching was offered to all our pupils and in total 20 pupils took up the offer. A further 5 week block of lessons has been organised for after half-term leading up to Christmas and again 20 pupils signed up for this.
Coach of the Year (Development)

Simon Feaver from Riverside Tennis Club, nominated by Martha Habershon. Simon has been able to regularly commit significant hours a week to the coaching programme, largely working with Mini Red, Mini Orange, Davis Cup Legacy, Cardio tennis. Disability sessions and Adult Coaching programme, despite running his own successful business. He has inspired a raft of new players to take up the game through his enthusiasm and excellent coaching. Simon was actively involved in our lockdown streaming programme. He led online "Cardio Workout and Strength" sessions via Facebook LIVE with great enthusiasm, setting challenges and encouraging everyone to get involved. He often has a smile on his face, has a warm personality and makes tennis welcome to everyone. Whatever he throws himself into, its always with 100% energy, drive and determination. Nothing is impossible with Simon.
Competition of the Year

Flitwick & Ampthill Tennis Club - Barbara Mabbitt - nominated by Mike Cocke. The club holds a Club Championships every year. Members enter one or more of the competitions; Mens and Ladies singles, Mens and Ladies Doubles, Mixed doubles, Veterans singles, and Veterans doubles. It normally runs from April until September, and this year was a huge challenge because of the Covid 19 lockdown where the tennis Club was closed during March, April and May. Barbara Mabbitt is the Chairperson of our Club and leads the Committee. She was confident after we started playing doubles again on 1 June that we should hold the Club Championship despite the late start. The Committee, under Barbara's leadership, had been painstaking in following the LTA guidelines for Covid 19, and she agreed to take on the challenge of organising the tournament. Barbara arranged all the communication. There were separate tournaments for the Juniors and Adults which meant that they each had their own Finals Day. The Junior Final was held in early August and the Adult Final was in early September. Fully qualified coaches with safeguarding qualifications supervised the Junior Finals Day and parents who were spectating were arranged on seating outside the courts at socially distanced spacing. Barbara wanted to hold the Club Championships for the sake of our members, to show that we could return to some form of normality. She went to extraordinary lengths to arrange the tournament, and communicate everything about it clearly and safely, so that members' concerns were alleviated and they were happy to enter. The feedback from members for both tournaments was fantastic. They were successful because of Barbara's foresight, dedication and excellent planning.
Coach of the Year (Performance)

Neil Frankel – Riverside Tennis Club – nominated by Martha Habershon. Neil has worked at Riverside Tennis Club for 20 years, however, in August 2020, he decided to step down as Director of Coaching but he continues to manage the Disability Programme and coaches 1-1 lessons at the Club. Neil has developed an ambitious and successful coaching programme including a fantastic outreach, disability, junior, LPDC and Adult programme. Riverside won the Bedford Sports Club of the Year under his direction. Neil secured LPDC status and worked with the talented juniors at Red, Orange and Green level. Neil's biggest source of pride was providing a training base and quality coaching for Dermot Bailey to help him improve his world ranking and see him be part of the winning World Team Cup team in May 2019. Neil responded positively and proactively to the challenges faced during Covid 19. The ripple effect he created is felt across the Riverside tennis community. He launched an online content and live streaming programme for lockdown. There were 17 sessions a week to keep both juniors and adults minds and bodies active from the comfort of their own home. The sessions ranged from fitness workouts, streamed LIVE on Riverside Tennis Facebook page to pre-recorded sessions such as quizzes and meditations. Neil incorporated the ethos of "all ages, all abilities, all welcome" into Riverside. Whatever the player's standard he always wanted to offer the best playing experience. Neil has demonstrated that it is possible to turn a "members club" into a community hub through his policy of opening up the coaching programme, running tournaments, and delivering #nobarriers programme. He has created something special for all users and we hope to push on in 2021.
Riverside Tennis Club
Local MP, Mohammad Yasin joined LTA President, David Rawlinson to personally present Riverside Tennis Club with its 2021 National LTA Award.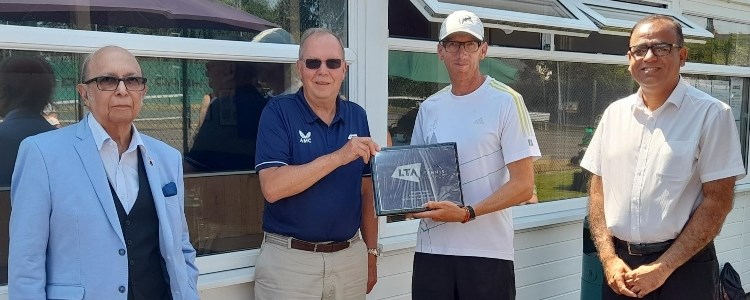 Bedfordshire County Award Winners
Bedfordshire County Award Winners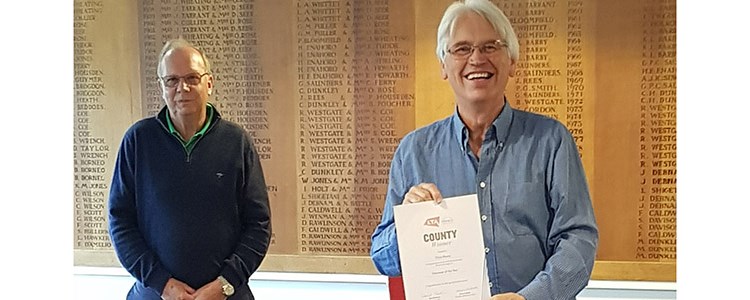 Neil Frankel and his No Barriers programme scoop the LTA National Award 2021
Neil Frankel and his No Barriers programme have scooped the LTA National Award 2021 for Disability Tennis