'Tennis Opened Up'
At the LTA we're committed to fostering an inclusive and diverse culture for all.
We're committed to employing a diverse workforce. Qualified applicants will receive consideration without regard to race, colour, religion, sex, national origin, age, sexual orientation, gender identity, gender expression, veteran status, or disability.
We're part of the Disability Confident scheme and in 2022 became a recognised Disability Confident Committed Employer organisation. It's a voluntary scheme which educates and encourages employers to support and promote disabled people within the workplace. This includes several voluntary commitments to encourage employers to recruit, retain and develop disabled staff, such as offering paid work opportunities and ensuring we implement a flexible recruitment process to meet individual needs.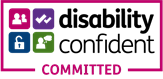 Useful links
Learn more about how we've become part of the Government's Disability Confident Committed Employer scheme:
Find out about the launch of our 2021-23 Inclusion Strategy and what's involved: